The concept of time travel never fails to impress anyone whether it's a movie, TV show or an anime. Recently released mystery anime ERASED (also known as Boku dake ga Inai Machi) deals with the same stuff. Twenty-nine-year old, Saturo Fujinuma travels back in time (eighteen years back to be precise) in order to prevent a tragedy. Like most of the anime, it is adapted from a manga which also happens to have a Netflix adaptation, released in the same year as the anime. Meanwhile, here is the list of anime similar to Erased that are our recommendations. You can watch several of these anime like Boku dake ga Inai Machi on Netflix or Amazon Prime or Hulu.
15. Re: Zero-Starting Life in Another World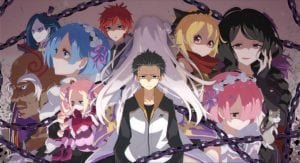 The plot reminded me of Groundhog Day (1993). After being thrown in a fantasy world, Subaru Natsuki and his new companion Satella are brutally murdered, but to Suburu's amazement, he reawakens from the dead to the moment he first met Satella. In other words, they are living the same day again and again. It has 25 episodes in total.
Read More: Anime Like Attack on Titan
14. ReLIFE
Kaizaki Arata is a twenty-seven year old who doesn't seem to get an appropriate job after quitting his first. His life takes a sharp turn when he meets Ryou Yoake, a member of ReLIFE institute offers him a drug which transforms him into a seventeen year old. Soon, he learns that he is the subject of an experiment and he must not repeat the mistakes of the past while struggling in high school because of the new policies that materialized in the past ten years. It has 13 episodes.