'Tokyo Ghoul' is one of the most popular anime of the era. With its popularity dramatically increasing with the arrival of the latest season, 'Tokyo Ghoul' has become the new fan favorite in the market. Depicting the story of Kaneki Ken / Sasaki Haise, a human who becomes half human-half ghoul after a fateful accident, the show has several deep and dark themes that attract attention. With that said, here is the list of best anime similar to 'Tokyo Ghoul' that are our recommendations. You can watch several of these anime like 'Tokyo Ghoul' on Netflix, Crunchyroll or Hulu.
17. Kyoukai no Kanata
'Kyoukai no Kanata' is a slice of life, supernatural, action (exactly in this order) anime. At first, it might not be that evident how is it similar to 'Tokyo Ghoul'. I mean, the rating of this anime is just P.G. 13 while 'Tokyo Ghoul' clocks in at 17+. Yes, the violence, and gore in this anime are much toned down and you don't have to wonder whose head is going to fly off next or whose guts are going to be spilled.
In 'Kyoukai no Kanata', there are creatures by the name of Yomu, who are the manifestations of the negative emotions of human beings. They cause huge trouble and are a nuisance. Mirai Kuriyama hails from the clan of Spirit World Warriors and have the ability to transform their blood into weapons. It seems that she is currently the sole survivor of the clan. One day, she meets a boy by the name of Akihito Kanbara, who is a half-human half-yomu. She tries to kill him but understands later that he is immortal. The duo forms a strange friendship wherein Mirai always tries to kill Akihito only to fail every time. Akihito then asks Mirai to join the literary club and there she finds out that two of the members of the club are Spirit World Warriors. The club forms a close bond as they try to exterminate the yomu.
16. Mirai Nikki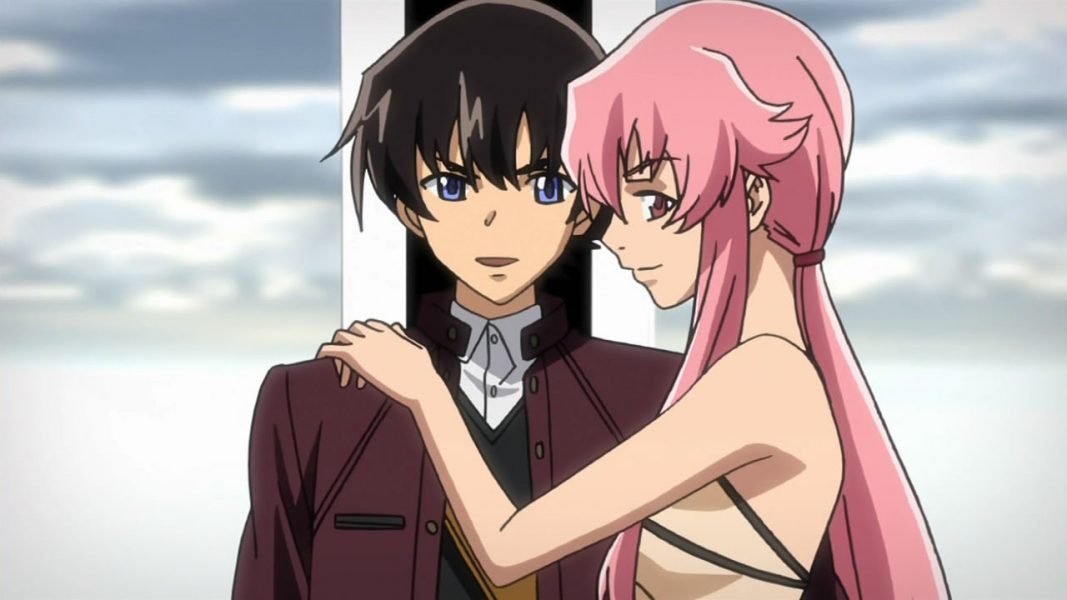 'Mirai Nikki' has a dark tone similar to 'Tokyo Ghoul'. From a normal life, the main character suddenly finds himself being dragged into the epicenter of a dangerous world of survival. Yukiteru Amano is a lonely high school student. He spends his time writing a diary, which is on his cellphone. To fill his loneliness, he seems to have two imaginary friends with whom he converses a lot. One of the imaginary friends is Deus Ex-Machina, who is the god of space and time while the other friend is Murmur, who is the servant of the former.