Talk about any British show and everyone automatically assumes that it must be BBC's. For people on the other side of the pond, and honestly, even for the rest of the world, British television is synonymous with BBC, and rightfully so. It's not that the country doesn't have other channels; but it's just that BBC has been the most influential network till date, not just in Britain but in other parts of the world as well. It has become a trademark and has been so consistent with the quality of its material that whatever it serves you, you'll know it'll be good, at its worst. If you haven't yet started consuming what British television has to offer, then Netflix presents you with a great opportunity as it is full of British films and TV shows. So, here's the list of really good BBC shows on Netflix that are available to stream right now:
22. Wanderlust (2018)
This show stars Toni Collette as Joy Richards, a relationship therapist who is driven to take extreme measures when her own marriage begins to fall apart. Joy and Alan have been married a long time; they have three kids who are all grown-up now, and they have successful careers, so there are no financial woes either. However, everyone in the family is struggling with one or other problem which is directly related to their sex lives. A cycling accident opens Joy to the courage of demanding something more from her husband and this leads both of them down a path that ultimately poses the question: what price are they willing to pay for their fantasies and forbidden desires to come true? Thus, 'Wanderlust' becomes a study of a normal marriage which takes a drastic turn when the partners make a choice that they'll soon regret.
21. The Musketeers (2014 – 2016)
An adaptation of Alexandre Dumas' classic novel, 'The Three Musketeers', this show is set in the 17th century. It follows the adventures of a young farm boy who travels to Paris with the dream of joining the King's guard and becoming a musketeer. No sooner does he enter the city than he comes face to face with the legendary three musketeers — Athos, Porthos and Aramis, who also happen to be his heroes. As d'Artagnan begins to train under their tutorship, various political upheavals take place in the court which threatens to change the picture of the country's political predicament. In addition to this, the Musketeers and their protégé become privy to the existence of a conspiracy that is aimed to bring down the King.
20. Hinterland (2013 – 2016)
This Welsh crime drama is set in the backdrop of Aberystwyth, a place whose beauty is corrupted by a streak of violent crimes. DCI Tom Mathias leads the investigation when a woman is reported missing. Her house has clear signs of some terrible crime. The whole bathroom covered in blood makes the case gorier. The owner, however, is missing. As Mathias goes deeper into the investigation, he realizes that the town holds many secrets and that the residents are hiding something. The increasingly complicated case puts a lot of pressure on him, which is something he wanted to leave behind when he came to this town.
19. Top of the Lake (2013 – Present)
Starring Elizabeth Moss in the leading role, this show is set in a small town in New Zealand and follows the story of a detective who works the cases of sexual assault. When a twelve-year-old girl goes missing, Robin Griffin decides to look into the case. At first, the case doesn't seem to have too many complications. But as Griffin pulls one thread after another, she discovers that the web of this mystery is more convoluted than she had anticipated. As the darker aspects of the case come to light, Griffin's own skeletons in the closet begin to rattle and she will have to confront them if she wants to silence them once and for all. 'Top of the Lake' has only had two seasons, for now, each tackling a different mystery. A third season is anticipated.
18. Shetland (2013 – Present)
'Shetland' is based on a series of novels written by Ann Cleeves, and follows the story of Detective Inspector Jimmy Perez who investigates crime in the otherwise quiet Scottish archipelago. Douglas Henshall plays the role of Perez who uses his acute wit to solve the cases that somehow seem impossible. In the first series, he has to unlock the mystery of an elderly woman's murder, which further leads him to very uncanny revelation. Every season comes with a new mystery, and with each new case, the stakes get higher and the crimes darker.
17. White Gold (2017 – Present)
If you've wondered what became of Jay and Simon from 'The Inbetweeners', then 'White Gold' is the show you should watch. It stars James Buckley as Brian Fitzpatrick and Joe Thomas as Martin Lavender, two salesmen working at Cachet Windows, with Ed Westwick playing the role of the head salesman, Vincent Swan. Brian and Martin are of different ambitions and have a polar opposite approach when it comes to their work ethics. Martin is polite and considerate and he prioritizes the needs of his customer before his own ambition. This is why he'll never be able to beat Brian at sales. Brian is cunning and ruthless, and as Vincent once wager, "he can sell ice to the Eskimos". The show focuses on the rivalry and friendship of these three, along with the story of other salesmen who work with them.
16. Marcella (2016- present)
This show follows the story of a troubled former detective, Marcella Backland. Her personal life is a mess. Her husband has decided to call quits on their marriage after a decade-and-a-half, and he is ready to use anything against Marcella to get the full custody of their children. His case is strengthened by Marcella's psychological weakness. She is prone to black-outs and along with impeding with her personal life, this problem is also causing chaos in her professional one. Pressure is further increased when a decade old case is reopened. New information suggests that the serial killer who was responsible for three murders in 2005 has returned, and before he (or she) stages more bloodbath, Marcella and her team have to solve the crime, revisiting the horrors they have witnessed all those years ago.
15. Merlin (2008 – 2012)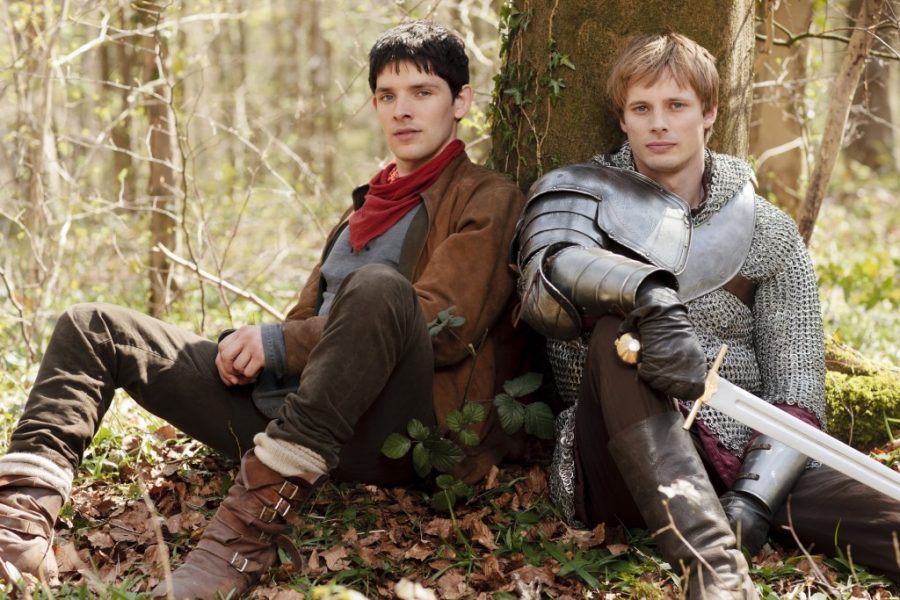 This show is a re-imagining of the legend of King Arthur and other characters from his story. The protagonist of this tale is Merlin, a wizard who, in original legend, helped Arthur reclaim his throne after discovering that he had done the impossible task of pulling Excalibur out of the stone. In this version, however, the events take place very differently. For starters, Merlin is not an old sage, he is Arthur's contemporary. Arthur's father Uther is the king of Camelot and he has prohibited magic of all forms in the kingdom. When Arthur discovers his powers, he is forced to keep them under wraps to save himself from punishment. Meanwhile, he meets Arthur, who might be rebellious to the king but has a very kind heart that wants to do good for his subjects.
14. One of Us (2016)
This thriller miniseries follows the events in the aftermath of a couple's murder. Adam Elliot and Grace Douglas were childhood sweethearts and had been recently married. Their families receive a horrific shock when they are found brutally murdered. Trying to come to terms with the loss of their children, the Elliot and Douglas family come face to face with the most difficult choice of their life when a man, who could be the killer of their children, comes knocking at their doorstep. Meanwhile, the police continue their investigation into the murders and discover some dark secrets about the families.
13. Line of Duty (2012- Present)
Corruption is everywhere — from high political offices and civil services to the everyday life of a common man. In one form or the other, everyone indulges in corruption. But just because everyone does it, doesn't make it right. This is why an anti-corruption squad was set under the leadership of Superintendent Ted Hastings. Even when a carefully chosen team has been assigned to him, Hasting realizes that his own department isn't free of the plague that they are tasked to eradicated. Considered one of the best cop shows of all time, 'Line of Duty' is one of BBC's best. A sixth series was commissioned in 2017, but there hasn't been any substantial news since then. Classic BBC move!
12. Happy Valley (2014 – Present)
'Happy Valley' follows the story of a woman named Catherine Cawood. She is a police sergeant who is still struggling to make peace with the fact that her daughter is gone. Eight years ago, Catherine's daughter, Becky, had been raped by Tommy Lee Royce. Becky got pregnant from it, and after giving birth to the child, she committed suicide. Now, Catherine, who has separated from her husband and has an estranged relationship with her son, lives with her addict sister and is raising Becky's child. Things become more complicated when Catherine discovers that Royce, who had been in jail for drug charges, has been released now. She decides to get justice for her daughter but doesn't realize that there is something else that Royce is planning to do.
11. The Fall (2013-2016)
By now, you've seen many shows where a couple of detectives has to solve a gruesome crime and try to catch the serial killer before he/she gets the opportunity to commit another murder. Yes, we have seen the same story from many perspectives. 'The Fall' offers you another one, the perspective of a serial killer. In this show, Jamie Dornan plays the role of Paul Spector, a man who leads a double life. A normal family man by the day who turns into a vicious hunter by the night. He is the cause of the terror that haunts the streets of Belfast and the police have no idea how to catch him because they haven't dealt with something like this before. This is why DSI Stella Gibson is called from London. She's good at catching devils like Spector because she has her own demons locked up in her closet.
10. Man Like Mobeen (2017- Present)
This show follows the story of a Muslim man living in Birmingham. His only family is his sister Aqsa, who has a very promising life ahead, unlike Mobeen's, and he wants to give his sister a chance at moving away from their current circumstance towards a better life. However, it is not so easy for him to keep her away from danger, especially when he hasn't been able to let go of his shady past as a drug dealer that comes back to bite him time and again. The show follows Mobeen's quest of trying to make things right, with the help of his mates, Nate and Eight. But how can they help him when they are used to making a mess around themselves?
9. London Spy (2015)
It hadn't taken much time for Danny to fall in love with Alex. Even though their personalities differed from each other, they had an instant connection which soon matured into romance. What Danny didn't know was that Alex worked as a spy for the Secret Intelligence Service. He discovers this truth only after he finds Alex's dead body. He is fed a story about how his lover had died, but Danny refuses to be satisfied with lies. Even though he has no idea how the world of espionage works, in order to find out the truth about Alex's death, he decides to jump in headfirst into it.
8. Bodyguard (2018 – Present)
Everyone is crazy about Jon Snow, but most of the fandom he has gained actually comes from the process of elimination. I mean, and sorry for reminding but, Red Wedding! For a lot of people, the King in the North is still Robb Stark. If you are one of those loyalists, then 'Bodyguard' is just the show you need. It stars Richard Madden as David Budd, an Afghanistan war veteran who is assigned to be the bodyguard for a controversial politician, Julia Montague. Still recovering from the scarring experiences of war, Budd finds his new job even more challenging because he finds himself in constant disagreement with the ideas of a person he's supposed to protect. Want some exciting, nail-biting action series with a tense political atmosphere which might be a latent commentary on current political circumstances? Head to Netflix and watch this show.
7. Broadchurch (2013 – 2017)
If you want to watch more of this year's winner of Academy Award for Best Actress, Olivia Colman, then you don't have to sit and wait for Netflix to release the next season of 'The Crown'. You can watch 'Broadchurch' in the meantime. Set in the fictional town of Broadchurch, it follows the two detectives who are in charge of investigating the gruesome murder of an 11-year-old boy. David Tennant and Olivia Colman played the role of Alec Hardy and Ellie Miller, respectively, both of whom struggle with handling the media who have their full attention on the case and the victim's family. Taking a three-season arc, the show explores the effect the case has on the detectives and the family, especially how they deal with it after the crime is solved.
Read More: Best Prison Shows on Netflix
6. Luther (2010- Present)
If you're not yet a fan of Idris Elba, you will be one after you watch 'Luther'. In this show, Elba plays the role of Detective Chief Inspector, John Luther. Working in the Serious Crime Unit, Luther has seen some of the most horrific crimes and has known the worst kind of criminals. One would think that after so many years of service, he'd get used to it, but that's a big no. The darkness of his job has crept into his personal life and due to this, he sometimes exhibits violent behaviour. This is why his wife leaves him. If that's not complicated enough, Luther befriends Alice Morgan. He knows that she is a psychopath and a murderer, but due to lack of proof, he couldn't arrest her but did get caught up in her wily charm.
5. The Last Kingdom (2015- Present)
For the fans of historical fiction, BBC is a great place. The channel keeps reinventing the classic stories from Shakespeare and Austen while introducing the audience to a set of new characters from the more recent novels. 'The Last Kingdom' is a treat if you love such shows. It is based on a series of novels by Bernard Cornwell and is set in the late 9th century. The protagonist of the story is Uhtred of Bebbanburg. His father was Saxon noblemen and was killed in an attack by Viking Danes who frequently plundered Anglo-Saxon territories. Uhtred is taken captive by the Viking lord, Earl Ragnar, who raises him like a son. As the years pass by, the rivalry within the Viking lords grows, which eventually leads to the death of Ragnar. Now that Uhtred is in charge, he decides to not only avenge Ragnar's death but also plans to take back the Saxon territories that were taken at the time of his real father's death.
Read More: Best Car Shows on Netflix
4. River (2015)
When Detective Inspector John River's colleague, DS Jackie Stevenson is murdered, River suffers a severe mental trauma. He begins to have visions of Jackie, and the more River indulges himself in these visions, the stronger their hold gets on him. As the investigation of Jackie's murder continues, River is excluded from it for two reasons. The first one being his close relationship with the victim, which would hinder his ability to separate emotions from what should be his job. The second and more important reason is that before he can go back to his normal job, he'll have to go through a psychiatric evaluation. Apart from all this, River is also troubled by the pleading of a mother who wants him to find her missing daughter.
Read More: Best Disney Shows on Netflix
3. Still Game (2002-2019)
Even though this Scottish sitcom has run for seventeen years, there are only nine seasons of the series, the finale of which premiered on March 28, 2019. It follows the story of three men who get stuck in various circumstances, like when the lift becomes dysfunctional, they are forced to remain in their flat, and use this time to discuss all sorts of topics. In addition to that, these characters also try to familiarize themselves with the modernity of the world, which also becomes a prominent topic of discussion for them. Quite popular in Scotland, 'Still Game' evolved from theatre to screen in very quick steps.
2. Sherlock (2010 – 2017)
If you're one of the people who whined for the last year and a half because HBO didn't drop a new season of 'Game of Thrones', or how 'The Crown' isn't back yet, then you've clearly not been a part of one of the most patient fandoms of all. The thing with BBC is that they take their time between seasons. There's no rush to finish a script, no bother if the actors are not available at the moment. Everything happens with ease. Whenever the whole cast's time-slot aligns, they'll make an episode or two!
No one knows it better than the fans of 'Sherlock'. If you haven't yet seen the series, consider yourself lucky because you'll get to binge-watch all four seasons in one sitting. You won't have to wait for at least two years to find out whether your favourite villain of all time is alive or not! (Yes, you must brace yourself for a huge crush on Andrew Scott's Moriarty. You should see him in a crown!) It is this interval that still has us sceptic about the end of the series. We believe that it's just one of those breaks, and maybe a decade or so later, they'll come up with another season.
Read More: Best Survival Shows on Netflix
1. Monty Python's Flying Circus (1969-1974)
This sketch comedy series is one of the classics of British comedy and apart from 'Flying Circus', you'll find other programs related to 'Monty Python's' on Netflix. Since all that started from here, it was only logical that this one made the list. If you're still new to the scenario of British comedy, then you should go in with the expectation that it won't be like any usual comedy you've seen before. In fact, 'Monty Python's Flying Circus' gave ground to a new kind of comedy which was all previous versions combined and yet, nothing like any of them. It is sharp, witty and utterly humorous. Because it was made in the early 70s, you might feel like you're watching a show from another time. But get used to it and you'll feel anachronistic in your current timeline.
Read More: Best Drama Shows on Netflix