Unlike the actors in this category, the list of possible nominees for Best Actress in a Limited Series/TV Movie is not overcrowded, but rather sorted. That does not imply that the category doesn't have its fair share of talent or formidable names from the industry. For one, the list boasts of a straight line-up of Oscar winners, and several Oscar nominees. I will particularly be pining for Amy Adams, who has experienced the infamous Oscar snub more than once, even undeservedly, but despite has turned in a superlatively tragic performance with last year's miniseries 'Sharp Objects'. Then there is Patricia Arquette who turned in an equally tragic performance if not more, and seemed virtually unrecognizable in the role. Her work was nightmarish to say the least and another feather in her heavy crown, despite remaining an underappreciated actress in my honest opinion. Among others, the nominees are stronger than ever, and in such a case, the competition is always interesting to watch out for, the scenario shifting grounds even as each episode of any currently airing series airs.
Even though it's a bit early, even in the months to come before the Emmys close out their nomination window, there seems no other eligible contender in vision. However, that being said, even as we prepare ourselves for some surprises from 'The Little Drummer Girl' and Ava Duverney's 'When They See Us', we have our current slate of predicted nominees ready. Read on to see who we currently feel will be nominated for the Best Actress in a Limited Series/TV Movie. As dubious as the mix of these two categories is, we sincerely hope that we see a truly worthy winner.
7. Connie Britton, Dirty John
Based on a true crime podcast of the same name, 'Dirty John' originally aired on Bravo and was helped with greater viewership with Netflix. However, the show saw a visible boost in popularity when Connie Britton got nominated for a Golden Globe in the category for her turn as Debra Newell, a seemingly normal girl who falls for a handsome doctor and gets involved in a dangerous game of psychological manipulation. The show itself didn't do all too well, but the performances of Eric Bana and especially Connie Britton, the latter gaining recognition far and wide, were especially appreciated. I personally am a complete sucker for true crime stories, and if you enjoyed the original podcast which in my opinion is in the same vein as 'Serial', you might just happen to like this one too. Regardless, the praise for Britton's performance remains unanimously good, as does her chance at an Emmy nomination.
6. Ruth Wilson, Mrs. Wilson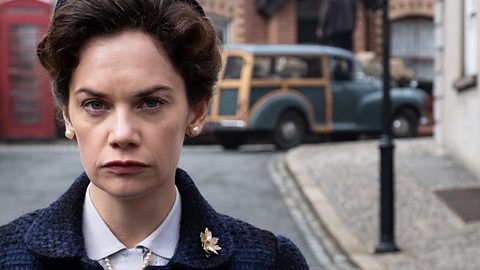 Although she hasn't been nominated for an Emmy before, she has been the winner of a Golden Globe for 'The Affair', albeit the cry for her nomination this year in the best actress category for 'Mrs. Wilson', a three episode miniseries about a grieving widow discovering the many lives her husband led unbeknownst to her, is almost unanimous, owing to a very credible turn by her in the titular role. Although, much of it is told in flashbacks which I am not a fan of, her performance kept me hooked till the end of its three hour runtime. Following her excellent turn in 'Luther' that closed its airing this year too, the Emmys should finally be the talented actor's passing into the big leagues.
5. Emma Stone, Maniac
Another Oscar winner on the list, I do not wish to highlight her acting credentials apart from being a well-loved actress across the entire globe, since that would be an exercise in futility. Just know that she was as fabulous in this show as she is in anything that she stars in. Her growth as an actor has been phenomenal and inspiring to say the least, and with 'Maniac', she explores relatively newer territory with confidence and elan. Her pairing with Jonah Hill is one of the most eccentric yet exciting ones I have seen in years. The only thing that may throw a spanner in the works is the show's falling popularity and a maiden run not too many would call a blockbuster. I still liked the series and consider a bit unfairly rated despite considering some of the audience complaints from the show to be completely valid, but the overall fate of the show, unfortunately so may affect the actress' (and even Jonah Hill's) chances at a win, and even a nomination.
4. Michelle Williams, Fosse/Verdon
Another limited series on the list with an uncertain fate but a sure shot performance from both of its leads, four time Oscar nominee Micelle Williams and Oscar winner Sam Rockwell. While it remains to be seen how well Fosse/Verdon fares over time, the one fact that is in most probability going to remain unchanged is that Williams is going to bag her nomination. The fight for the winning position is a bit tight at the moment, but there are still three episodes to go before she can deliver an overall mind blowing performance, something that is able to completely overshadow what the fantastic actresses ahead have done. However unlikely that may seem, I am always ready (and kind of fond too) for such surprises.
3. Helen Mirren, Catherine the Great
Now this is a very special case. Little as of now is known about HBO's latest miniseries about the greatest Tsarina (Russian Empress), Catherine the Great and her life, except for a few officially released images, and a stellar line-up of actors with brief descriptions of their roles. Heck, even the release dates of the episodes is unknown as of now, but it will most probably make the nominations window for the Emmys. Yet still, regardless of the fate of the series, Helen Mirren is on the list of every major critic and predictions pundit as shattering the predicted nominations for this year's Emmys, and I do not consider that an exaggeration by any stretch of the imagination. Any bet placed on the unbound talents of Helen Mirren is a winning one, no matter what. Not only is she an Oscar and Golden Globes winner, multiple times, she is the only actress to have held the trophy in this category at the Emmys four times in the past. Plus, she has always quite literally ruled whenever she has played monarchs. There is no saying as to why she won't repeat it here!
2. Amy Adams, Sharp Objects
Even while watching the show, I was pretty sure that Amy Adams would be taking home a truckload of awards for her sensitive, disturbing performance as Camille Preaker. There should be nods for both of the supporting ladies as well, Eliza Scanlen and Patricia Clarkson, rounding up a rather powerful trifecta of actors, but there was no doubt that the Oscar nominated actress would outshine them all. 'Sharp Objects' was personally my favourite from last year, and while the show, based on Gillian Flynn's psychological murder mystery novel of the same name is also listed in my predictions as landing a few nominations itself along with some nods in the technical departments perhaps, testament to it being a truly well rounded show, none have me more confident than Amy Adams' haunting yet measured performance garnering some. However, I would have earlier predicted Adams to lift the trophy as well, and while it is still going to be a tough fight, her to-be reign is seriously threatened by Arquette from 'Escape to Dannemora'. To give you an idea of how close the fight for the main title is, consider this. Adams lost to Arquette at the Golden Globes, but lifted it with her in a rare tie at the Critics' Choice Awards. A nomination is no question for each of them, but the deciding for the winner is going to be breakneck.
1. Patricia Arquette, Escape at Dannemora
Even though I will personally be pining for Amy Adams, the award will most probably be handed out (even deservedly so) to Patricia Arquette for her stunning act as Tilly Mitchell. Her Golden Globe and a couple of others including the SAGs and Critics Choice Awards win in the same category kind of seals that fate. The show has been winning accolades left, right and centre, and yet again, Ben Stiller's amazing work, a rather quickhanded study in filmmaking if you might, rather deserves all of them, especially those that are going to be handed out in the acting departments. There have been complaints with respect to the length of the limited series which I can partly agree on, but the praises have been unanimous for Arquette, Benicio Del Toro and even Paul Dano. While it's not too much brainwork predicting a nomination for each of them since they are all great, I can almost be sure about Arquette's win. Her performance is all sorts of phenomenal and her range is admirable, even though she looks nearly unrecognisable in this role. She will take it home in all probability, unless a truly mean surprise awaits us at the ceremony in September.
Read More in Emmy Predictions:
Best Miniseries Actor | Best Drama Actress | Best Comedy Actor