Difficult. That's one word that is appropriately used in summing up this list. Sitcoms, or situational comedies, have seen a pleasant and popular life since its inception. Spanning almost two generations, the style, structure, and the content of sitcoms have drastically changed. From one camera to two, and eventually to multiple settings are not the only changes. While the sitcoms of the old were conventional and drew heavily from conventional stereotypes and clichés, the newer, much modern sitcoms have shed that character and taken on a style that is brazen and delves deep with contemporary issues of importance. Therefore, making a list of the top American sitcoms of all time is tough. But, that is why we are here. So sit back and enjoy this list of top sitcoms ever made.
12. Friends (1994-2004)
The story of six bachelors in Manhattan endears people with the same intensity even today. 'Friends' is probably the most popular sitcoms around, despite not being the most efficient or brilliant. Roos, Rachel, Monica, Joey, Phoebe, and Chandler negate everyday life and come together at the iconic Central Perk to talk out the joys and heartbreaks of their lives. The NBC created show ran for ten seasons and ended with record Nielsen ratings. Its wild popularity stems from the affection that people harbor for its global stars, who themselves share a closely knitted bond. Iconic characters, lovable actors, and a relatable backdrop gel together to bring 'Friends' on the list.
Read More: TV Shows Like Friends
11. M*A*S*H (1972-83)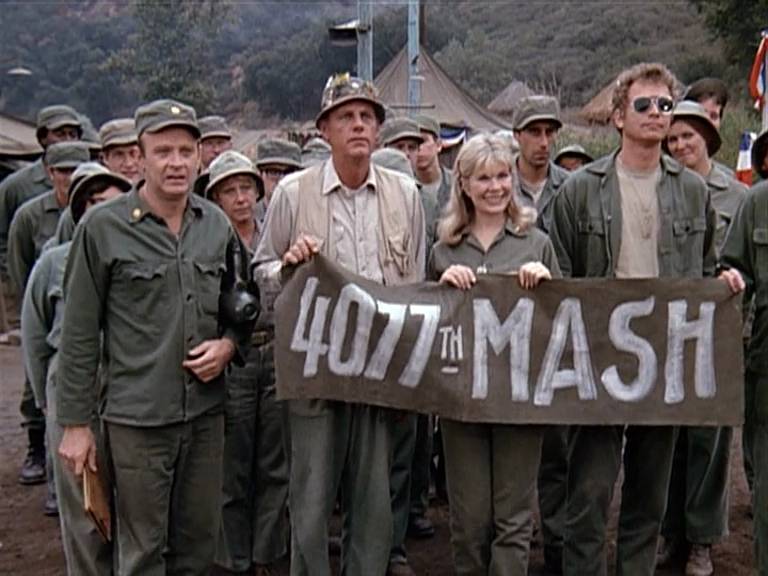 Making up a completely another style of comedy, 'MASH' marked the golden decade for television in the '70s. The series relied on its source material, a book of the same name by Richard Hooker, which has also been adapted on-screen. The story of the novel follows a team of doctors and support staff stationed at the "4077th Mobile Army Surgical Hospital" in Uijeongbu, South Korea, during the Korean War (1950–53). Its dramatization of the events that conspired and a light-hearted take at politics and power dynamics made the show truly special and worthy of endless praise.