Since the early days of cinema, comedy has been a genre which has never gone out of relevance. Comedies, while being funny, are also sometimes socially relevant and speak of issues other genres wouldn't deal with. Despite the genre being so popular, there was never enough representation of minorities in American comedies earlier. African-Americans were largely stereotyped in mainstream cinema, and the white men who ran the studios never thought of making a movie with an African-American cast keeping all the racial stereotypes aside. It was true not only in comedies, but other genres as well. This is probably the reason why an entire subculture of movies involving black writer/directors and cast started coming up.
The 1970s saw the rise of blaxploitation films where we saw the first black movie heroes an entire generation could look up to. Another man who started making his name in the late 80s is Spike Lee. With his sophomore feature, 'Do The Right Thing' (1989), Lee took the American audiences by storm and depicted lives of black and other minority people in a way that was never done before. Talking about comedies involving a black cast, we've compiled some of the finest flicks from this genre. Here's the list of really good black comedy movies on Netflix that are available to stream right now.
15. Sister Code (2015)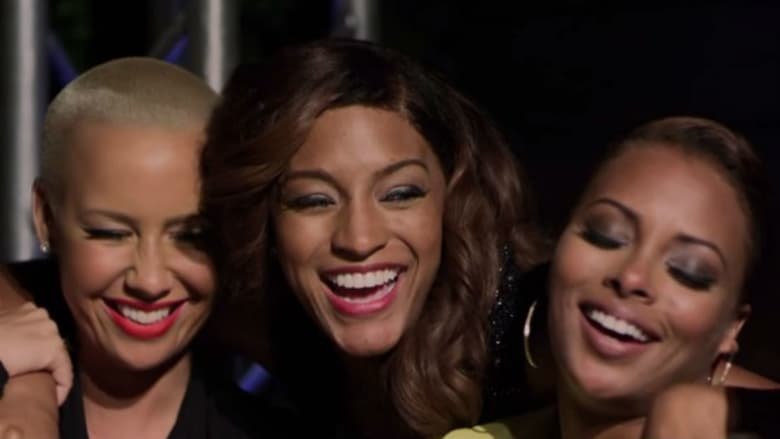 Corey Grant directed this movie in 2015 and it tells the story of three women who lead their lives through their inter-personal struggles after the death of their mother. One sister is a caring and loving soul, another one is a spirit blowing in the wind with not a care in the world, and the third one is a successful businesswoman. The movie has received mixed reviews from fans and audiences.
14. Naked (2017)
Directed by Michael Tiddes, 'Naked' directly released on Netflix in 2017. Marlon Wayans plays the role of Rob Anderson, a teacher at a school who is reluctant to accept full-time teaching job. However, his girlfriend, Megan is a successful doctor and they wish to marry soon. But on the day of his marriage, Rob gets stuck in a time loop and has to apply various tactics to get out of it and reach the church on time. Regina Hall plays the role of Rob's girlfriend.
13. Meet The Blacks (2016)
Made in 2016, 'Meet The Blacks' is a horror/comedy film which stars Charlie Murphy in his last film appearance before he passed away due to leukemia. Mike Tyson and Snoop Dogg also make guest appearances in this movie. The story revolves around Carl Black and his family. They are moving out of Chicago to California in order to avoid being caught by a gangster named Key Flo after Black stole a large amount of his money. The comic performances of the cast were praised by critics, but the movie failed to garner favorable reviews.
12. Gone Too Far! (2013)
'Gone Too Far!' is a story about two estranged brothers. Bola Adbaje is the writer of the play of the same name which the movie is based on. Adbaje also penned the script for the film. The play itself was critically acclaimed and ended up winning the Laurence Olivier Award. Producer Christopher Granier-Deferre was extremely proud of the film, saying that it was "a blisteringly funny, original and exciting representation of Black Britain today, and it is a unique opportunity to portray a vibrant community onscreen in a way that hasn't been done before."
11. Boy Bye (2016)
The story is about a free-spirited girl named Veronica Love, played by Shondrella Avery. Love is beautiful, successful, and has a life as happy as one can imagine. She is not someone who is ready to settle down with any one man, but has many boys falling head over heels for her. Finally, she comes across one man who she believes can be her ideal match. But when he opens up to her, Veronica realizes things will not be as smooth as she had imagined they would be. They movie has received mixed reviews, but the cast has been praised for the brilliant acting.
10. The Wedding Party (2016)
'The Wedding Party' is not an American film. It comes from the Nigerian film industry which is called Nollywood. The movie gives us a peek into Nigerian culture and we see how all of us are essentially the same in certain social situations. As the name suggests, the movie revolves around a wedding party. Dunni Coker and Dozzi Onwuka are both rich and successful and arrange a grand party to celebrate their wedding. Families and friends of both the bride and the groom appear in large numbers. As the day progresses, problems start arising between certain attendees and even the couple. The entire movie is wrapped in a beautiful, humorous tone. It is the second-highest grossing Nollywood movie ever, only surpassed by its sequel. Kemi Adetiba is the director of this movie.
9. Mac & Devin Go To High School (2012)
Two of the biggest names in hip-hop, Snoop Dogg and Wiz Khalifa play the titular characters in this movie. Snoop's character is called Mac. He has been failing in his exams for over a decade, as he is not interested in studying and the only thing he always does is smoke marijuana. Wiz plays the role of Devin, who is a serious and hardworking student, but ends up being friends with Mac, and as a result, also starts smoking marijuana. The two get to hang out together when they are partner up for a science project. Though the movie did not receive much acclaim, it can just be watched for the epic pairing of these two rap legends.
8. Are We There Yet? (2005)
Directed by Brian Levant, this movie stars Ice Cube in the leading role. Cube plays the role of a man who has fallen for a single mother of two kids. The kids think their divorced parents will reconcile, but that never happens and they are left heartbroken when they find out later their father has already started a new family. Cube's character is named Kevin, and though he hates kids and the kids hate him, they start growing fond of each other during a car ride. Though the movie did not receive critical acclaim, it received a lot of love from the audiences and a sequel was released in 2007.
7. Are We Done Yet? (2007)
'Are We Done Yet?' begins after Nick has married Suzanne, a mother of two kids, and they have started living happily. Suzanne is also pregnant with twins. When Nick comes to know about this, he decides that the house they currently live in is way too small for six people and so he decides to buy a new house. However, the new house that Nick buys is not at all suitable for living; it is a mouldy house. Chuck, the real estate agent who had helped Nick get the house, brings over friends to help him repair the house. Troubles follow when Nick's daughter goes out with one of the people working on the house. This results in Nick being pushed away from his family. The question is, how will he manage to bring them back together?
6. 2 Alone in Paris (2008)
This is a comedic post-apocalyptic story set in Paris where only two people are alive. One of them is a police officer, who has for long been on the hunt for a notorious thief, while the other, amazingly, is the crook himself. The former one's name is Gervais and the criminal's name is Curtis. Even after the apocalypse, the enmity between the two has not stopped, but as they realize they are the only two present, the duo decides that they might as well start behaving amicably with each. The movie has been praised for its visual effects. Critics have also praised the way post-apocalyptic Paris was shown in the movie. Ramzy Bedia, Eric Judor are the two lead actors of this movie which is directed by Ramzy Bedia.
Read More: Best Car Racing Movies on Netflix
5. The After Party (2018)
'The After Party' is the story of a rapper who is trying to make it big in the industry. His name is Owen, and his childhood friend from school, Jeff, is his manager who is desperately trying to get him gigs or a record deal. Jeff does manage to get Owen into a major show, but he collapses onstage and vomits on Khalifa. This comedy focuses on the needs of a modern rapper and explains to us how difficult it is to break into the music industry. Kyle Harvey and Harrison Holzer play the two lead characters of the movie. It is directed by Ian Edelman.
Read More: Best Black-and-White Movies on Netflix
4. Deidra & Laney Rob a Train (2017)
This is the second feature film by Sydney Freeland. It is the story of two young girls whose mother has been arrested and they also have a younger brother to take care of. Deidre, the oldest, believes that she needs money to make sure her siblings are not placed in foster care and also to bail her mother out. The only way she believes this can be done is if she manages to rob a train. The movie is hilarious and had premiered at the Sundance Film Festival before releasing on Netflix.
3. A Weekend With The Family (2016)
This 2016 comedy directed by Chris Stokes sees Marques Houston and Karrueche Tran leading the cast. The story is about an attorney named Travis Stankershet and his girlfriend, Courtney Clancy, who is also the daughter of his boss. The couple are in love and want to marry, and Courtney decides that the best way to get the two families to meet is by arranging a weekend get-together. However, when the two families meet, they hardly gel well, as each family is from a starkly different background. The film has garnered mixed reactions from audiences and critics.
Read More: Best Trippy Movies on Netflix
2. The Incredible Jessica James (2017)
'The Incredible Jessica James' is about a fiercely independent woman named Jessica who is trying to recover from her recent split with her boyfriend. Jessica is a drama instructor for children, and as she wants to get her life back on track, she comes across a man with whom Jessica likes to spend time. His name is Boone and he is a divorcee. However, both of them keep stalking their exes. The movie deals with Jessica's life problems, and how she deals with her emotional status. The movie has received critical acclaim, with some even saying that Jessica Williams is one of the finest black actors working in Hollywood.
1. She's Gotta Have It (1986)
This was the debut of director Spike Lee, and it immediately showed that America was being introduced to a rather unique voice. The movie is about a woman who dates three men simultaneously and does not wish to settle down. However, the three men get to know her situation and confront her. The film is about the choices women have to make in a society dominated by men. It received critical acclaim and also gave birth to a TV series of the same name. The movie also helped Spike Lee establish himself as one of the most important directors of the 80s. Lee would go on to make other vastly important films like 'Do The Right Thing' (1989), 'Malcolm X' (1992), and others. Tracy Camilla Johns plays the lead character in the movie.
Read More: Best Family Movies on Netflix