Netflix offers a great collection of comedies to its audience. Apart from creating some spectacular shows under its "Netflix originals" banner, the streaming service also allows you access to the shows of other networks. From the ones that aired a decade ago, to the ones that premiered last week, there is a lot of material on Netflix. Comedy is one of the most popular genres, and if you are looking for something that would take away the stress of the job or the drama of your personal life, then there is one simple thing that you need to do. Get some popcorn, open Netflix and binge-watch. Just to make things easier for you, here is the list of the really good comedy shows available on Netflix right now:
20. Bad Education (2012-2014)
Sometime in your life, you must have had that conversation with your friends where you discussed the worst teacher you ever had! One good teacher can change your whole perspective about a subject, or your life for that matter. Bad teachers can ruin a lot of things. Alfie Wickers is the worst teacher- though not quite the way you would imagine him to be. Does he teach bad? Yes, absolutely. He might look like a grown man, but there is a child inside his body, and, at times, his students appear to be more sorted out than him. However, he is not a bad person, and that's what makes him such a favourite among students. His colleagues, especially the headmaster, on the other hand, are a completely different bunch.
19. Santa Clarita Diet (2017- present)
Sheila Hammond, played by Drew Barrymore, and her husband, Joel, are real estate agents. A normal couple, with a normal job and everyday problems. There is no zombie apocalypse, they don't have any contact with anything supernatural. So, it comes as a flabbergasting mystery to them when suddenly, after a bout of illness, Sheila begins to have a craving for human flesh. Essentially, she becomes a zombie. At first, the couple tries to cover it up, but then, she needs to eat, and, in a few fits of rage, she eats some people, like their rival agent. The body count builds up, and they need to solve the mystery of her illness if they don't want the world to know about it.
18. Love (2016-2018)
Relationships are tough. Not in the broody, dramatic, sometimes dark kind of way that is often shown in the films and TV shows. Maybe, sometimes. Maybe, for some people. Normally, however, it has more to do with the gradual process of opening yourself up to someone. It is not the big dramatic events or gestures that define it, it is the small things, the ones that happen daily, the ones that are slowly incorporated into the combined space. When you see such a story, and you relate to these small things, things become funnier. If you want to watch such a show, 'Love' is the one you should bookmark on your to-see list. It presents quite a real portrayal of everything.
17. Fresh Meat (2011-2016)
Set in the Manchester Medlock University, 'Fresh Meat' follows the story of six students who have just stepped into the college life. Because of their untimely application for admission into the college, there is no place for them in the university's student residence area, so they share a house off-campus. Each of them is suffering from one or another form of distress, and instead of sharing their concerns or finding help, they indulge in the things that often lead to them ending up in hilariously difficult circumstances. Under the cover of its comedy, the show focuses on the various struggles that the students have to face while transitioning into adult life. You might relate to a lot of things in this show.
16. Big Mouth (2017- present)
Nick and Andrew are best friends and they are going through one of the most difficult times of their lives- puberty. Everything is changing, on the outside and the inside. There are a lot of thoughts and ideas in their head and don't even get started on all the sexual changes. They are at the stage of their lives where they desperately need advice from someone. And they do get it. From the most ridiculous of places. However, most of their actions are governed by the Hormone Monsters that always seem to be lingering about. They are the ones that make things more difficult. And then there is French-accented ghost in the Statue of Liberty whose advice seems to be knottier than riddles.
15. Atypical (2017- present)
Sam Gardner has lived under the care of his mother for most of his life. But, when he turns 18, he decides that it's time he took the reins of his life in his own hands. He declares to his family that he is going to be more independent now, and this process will start with him getting in the dating game. While his family is glad to learn of this development, it also becomes a source of concern for his mother who has to let go of the one thing that she had been doing for so long. While Sam follows his own quest, learning how the dating world works and understanding what love means, his mother finds a new door opened up for her.
14. Master of None (2015-2017)
Created by Aziz Ansari, who also stars in the show, 'Master of None' follows the story of Dev, who is a struggling actor, living in New York City. Each episode follows a certain event, some of the times, a single day, in his life, where he gets to see the world with a different lens, which further leads him to contemplate on various things, like his career, the immigration, the sacrifices of his parents, whether he wants children or not, etc, etc. The story was inspired by Ansari's own experiences, and he has integrated them into the story, which makes it all the more real, and all the more enjoyable.
13. Glow (2017- present)
The year is 1985 and Ruth Wilder is a struggling actress. She has spent most of her time auditioning for various roles in all sorts of places in LA. In the end, there is one place where she is accepted. Gorgeous Ladies of Wrestling, aka GLOW, is a new show that centres around professional wrestling promotion. Ruth begins to have a taste of stardom but often finds herself at crossroads with the director, Sam Sylvia. Sam thinks that Ruth overacts her part, while Ruth thinks that Sam is a B-grade director. The equation becomes more volatile when Debbie Eagan joins their show. Having worked in a soap opera, Debbie was Ruth's best friend at one point in time. But that was a very long time ago and now she is nothing more than a ruthless rival.
12. Unbreakable Kimmy Schmidt (2015- 2019)
One of the best comedy-dramas of Netflix, 'The Unbreakable Kimmy Schmidt' flourished under the acting skills of its lead, Ellie Kemper. It shows the story of Kimmy, who lived in a caged environment for 15 years because she was abducted as a kid by a crazy Reverend who held them in an underground bunker, telling them stories about how the whole world has been destroyed and that he is their saviour. When she, and a couple of other girls, are rescued, people believe that the trauma must be too much for them. However, Kimmy decides to prove herself to be more than just a victim. She is strong, she is unbreakable, and one of her biggest strengths is that she is perpetually optimistic. How do you beat that spirit?
11. Dear White People (2017- present)
Based on the film of the same name, 'Dear White People' focuses on the story of a group of black students studying in an all-white university. At the centre of the story is Samantha White, a girl who becomes a leading figure in speaking against racism and the bias they have to face in the college. The show also comments on the student politics and certain misguided steps that students are bound to take in the lack of any proper authority figure. And all these messages are delivered in a way that makes you crack up.
10. The End of the F***ing World (2017- present)
What would you do if you thought that you were a psychopath? James is a teenager who knows that he is destined to be a serial killer. He has enjoyed killing animals, but now that the school is about to end after a few months, he thinks he should fry some bigger fish. The fish comes in the form of Alyssa. Alyssa's home is not a suitable place. Her mother has married a man who makes passes at Alyssa, and she is disturbed by how her mother doesn't seem to respond to the man's advances. Alyssa finds the reclusive James interesting and she offers him to run away with her. For James, this presents the opportunity to kick-start his career as a serial killer.
9. One Day at a Time (2017- present)
Comedy is a very effective form of sending out a message. You can say something hard-hitting, maybe even offend some people with your truth-telling, and still get away with it because the joke was really great! If nothing, then at least you entertained people! 'One Day at a Time' is one of those forms of comedy. At its centre is a Cuban-American family, dealing with everyday problems in life. However, below the surface, the show offers a commentary on all sorts of issues, from immigration and racism to homophobia and mental illness.
8. Brooklyn Nine-Nine (2013- present)
It is quite difficult to believe how Fox could cancel a show that was so beloved by everyone. 'Brooklyn Nine-Nine' seemed to share the fate of the shows that met an end because they were underappreciated. However, NBC took over and allowed the show to thrive again, which might have to do something with all the fans standing up in the support of the show. Meanwhile, if you still haven't seen it, then Netflix presents you with a great opportunity to binge watch it. The show focuses on the lives of a group of detectives working at the 99th Precinct of NYPD in Brooklyn. Jake Peralta (played by Andy Samberg), the carefree yet kind of a genius at solving cases, is at the centre of it.
7. Lovesick (2014- present)
There is something about British comedies! There is just something special about it, something that sets them apart from the American ones. If you have watched enough of them, you know what I'm talking about. If you're just starting out on it, then 'Lovesick' is one of the shows that you must watch. It focuses on the lives of three friends living in Glasgow. Dylan, Evie and Luke- they are housemates, they are best friends, and there is a very great dynamic between them. Dylan's life becomes a bit complicated when he discovers that he has chlamydia and, as a courtesy, he needs to inform his previous sexual partners about it. This leads Dylan to contact all his ex-girlfriends, not all of whom are so welcoming to him.
6. BoJack Horseman (2014- present)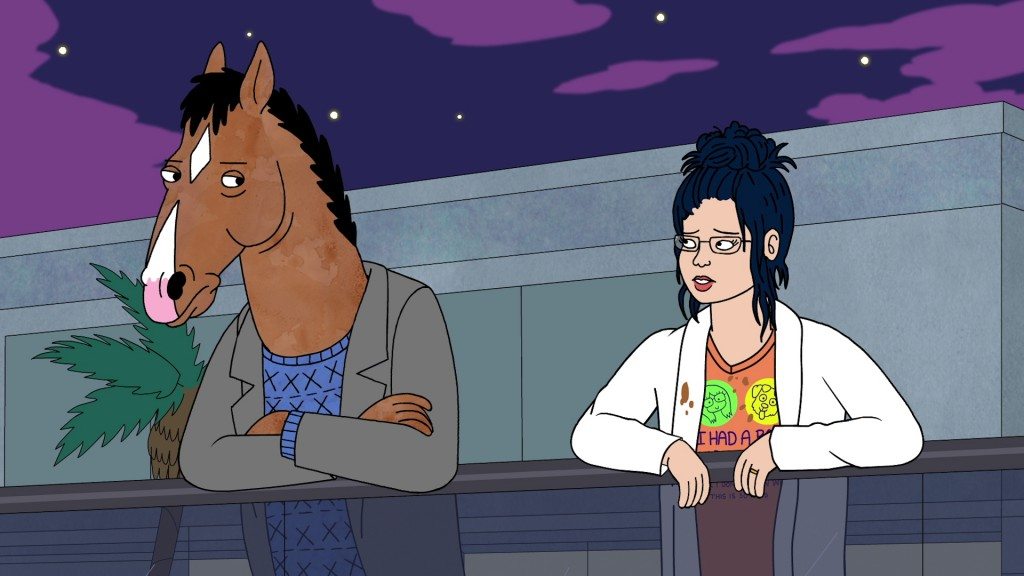 Generally, animated shows are for kids. However, 'BoJack Horseman' isn't something you'd want to show to your kids. For you, on the other hand, it's a must-watch show. It tells the story of BoJack Horseman, a horse who used to be a superstar back in the '90s when he used to star in a hit sitcom. However, suddenly the show was cancelled and, in a manner, so was BoJack's life. Hitting the middle-age while drowning himself in alcohol and self-loathing, at one point, he decides to get back into the world. But the world is a lot, lot different now. He has to learn the tricks of the trade right from the basics, all over again, if he wants to avail any chances of reclaiming former glory.
5. Derry Girls (2018- present)
It is the 1990s and Northern Ireland is in a state of conflict. These are the times during which Erin, Clare, Orla and Michelle go to school. Paralleling the growing unrest around them, their lives are followed by a queue of the problems that don't seem to end. Nevertheless, the girls enjoy their time together. As if their own mischiefs and trouble-making weren't enough, James is thrown in with them. James is Michelle's cousin, and the fact that he is English is a rather problematic thing in Ireland, at that moment. To keep him safe from attacks, he is enrolled in the all-girls school. 'Derry Girls' enjoys the benefit of a very talented cast that expertly portrays the complicated characters with great ease.
Read More: Best Netflix Original Movies
4. Sex Education (2019- present)
Otis Milburn is quite knowledgeable when it comes to relationships and sex. One would think that it is because he is an experienced person. The situation is exactly the opposite for Otis, and the source of his knowledge is something that makes him prone to embarrassment in front of his classmates. The thing is, Otis' mother is a sex therapist, and it is through her chats with her patients, and even with him, that he has learnt how the psychology works. Maeve Wiley has a bad reputation and she is practically an outcast. But, when she realises Otis' talent, she discovers an opportunity to make them both a bit richer. And so, they open a sex clinic to help their sexually repressed, or agitated, classmates. 'Sex Education' is a must see for all comedy fans.
Read More: Best TV Shows on Amazon Prime
3. Russian Doll (2019- present)
Of all the shows that Netflix has released in these two months, 'Russian Doll' is the one that has topped the list for me. It is intelligent, innovative, funny and intense. At times, it is a psychological thriller, while in most others, it is the study of how humans process their grief. Natasha Lyonne stars as the straight-forward, "no care in the world" Nadia, a software engineer in her mid-30s. She attends her birthday party at her friend's house, but it soon becomes the Hotel California sort of thing for her. She has checked in, but she can't check out. She gets caught up in an endless loop where, after every time she dies, she finds herself back at the party.
Read More: Best Cartoon Shows on Netflix
2. The Good Place (2016- present)
I know, this must be like the hundredth time you are getting the recommendation to watch this show. And if you still haven't watched it, then let me tell you, there is a reason everyone's telling you to watch it. 'The Good Place' stars Kristen Bell as the witty and dead saleswoman, Eleanor Shellstrop. When Eleanor dies, she finds herself in a utopia, custom-made for the good people who deserve to live the rest of the eternity in this rewarding place. Eleanor, however, was not supposed to be one of those people. In fact, she is pretty sure she doesn't deserve to be in such a place, especially considering the kind of people that surround her there. What she has to do now is quietly earn her place, and keep her secret well hidden.
Read More: Best Feel Good Shows on Netflix
1. Shameless (2004-2013)
The Gallagher family is full of eccentric characters. Frank is a single father of six children. He is an alcoholic, not someone you would call people friendly, and on top of that, he is unemployed. With such an irresponsible father, the responsibility of taking care of the family falls on the eldest daughter, Fiona. While their father stomps around, stirring trouble, Fiona has to clean up after him, as well as, she has to be the mother (in place of the one who ran off) to her five siblings, who come with problems of their own. Adding to the mayhem are the Maguires. They are a bunch of hillbillies themselves and don't really have an ideal relationship with the Gallaghers.
Read More: Upcoming Netflix Shows