Looking for engaging education? You came to the right place. The best documentaries will stay with you for life, just like a good fiction film. They can make you cry, rethink your like or even change your habits. Netflix has an amazing collection of documentaries perfect for binge watch. Here is the list of top documentaries on Netflix you can watch right now.
25. Cave of Forgotten Dreams (2010)
Werner Herzog's "Cave of Forgotten Dreams" is the story of humanity's oldest surviving pieces of artwork located in the Chauvet caves of Southern France. We learn the stories and historical perspective behind the oldest cave paintings, estimated at 32,000 years old. The caves' walls depict vivid impressions of their surroundings—and maybe their imaginations.
Despite having only a three-person crew that filmed the whole thing because of the restrictions of the French law, Herzog creates a fascinating and intimidating look at the artwork of the beginning of modern humans. Films like this remind you that there is a whole world of beauty and mystery to explore.
24. Cartel Land (2015)
"Cartel Land" is a complex, upsetting documentary about drug gangs in Mexico and the Mexican-American borders and also a portrait of the difficulties of popular revolutionary movements. We follow Dr. José Mireles, who decided to fight back against the cartels by forming a vigilante group, Autodefensas. This group was a response to both the cartels and to the corrupt government. Director Matthew Heineman's film is a bold documentary but also a beautiful one because of its cinematography and music score.
23. Finding Vivian Maier (2013)
Vivian Maier was a nanny whose previously unknown storage of 100,000 photographs earned her a posthumous reputation as one of the most accomplished street photographers. We follow real estate agent John Maloof as he explains how a trip to a local auction house resulted in him bidding and winning a box full of old negatives that belonged to a master of photography.
By trying to make sense of the reasons why this photographer kept her work a secret, Siskel and Maloof create an incredible, suspenseful film. This intriguing and fascinating documentary about a mysterious woman will be a delight for art lovers.
22. Fed Up (2014)
"Fed Up" aims to unearth the secrets of the American food industry, by exploring why we gain weight and how to lose it. Filmmaker Stephanie Soechtig and TV journalist Katie Couric lead us through this exposé that uncovers why we eat the way we do and who is behind famous misconceptions about food.
Besides focusing on statistics and interviews, this documentary also shows us real cases of teenagers who have struggled with their weight for many years. Most of all, "Fed Up" does not try to convert our beliefs but asks us to think more about the food industry and the choices we make daily.
21. Life Itself (2014)
"Life Itself" recounts the surprising life of renowned film critic and social commentator Roger Ebert. Director Steve James incorporates photographs, interviews, and archival footage to build his story of a flawed man and his love for cinema. The film explores the impact and legacy of Roger Ebert's life, until his inspiring battles with cancer and the resulting physical disability. A personal, wistful documentary that succeeds on every level.
20. Tower (2016)
This documentary took a different approach in depicting the horrors of a unforgettable crime. Through rotoscopic animation combined with archival footage, we are given an innovative perspective on historical storytelling. It was August 1st 1966, when a man opened fire from the University of Texas Tower, killing 16 people and wounding many more. From the victims to the saviours, we are told this unforgettable disaster with striking energetic illustrations, that might be strange to some and amazing to others. Give it a chance and experience this cinematic route in between the documentary world.
19. The Death and Life of Marsha P. Johnson (2017)
As the title suggest, here we are with a documentary full of rich content concerning an important theme and individual who goes by the name of Marsha P. Johnson. Marsha was an African American drag queen and activist for gay and transvestite rights. Although facing difficult situations and downgrading forces, she was always full of life and the memories her friends kept of her are joyful and powerful. On July 6 of the year 1992 she was found dead in a river, opening a mysterious case ready to be investigated. In between archive materials and interviews, activist Victoria Cruz takes the lead and opens doors into the death of Marsha P. Johnson.
18. Aileen : Life and Death of A Serial Killer (2003)
Aileen Wuornos is the notorious serial killer that has left this planet with a story that can perhaps never be fully understood and cleared up to its true facts. Portrayed by Charlize Theron in "Monster", Aileen was a prostitute living on the road who murdered 7 men. After being apprehended, she lived 10 long years on death row before being executed in 2002. Nick Broomfield took a special interest in this unusual persona and followed her  case, which ended up in a 1992 documentary and this 2003 follow-up. With an authentic  approach that deals with close-up facts and investigations, this documentary takes us right into the court room and gives us a troubling insight into the life and death of Aileen Wuornos.
17. Casting JonBenet (2017)
Unsolved crimes can be influential factors for the pick of one documentary or another. However, it doesn't give us the answer to the crime committed in 1990, we are given a different way of crafting a documentary. In this Kitty Green film, various actor are being cast for the roles of important individuals involved in the murder of 6-year-old beauty pageant JonBenét Ramsey. The mother, the father, the brother, police officers and more are all respectively dressed the same way and given the freedom to act, express and speculate on the murder that moved a whole country. Emotive, fascinating and intriguing at all times, it's a work of art unique on its own.
16. Amanda Knox (2016)
This Netflix-distributed documentary dives into the complex case of Meredith Kircher's murder in 2007, while focusing on Amanda Knox, an American exchange student who was roommates with the victim and therefore a serious suspect. At only 20 years of age she was convicted and spent four years in an Italian prison for a murder she did not commit. With a suspenseful combination of archive footage and interviews of the people connected to the occurrence, Amanda is ready to tell her story to the world, a disastrous incident that'll grab your attention without a doubt.
15. Out of Thin Air (2017)
A shocking story about a crime with no evidence rules the intrigue of this amazing documentary. "When murder is just a memory", says the slogan of the film, it surely means something isn't right. If we rewind back some decades, we'll find ourselves in 1976 in the mesmerising landscapes of Iceland. In that year, two men disappeared leaving no trace behind. What to do when a case needs assailants to be accused? Soon six individuals confessed to the crimes, but we already know there's a trap in this simple-looking story. Be ready to become disturbed and strangely amazed by this scandalous event.
14. The Imposter (2012)
What is it about ?: In 1994, a 13-year-old boy disappears without a trace from San Antonio, Texas. Three and a half years later he is found alive, thousands of miles away in a village in southern Spain with a story of kidnap and torture. His family is overjoyed to bring him home. But all is not quite as it seems. The boy bears many of the same distinguishing marks he always had, but why does he now have a strange accent? Why does he look so different? And why doesn't the family seem to notice these glaring inconsistencies? 
Why should you watch it ?: Easily one of the most gripping documentaries I have ever watched, The Imposter plays more like a atmospheric whodunit thriller than a conventional subject driven narrative. With clever juxtaposition of recreations and interviews, director Bart Layton ensures there is never a dull moment in the film, if anything, you will be at edge of your seats anxiously waiting for events to unfold.
13. Who Took Johnny (2014)
The true story of Johnny Gosh's disappearance in the early 80's is an intriguing and disturbing mystery that'll definitely grab the attention of anyone interested in missing children's cases or simply in an important part of history. It has been 30 years since this 12 year-old-boy never returned home while delivering the morning newspapers, a story which has had many turns and twists, conspiracy theories and unsolved responses. His mother appears as the central figure in this compelling documentary which shows us the important activity she undertook in order to fight against kidnapping, children abuse and the quality of law enforcement. A heartbreaking story with a door still open.
12. The Witness (2015)
More than 50 years ago Kitty Genovese was brutally murdered at the front steps of her apartment building. This horrendous disaster led to the formation of the so-called "bystander effect", after The New York Times published an article claiming there was a large number of witnesses at the crime who did not act in the victim's defence. Through an emotional journey and impactful closeness, Kitty's brother now tries to uncover the truth through a personal investigation. A powerful documentary that questions various aspects of this tragic past, while portraying the victim as the kind person that she was, bringing her to life in the memories of the ones who knew her and in the thoughts of the ones who didn't.
11. The Galapagos Affair : Satan Came To Eden (2013)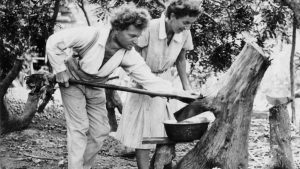 A strange and fascinating story leads the way into the exotic landscape of a little Galápagos island called Floreana. Back in the 1930's, Friedrich and Dore, two German individuals wanting to exclude themselves from society, leave their respective families in order to live a secluded life in this Ecuadorian inhabited paradise. However, they're not the only ones who wish to walk the warm ground and wet their feet in the clear water. Let's just say this obscure tale leaves two possible murders on the way which might or might not get solved. Starring Cate Blanchett and Diane Kruger as voice actors amongst others, it's a technically well-crafted documentary with loads to feed the eyes.
10. Man on Wire (2008)
On August 7, 1974, Philippe Petit, a French wire walker, juggler, and street performer, spent almost an hour, walking across a wire he and friends strung between the rooftops of the Twin Towers.
Filmmaker James Marsh uses contemporary interviews, archival footage, and re-enactments to tell the story of this mysterious, fascinating man who surprised everyone. We also follow the details of the night before the breathtaking walk: getting the cable into the towers, hiding from guards, and mounting the wire. The documentary is extremely well made and counts with a suspenseful and climatic atmosphere.
9. Blackfish (2013)
"Blackfish" shows the shocking consequences of keeping such bright and sensitive creatures in captivity. It begins with the example of the killer whale Tilikum who is responsible for the deaths of three individuals, including a top killer whale trainer.
A thought-provoking documentary, this documentary tells a marvelous story that will have you as tearful as the trainers that sincerely care for the well-being of the creatures. Besides being very well executed, the films is extremely effective and direct. Between the gripping footage and the distressing interviews, "Blackfish" effectively proves its point.
8. 13th (2016)
"13th" takes an in-depth look at the prison system in the USA and how it reveals the nation's history of racial inequality. The documentary touches on slavery, the civil rights movement, the Civil Rights Act of 1964, Richard M. Nixon, Reagan's declaration of the war on drugs and much more.
This documentary is an excellent summary of American History. Although it interviews a lot of experts and gives you a massive amount of facts and statistics, it never feels like a lecture. Besides being highly informative, it is entertaining and an inspiring narrative. Despite your political view or nationality, this documentary should be watched by everyone.
7. Cowspiracy (2014)
In this documentary, we follow Kip Andersen, an aspiring environmentalist, as he boldly seeks to find the real solution to the most pressing environmental issues and true path to sustainability. He soon discovers that the world's largest environmental organizations are failing to address the most destructive force facing the planet today.
Supporting its claims in scientific and evident evidence, "Cowspiracy" is an eye-opening, heartbreaking film that will certainly make you think about the way you lead your life. By being audacious and funny at times, Andersen and Kuhn created a long overdue film that is captivating and mind opening.
6. The Square (2013)
"The Square" looks at the 2011 Egyptian Revolution from the perspective of those who were on the front lines, risking their lives to build a new society.
Director Jehane Noujaim delivers a snapshot of a political movement over two years and demonstrates that systemic change does not come easily. By portraying the emotional complexity that has made their road to democracy so difficult, the director transforms a real and raw insight into a complex, heartbreaking documentary that will stay in your mind for a long time.
5. Winter on Fire (2015)
A documentary on the unrest in Ukraine during 2013 and 2014, as student demonstrations supporting European integration grew into a violent revolution calling for the resignation of President Viktor F. Yanukovich.
"Winter on Fire" is beautifully crafted, deeply involving, with great music and true story. By creating awareness about this situation, the documentary shows. Besides, "Winter on Fire" showcases how social media can have a positive impact on society, by facilitating communication and protests. A must see.
4. The Thin Blue Line (1988)
Errol Morris's unique documentary dramatically re-enacts the crime scene and investigation of a police officer's murder in Dallas, Texas.  By doing so, the film successfully argues that a man was wrongly convicted of that murder by a corrupt justice system.
The documentary shows the audience the evidence gathered by the police, who were under extreme pressure to clear the case. It strongly makes a point that there is a lot of circumstantial evidence. Errol Morris created a stunning depiction of a gross miscarriage of justice. Besides the brilliance of the art construction, its message is clear and powerful.
3. The Look of Silence (2014)
"The Look of Silence" deals with the mass murder of communists in Indonesia between 1965 and 1966. This serious crime resulted in a million of the deaths at the hands of militia hired by the government. These tragic events have gone unnoticed in the public eye, the perpetrators are still at large, hailed as national heroes.
Adi, the brother of an Indonesian man murdered in this context, decides to revisit this tragic incident that strongly affected his family and visit the men who were responsible for the killings. A raw, powerful documentary that will move you.
2. Making a Murderer (2015)
"Making a Murderer" documents the true story of Steven Avery, sent to prison under questionable circumstances, exonerated on DNA evidence 18 years later, and accused of murder shortly after.
Avery's story is a horrifying tale that will leave you to question (and maybe be infuriated with) law enforcement, politicians, and news media. Although a bit lengthy, this documentary is extremely entertaining, and even sometimes unbelievable. Winner of four Emmys, including Outstanding Documentary, it is a must watch for those who enjoy true crime and documentaries.
1. Cosmos: A Spacetime Odyssey (2014)
"Comos" explores how we discovered the laws of nature and found our coordinates in space and time. It is Neil deGrasse Tyson's remake of Carl Sagan's original documentary-series "Cosmos: A Personal Voyage".
"Cosmos" is absolutely worth a watch, it is entertaining, heartfelt, absorbable, and most important, educational. Tyson's narration is amazing and the powerful images of the cosmos are mesmerizing. If you are an admirer of space, you certainly must watch this breathtaking series.