R rated superhero movies may be all the rage now, courtesy of 'Deadpool' and 'Logan', but they have been in production since as long as the 80s. It's as they say, that sometimes, it does take the mainstream to change the norm. The success of big, studio oriented films, especially superhero properties at the box office is, I hope, for the better, since it goes on to prove two things. One, the audience is maybe finally ready to stomach the amount of violence or crude humour characteristic of R-rated movies, presented in a mainstream movie. Two, studios are finally ready to take risks in terms of R-rated content in their movies. In many ways, that works as a cause and effect relationship too. But cinema commerce for some other day.
It is now an established fact that we absolutely love some gut slashing violence in our superhero movies. After all, there can only be so many morally upright superheroes before one Deadpool comes in and swoops all that morality out the window (Hardly anybody minded Deadpool sex scene or its movie rating). Time to update your watchlists people, here is the list of top R-Rated superhero movies ever made. You can watch several of these adult Superhero movies on Netflix, Hulu or Amazon Prime.
10. Constantine (2005)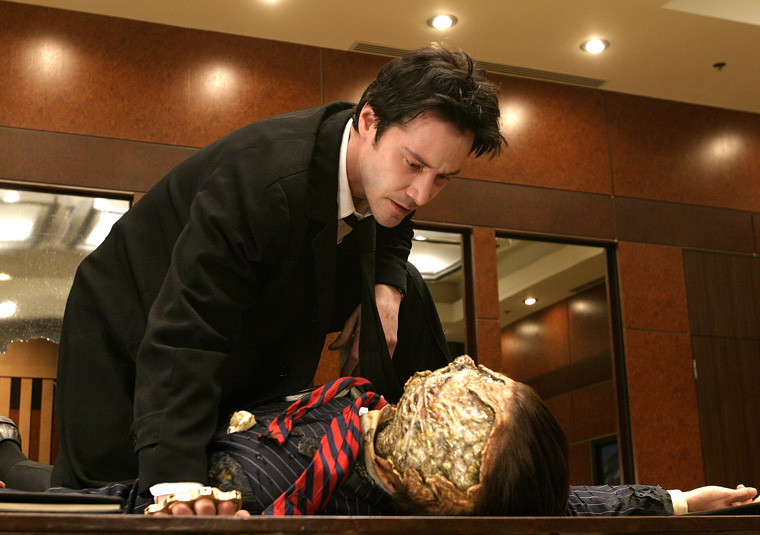 The least R-Rated movie on this list, so to say. It could have easily passed as a PG-13 thriller rather than an R-Rated horror flick, but since the MPAA sided with the latter, this movie finds a place on the list. The film stars Keanu Reeves as the titular character John Constantine, the famous cynical occult detective from the house of DC Comics. More of an antihero, John Constantine, for me, is one of the most intriguing characters in the DC roster and one hell of a badass. Therein, I believe, lies the film's judgment. The fans of the source material may be disappointed due to the film's major departure from the source material. On the other hand, as a standalone flick, it is pretty watchable with great special effects and a somewhat structured plot to say the least. The same is true of Keanu Reeves' portrayal of Constantine too. The action sequences are great too, nothing too R-Rated though. If you are not too privy with the Hellblazer comics, you might end up enjoying this film greatly; I know friends who have!
Read More: Best James Bond Movies of All Time
9. Kick-Ass (2010)