Considered to be one of the most prominent and talented actresses of Hollywood as well as the World Cinema, Sandra Bullock is an Academy Award-winning actress famous for her sombre yet regal looks. Achieving a breakthrough with the movie Demolition Man, she has grown as an actress with films like The Blind Side and Gravity under her belt. Despite being 53 years old, this American beauty can still make not only men skip a heartbeat but also the women. With that said, here's the list of top 12 movies of Sandra Bullock. Cheers, and enjoy.
12. Speed 2: Cruise Control (1997)
Annie (Sandra Bullock) supposedly likes safe and secure guys but always ends up attracting the dangerous and adrenaline junkie kind. In the second installment of the Speed series, the stakes have become a little bit high when the game has shifted to a Cruise line which Annie and her new boyfriend Alex are traveling on. A vengeful villain who is suffering from a deadly disease challenges Alex to solve his strange puzzles or die with all of the other passengers. With a crazy guy bent on taking all of the cruise passengers with him on a death ride, what will Annie and her new boy-toy do to stay alive at the end of this high-speed chase?
11. Miss Congeniality (2000)
FBI Agent Gracie Hart (Sandra Bullock) has a reputation of being more manly than the men themselves and always taking the hard route towards solving a case. When one of her cases turns into a disaster, Gracie must face a dreadful punishment that may just make a woman out of her. As a punishment, Gracie is sent as an undercover agent to the Miss U.S. beauty pageant, where a serial killer has threatened to kill the next winner. Before the sinister plan unfolds itself, Gracie must grasp whatever beauty and feminine qualities she has, and use them to save the ones she has grown close to.
10. The Net (1995)
Angela Bennett is a computer engineer and skilled hacker who doesn't interact with anyone but her Alzheimer's prone mother and an ex-boyfriend Greg. When on holiday she becomes a part of a sinister plot constructed by a group of master hackers called Praetorians to take down the U.S. Government. When she refuses to cooperate her records, her identity, and every proof of her being Angela Bennett are erased from the public record. Branded as an international terrorist and running for her life, Angela must fight not only to save her country but also to get her name back.
9. While You Were Sleeping (1995)

Trudging carefully through her lonely life Lucy, a ticket collector wants nothing short of a miracle to save her from the endless desolation. And God gives her not one but two. When she saves the life of a stranger, Peter, she is thought to be his fiancee by his family while the poor man himself goes into a coma. Waiting for Peter to wake up Lucy the unwilling fiancée of the handsome stranger starts falling in love with Peter's brother Jack. When the truth comes out Lucy will have to decide whether to face her demons and confess her love for Jack or walk away forever leaving both her prince charming midway.
8. 28 Days (2000)
Ridden with drugs, alcohol, and bad influence of her dumb boyfriend Gwen (Sandra Bullock) finds herself in a fit when she crashes her sister's wedding drunk and gets involved in a car crash. As a penalty for her irresponsible behavior, the newspaper columnist is ordered to spend 30 days in a rehab facility, so that she can reflect on her lifestyle. While there Gwen meets many addicts like her and at last realizes how poorly she has treated the people closest to her. A heartwrenching and satirical story of how addiction can shelter you but separate you from everybody else, this is 28 Days.
7. The Proposal (2009)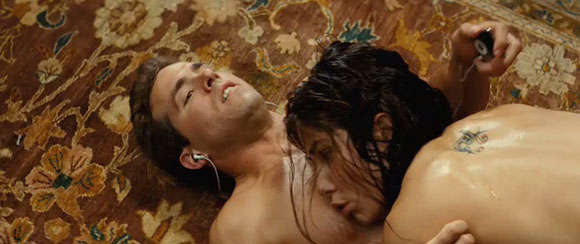 The Devil's Spawn Margaret Tate (Sandra Bullock) has made her every employee's life painfully difficult. Her assistant Andrew Paxton (Ryan Reynolds) an aspiring writer and the son of a business tycoon has left his Alaskan home to pursue a writing career in New York. But under Margaret, his job has become a noose around the neck. However, God has a wicked sense of humor as we all know. The tables are turned when Sandra's visa expires, and she has to return to Canada. In an attempt to stay in the U.S. she fakes a marriage with Andrew, which adds to the fun and generates a spark between the two of them.
Read More: Best Movies of Ryan Reynolds