Sanjay Dutt, the man, the actor, the legend. As has been perfectly described by the teaser of the movie Sanju, Sanjay Dutt's life story is nothing less than a Bollywood movie script. Son of a legendary actor Sunil Dutt, Sanju had everything that he ever needed in the face of a loving father and the welcoming arms of one of the biggest entertainment industries of the world. However, a plethora of controversies plagued his life including drugs, the 1993 bombing conviction, and a fight with bad luck in his love-life. We can't very well do anything about what life dealt Sanjay Dutt, and how he reacted to it. What we can do is prepare a list of top movies of this versatile actor, and present it to the die-hard fans of this bad boy of Bollywood. And that's precisely what we have done. Cheers.
15. Zinda (2006)

Based on the superhit Korean movie Oldboy, Zinda is a story of Roy, a man who is imprisoned for 14 years without any crime or opportunity to explain. To find out why 14 years were erased from his life and why he became a lonely shadow of a man, Roy searches for the man who made him the animal he is today. His search ends him up at Rohit's door, the only person who can direct him to the one sin of his past that destroyed many lives.
14. Daud (1997)
Unaware of his sordid fate, Nandu a notorious thief is on the run from both police and his employer Pinki. He was set out to steal a package worth crores of rupees. But before delivery, he raised his price. This resulted in both the goons of Don Pinki and police trying to catch him, with a cabaret dancer Bhavani tagging along for the ride. What Nandu doesn't know is that the package contains a bomb, not gold as he thinks. A movie about the comedy of errors this a must watch for all fans of Sanjay Dutt.
13. Mission Kashmir (2000)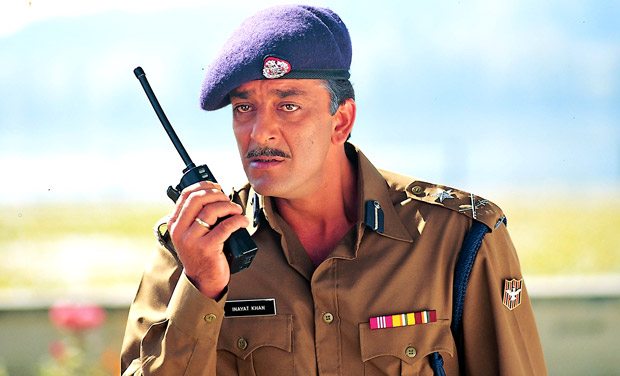 Terrorists are always viewed as people with evil motives and misdirected thinking. This war movie tries to display the other side of the coin by showing how a terrorist is created. The story starts with a perfectly happy family in Kashmir which loses all they have and leave behind a defenceless child. This child is then brainwashed by a terrorist into doing his bidding. Planning on redemption for his family's death but acting as a puppet in a sick man's plan, he attacks Kashmir hoping to escape the perils of his past. The only thing standing in his way is the family he has still left.
12. Rocky (1981)
Rocky, a carefree young man, has fallen for gorgeous Renuka and is dreaming of a future with her. However unaware of his dark past he comes to know that his real name is Rakesh and that his birth father was murdered brutally for reasons unknown to him. Set on exacting revenge for his father's death, Rocky sets on a path that may very well end up in him losing the only family he has left. Rocky was the first movie of Sanjay Dutt's career and released after his mother Nargis died in 1981 of cancer.
11. Vidhaata (1982)
The first and a memorable pairing of Sanjay Dutt and the great Dilip Kumar, Vidhata is a gem of its time. Built on describing the tumultuous relationship between a grandfather Shamsher who has become a criminal to avenge his son's death and his grandson Kunal who has been raised far from a life of crime, this movie shows how sometimes family can turn on family. When Kunal and his lover Durga are attacked by a band of goons, Shamsher inadvertently has to come out of the shadows and tell Kunal the truth, which creates a lot of tension and the fuel for a brilliant climax.
Read More: Alia Bhatt Movies