Being one of the largest in the country in its scope and reach, Telugu film industry produces more than 200 movies per year. Known as Tollywood in short, the industry is based in Hyderabad, Telangana, which also holds the Guinness World Record for the largest film production facility in the world, Ramoji Film City. But, Netflix is yet to catch up with rivals Amazon and Hotstar whose south packs include several Hindi-dubbed or original versions of blockbuster Telugu movies.
While Tollywood finds a new ally in streaming platforms like Amazon and Hotstar, Netflix still relies on its immense collection of international content. If you are in a mood to refresh your Telugu lexicon, it will be a difficult task to search and locate your movie on Netflix. But don't worry, we've compiled some of the finest Tollywood films for you. Here's the list of really good Telugu movies on Netflix that are available to stream right now.
11. Manu (2018)
This 2018 drama/mystery starts off with the eponymous leading character, who is a painter, being wooed by a woman called Nila. The two of them do hit it off well, but a small misunderstanding ends up causing a massive quarrel between the two at a bar. When Nila leaves the bar, Manu witnesses three gangsters harassing an old man and ends up saving him from them. Soon enough, he comes to know that these gangsters have now targeted Nila. Manu has no clue as to who they are and what they want from Nila. He needs to find them soon before they cause some irreversible damage. The premise of this film is great and its visuals also work like a charm. However, the main problem with this film is its slow pace which makes it a rather tedious watch.
10. Naa Bangaaru Talli (2013)
'Naa Bangaaru Talli' is a Telugu film about a man called Srinivas whose family knows him to be a social worker. His daughter, Durga, is a brilliant student who wants to move to the city where her father works in order to enroll herself in a major college for her undergraduate course. Though reluctant at first, Srinivas finally allows Durga to come with him to the city of Hyderabad. It is only then that we get to know that Srinivas is not at all the social worker that he pretends to be. Instead, he works for a sex-trafficking racket and is currently under threat from his rivals in the business. When his rivals kidnap Durga and force her into prostitution, Srinivas has to taken on this gang all by himself. The film is a social drama and shows us how each and every corner of a major city is teeming with dangers.
9. Baahubali: The Beginning (2015)
The war epic franchise, 'Baahubali' broke almost all the records of the Indian box office with its first and second instalments. Filmmaker Rajamouli stunned the entire nation with the unbelievable performance of his two-part war spectacle. He moves against the wind while other Indian filmmakers were eager to make more Hollywood like movies. Rajamouli returned to one of India's most cherished treasures, its rich mythology. He turned up with an epic tale that resembles Mahabharatha or Ramayana in magnitude and grandeur. When he managed to bring in the budget and technical expertise, 'Baahubali' became the biggest movie India has ever made.
'Baahubali: The Beginning' starts when a tribal couple, Sanga and her husband, living in the dense forests around the province of Mahismathi, save a drowning infant. The kid grows up as Shivudu, an adventurous young man with many mystical powers. In one of his adventures, he comes across the secrets of another land lying hidden beyond the mighty waterfall. Shivudu becomes restless out of curiosity and sets on a dangerous journey against the wishes of his mother. He climbs up all the way to reach the top of the waterfall and moves further towards the tall mountains. An accidental stand-off with the rebel tribal girl makes him smitten and leads him to the sovereign land of Mahismathi, where he would meet his destiny and arch-rival, Bhallala Deva
8. Baahubali 2: The Conclusion (2017)
'Baahubali 2: The Conclusion' begins where the first installment left the viewers on a cliffhanger. 'The Beginning' ends with Kattappa, the loyal slave warrior lord kills Baahubali from behind. The second instalment explains the events that led to the climax of 'The Beginning.' Kattappa narrates the flashback to Shivudu, who are shocked when learning his lineage as the prince of Mahishmati and the son of Amarendra Baahubali. Shivudu realizes his true identity of Mahendra Baahubali, heir of Amerendra Baahubali's crown and kingdom which is now under the rule of Bhallala Deva.
He plans a coup d'état with the help of Kattappa and his tribal army that includes the stepmother and stepfather who saved him from drowning at the beginning of the first installment. Noa, Bhallala Deva had to pay the hefty price of his sins which include chaining Shivudu's biological mother, Devasena for years in the courtyard of the palace. With his father's great legacy, the Kingdom of Mahishmathi and his mother eagerly waiting, Shivudu, Mahendra Baahubali, prepares for the final showdown.
7. Ee Nagaraniki Emaindi (2018)
An entertaining buddy comedy, the Tharun Bhascker Dhaassyam directorial 'Ee Nagaraniki Emaindi' is the story of four friends who take a trip to the Indian coastal town of Goa which is rather famous for its beaches. In their moments of fun and frolic, one of these four characters loses a valuable ring. Now the only way in front of them to retrieve the ring is by participating in a short filmmaking competition, winning it, and using the money to buy something similar. Despite having the premise of a slapstick comedy, this film avoids cliches with great panache and brings us a story totally fresh and exciting.
6. Care Of Kancharalepam (2018)
This unconventional love story is set in the eponymous town and revolves around several characters. Four love stories are the focal point of this film. Each of these stories captures love in strikingly different forms, and we observe these relationships as they flourish while dealing with all the external factors that the setting provides. The film gives us an overall picture of a South Indian rural society where people co-exist with each other and are always eager to share their neighbors' joys and sorrows. Director Venkatesh Maha proves with his debut film is that he is someone we can rely on when it comes to structuring a film. Nowhere does 'Care Of Kancharalepam' feel disjointed despite dealing with so many characters and situations.
5. Neevevaro (2018)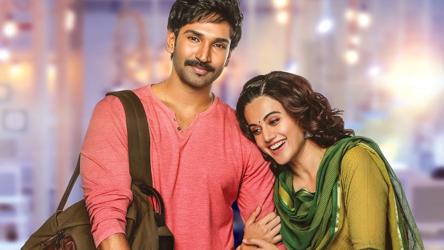 'Neevevaro' is a romantic tale of Kalyan, a visually challenged chef and Vennala, his beautiful regular customer. Kalyan runs his own restaurant and overcomes his disability on all facets of life with determination and will power. Kalyan's family and friends provide him with all the support and help him successfully run his business. Kalyan's life changes forever the day Vennala walks into his restaurant. A beautiful romance grows between the two and they start planning a future together. But their world turns upside down when Vennala goes missing all of a sudden. Kalyan kick-starts an investigation of his own, with the help of his best friend Anu and a pudgy policeman, Chokka Rao, to find out what happened to his woman. 'Neevevaro' keeps the viewers on the edge of their seats till Kalyan solves the mystery behind Vennala's disappearance.
4. Adhugo (2018)
'Adhugo' is the hilarious pursuit of a village behind Bunty, the little pink piglet! Bunty is the apple of his owner, Chanti's eye. The innocent animal and his friend lead a peaceful life when some people, each having their own selfish motives, crash land on them. The young lover Abhishek wants to apologize to his girlfriend after giving the piglet as a surprise gift. Six Pack Shakti is a fitness freak in the town who wants the piglet as a pet. Gutka Gangaraju and Sharjah Shankar try to steal the piglet to participate in an illegal animal racing tournament. With so many people having so many intentions to try and take away the piglet, 'Adhugo' races towards a hilarious culmination of the race. The interesting thing is Bunty becomes a sign of good luck for all of them because of his strange birthmark. Can his lucky charm save him from the greedy people running after him?
3. W/O Ram (2018)
'W/O Ram' is a shocking portrayal of domestic rape by exploring the horror of having a rapist at home. The movie centers on Deeksha, an innocent woman, who is scattered after the unexpected death of her husband. The clueless Deeksha decides to start a search on her own terms as the police department is indifferent to her queries. But the reality behind her husband's death is much more sinister than it seems. She peels off layers of the mystery behind the accident that led to the death of her husband. Later, tension further rises as Deeksha invites the attention of some dangerous people. She gets help in the right time from an energetic policeman and together, they inch close to the real culprit behind the shadows. 'W/O Ram' was hailed for its interesting climax and an unexpected twist in the tale upon release.
Read More: Best Tamil Movies on Netflix
2. Abhinetri No. 1 (2016)
Director A L Vijay's horror-comedy was the surprise hit of the year 2016 in almost all the South Indian markets. The trilingual movie features Krishna, a young man working with a corporate firm in Mumbai. His ambition is to marry an English speaking girl with a westernized lifestyle. He strongly believes that such a marriage will help to erase his village roots and promotes him to a higher social status.
Unfortunately, Krishna marries Devi, a village belly under some accidental circumstances. The marriage is organized by the family without his nod and the poor man fails to resist the emotional blackmailing of his family members. When he returns to his workplace, Krishna tries hard to keep his marriage a secret from his colleagues and friends circle. As per the plan, he moves into a dilapidated flat with Devi to evade visitors. He tries to convince Devi to go back to the village as early as possible. But to the horror of Krishna, Devi starts behaving like an entirely different person once they settle in the new flat.
Devi begins to excel in everything Krishna hates her for. She transforms into a gorgeous woman with an enigmatic charm around her. Soon enough, Devi steals the heart of Superstar Raj, who gives her a hand to step into the world of cinema. When Raj falls head over heels for Devi and signs her up for his next film, Krishna unearths the horrifying truth that his wife is possessed by a ghost. Ruby, who was the previous occupant of the apartment, has committed suicide there. Now, her ghost is with Devi and is also the reason behind her radical transformation. Krishna's attempts to get rid of the ghost from the body of his wife, with whom he has tied the knot after rejecting 32 proposals, unravel a laugh riot.
1. Awe (2018)
'Awe!' is the story of five women hailing from five different backgrounds and are entangled in five different predicaments. The movie, which is touted as a psychological thriller, has some brilliant performances and nearly flawless writing. It has amazing animation powered title track to introduce each of the five female protagonists. They include a biker girl turned psychiatrist, a girl-next-door, a chef, a magician, and a junkie.
Even though these women have nothing to do with each other, they are connected by a fragile string, Kali. She is a troubled woman who decides to commit suicide and plans a mass murder along with her hara-kiri. The mysterious connection between Kali and her deadly mass murder plan with the five women make 'Awe!' a brilliant thriller. The movie takes the viewers from comedy to horror and then to drama, before culminating in a mind-blowing climax.
Read More: Best Indian Movies on Netflix