The internet squarely has two sorts of compulsive readers, and the same also stands to be true for anybody stumbling upon this link. For the first type, I am just going to spare you the trouble and let you know that 'BoJack Horseman' will be returning for a sixth season surely, and that too soon enough. For the second type, there is much reading to do as we try to scoop out theories and lay out everything that we know about the sixth season of the acclaimed Netflix series.
'BoJack Horseman' has been one bumpy ride; one that was long-winded too until reaching a certain crossroads. It is this crossroads, somewhere between the final segments of season 1 and the middle segments of the second season, that the show began its pursuit into true greatness, culminating into the all winning, all trumping fifth season, unequivocally its best to date. The numbers would further my claim too: the fifth season of this critics' favourite sadcom has a staggering 100% on Rotten Tomatoes and an unprecedented for the series, 92% on Metacritic.
However, we all know that a majority of the reason why BoJack got renewed for a sixth season within no time after the fifth season aired in its entirety on Netflix is the viewership. Starting with its third season, the story of the depressed anthropomorphic horse struggling with a drug addiction and coping with the remnants of his glory days from being the star of a 90s sitcom has had an ever-increasing and loyal fan-base, and the numbers reflect that. Hopefully for us, if the numbers continue to soar as they have with every successive season, and the critics continue adoring BoJack as they have, we still have quite a few seasons of 'BoJack' before the lights are put out for good. Now to everything that we know about the upcoming sixth season!
BoJack Horseman Recap:
There is no denying that even for a show that is primarily pitched as a comedy, darkness is quite an alluring and intriguing pull for certain audiences, also being something that has inadvertently become this show's trademark. Season 5 plunged deep into that darkness, singularly establishing this season as the bleakest of them all, and in its expert dabbling of those themes is where BoJack earned most of his rave from.
Season 5 begins with BoJack starring in a new series, 'Philbert', with the character eerily embodying BoJack's darkness on more than one instance, even mirroring some of his toxic traits. The primary arc of the show is BoJack dealing with spiralling deep into the role and losing his grip on reality as his addiction grows out-of-bounds. Meanwhile, Diane Nguyen finds ways to deal with her tough divorce from Mr. Peanutbutter, who already found new love this season and ended up proposing to her by the finale. Todd too tries to come to terms with his asexual relationship, landing a short-lived role at a production company.
Princess Carolyn who serves as a producer for BoJack's show ends up running into an old flame, and by the end of the series, finally adopts a baby. The series highlight, also its darkest moment yet, a point of no return for BoJack is when he completely loses his grip on reality following withdrawals and ends up choking his co-star and girlfriend, Gina. The season ends with Diane dropping BoJack voluntarily off at Rehab, as BoJack finally recognises his need for help.
Bojack Horseman Season 6 Theories: What is it about?
One of the many reasons that season 5, apart from being brilliantly written and performed, scored so high with the critics was because of how smartly and in a manner that is almost self-aware, the show managed to mirror the realities of the entertainment industry and Hollywood in particular (Hollywoo on the show), especially the #MeToo movement that disrupted the very fabric of the industry. Something like that doesn't simply happen by chance and was something of a carefully introduced intervention by the writers. One can surely expect more of that stepping into season 6.
Coming to the plot, in its regular lineup of episodes, I expect season 6 to spend some time on how BoJack starts coming to terms with his addictions and life inside the Rehab facility. A visit or two by Hollyhock could really add to the pathos here, just as BoJack unassumingly trying to adjust to his new life would lead to some darkly humorous bits. How the world comes to react to the 'choking' incident is also yet to be seen, with 'Philbert season 2' hanging in the balance.
Diane's story too, starting since the end of season 4 has been one of self-discovery, and we can see her nearly there. As for Mr. Peanutbutter, it's wedding bells again, and all we can hope for is that his fourth time may prove to be a charm. Princess Carolyn assuming and slowly moulding herself into the role of a doting mother and a hardworking professional is another arc I expect the makers to delve deep into, and a generous peppering of a Todd "cleaning up his sh*t" storyline never harmed anybody.
Apart from its regular 10 episode run addressing all of these, what I really look forward to are the two episodes every season that have continued to defy norms, presenting intriguing stories in unprecedented fashion: be it the episode involving the psychiatrists from the last season wherein they alter their client's details for the sake of "confidentiality", or an entire episode underwater where no dialogue is spoken yet so much happens, or finally, an episode that only has a 22 minute long monologue by BoJack at his mother's funeral, and is the best of the absolute best in my opinion. I deliberately refrain from starting off on 'Free Churro', lest we forget why we are here. Season 6!
Bojack Horseman Season 6 Crew: Who is Behind it?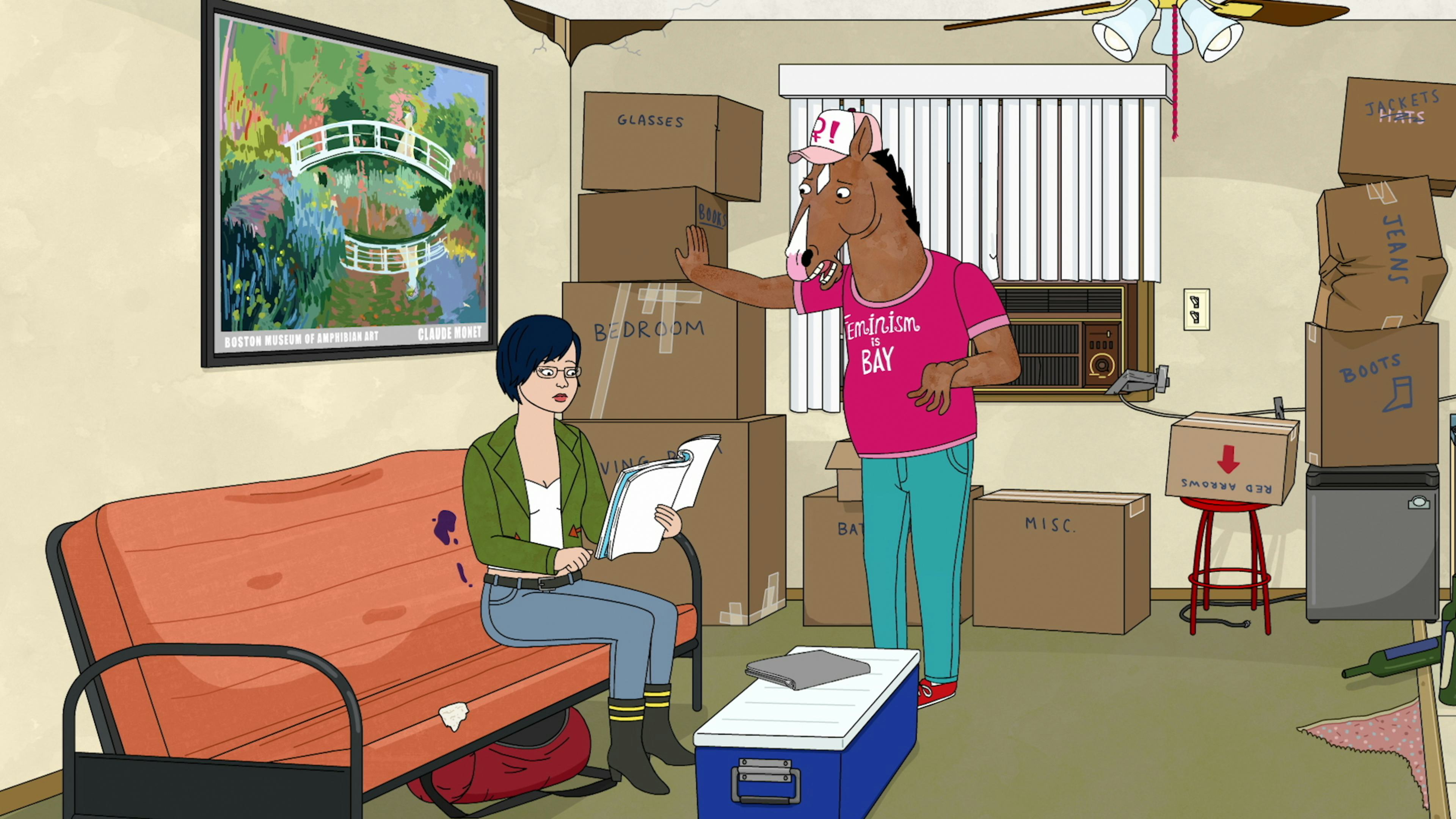 Show creator Raphael Bob-Waksberg is interested in making more episodes of the sadcom as he feels that their audience is still growing, and that he and his team of writers would like to keep it going as long as they can keep things interesting for the audience, and as long as Netflix can allow. He has accompanied the crew of writers and directors closely on seasons until now, as he will be doing on the renewed season as well, having written the best episode of the entire series until now from this season, 'Free Churro', himself. BoJack's inhouse team of writers including Bob-Waksberg, as mentioned, Joe Lawson, Kate Purdy, Elijah Aron, Jordan Young, Mehar Sethi, and Joanna Calo, and directors including Amy Winfrey, J.C. Gonzalez, Mike Hollingsworth, Aaron Long, and Anne Walker Farrell will all be returning behind the scenes to deliver another winner of a season.
BoJack Horseman Season 6 Cast: Who is in it?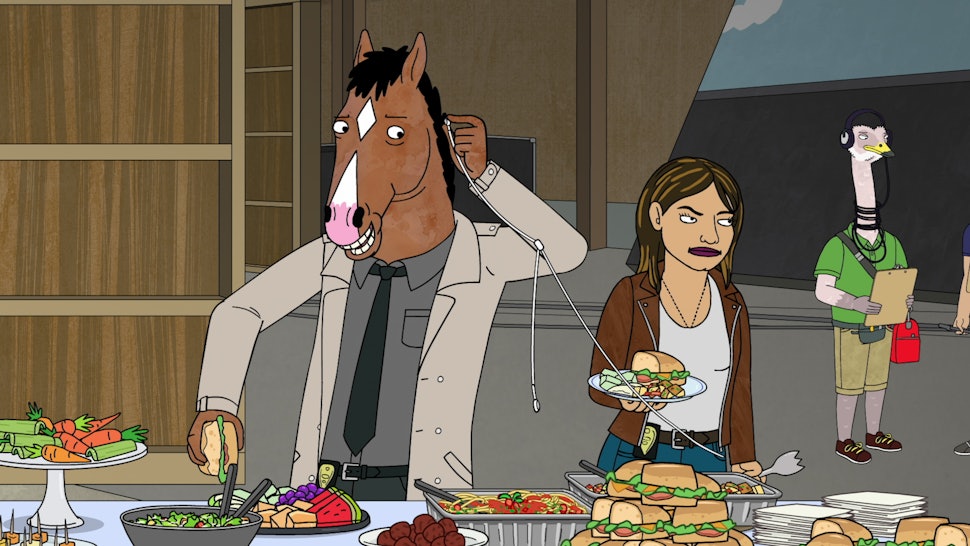 BoJack's cast has been impressively growing each season, with bigger names getting attached to the cast every year. The biggest addition this year, undoubtedly, was the voice of Rami Malek as Flip McVicker. While he was pivotal to the proceedings of season 5, over the past year, he ended up gaining global stardom, not to forget, an Oscar too, for 'Bohemian Rhapsody'. It would be noble of him to return this season, but I'd understand him not doing so too, as he braces for an increasingly busy film career, well, unless he was under contract.
The star of the show, Will Arnett, an exceptionally gifted comic and voice actor, will definitely be returning in the titular role, along with other series regulars reprising their previous roles, including Alison Brie as Diane Nguyen, Amy Sedaris as Princess Carolyn, Paul F. Tompkins as Mr. Peanutbutter and Aaron Paul as Todd Chavez. Stephanie Beatriz as Gina Castador and Hong Chau as Pickles will most likely be returning too, given how instrumental they were to the arcs in season 5, most of which will be continued well into season 6.
BoJack Horseman Season 6 Release Date: When Will it Premiere?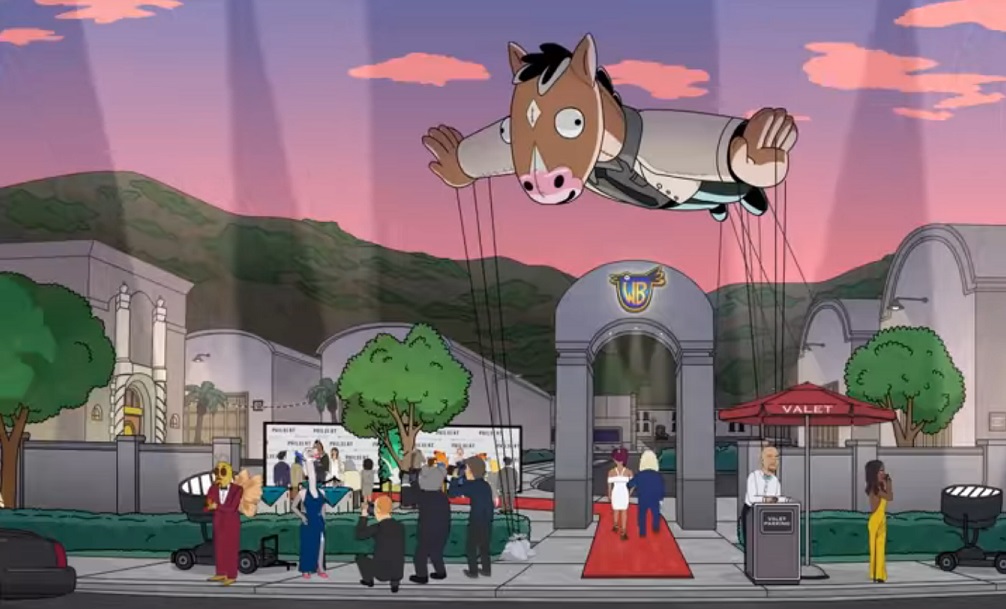 'BoJack Horseman' season 5 premiered on Netflix on September 14, 2018. Thankfully enough, 'BoJack Horseman' doesn't face a 'Rick and Morty' kind of situation wherein fans have to wait years at end to receive a handful of short episodes, so much so that 'Rick and Morty's latest fourth season, recently announced as due for airing in November this year, took more time than the final season of a behemoth like 'Game of Thrones' did.
Contrarily, 'BoJack Horseman' has rather managed to maintain a steady flow of episodes over every season, being renewed and aired annually. Just a year after its fifth season, 'BoJack Horseman' season 6 is all set to release on October 25, 2019. With 'BoJack' scheduled for a little earlier than 'Rick and Morty' due in November, it looks like adult animation enthusiasts have a full house this year.
The bad news for the fans though is that season 6 will be show's last. So, for all practical purposes, season 7 stands cancelled.
BoJack Horseman Trailer:
Here's season 6 trailer to get you excited.
Read More: Best Original Shows on Netflix