Caleb Landry Jones started his career as a musician. He formed a folk-rock band named 'Robert Jones' along with his friend Robert Hudson in the city of Richardson. Later, he developed a passion for acting and moved to Los Angeles for more opportunities. He went through a struggling phase marked with minor and uncredited roles in popular movies like 'No Country for Old Men' and 'Superbad.' Jones got his first breakthrough on television with the popular shows like 'Friday Night Lights' and 'Breaking Bad.' The actor picked up significant roles in television and movies eventually. Supporting roles in movies like 'The Last Exorcism,' 'X-Men: First Class,' 'Contraband,' and 'Byzantium' pushed Jones into the league of leading character actors.
The 2012 movie 'Antiviral,' directed by Brandon Cronenberg, marked his first appearance in a lead role. Jones continued to appear in supporting roles in both indie and mainstream productions. In 2017, he earned rave reviews for his performances in movies like 'The Florida Project,' 'Get Out' and 'Three Billboards Outside Ebbing, Missouri.' The Oscar-nominated 'Three Billboards,' in which he played a significant role alongside Frances McDormand and Sam Rockwell, earned him the SAG Award and Critics Choice Award for Best Ensemble. So, now you might be wondering what is the next Caleb Landry Jones movie or TV show? Well, here's the list of upcoming Caleb Landry Jones films and TV shows scheduled to release in 2019 and 2020. We can only hope that the latest Caleb Landry Jones movies would be as good as some of his recent ones.
5. The Dead Don't Die (2019)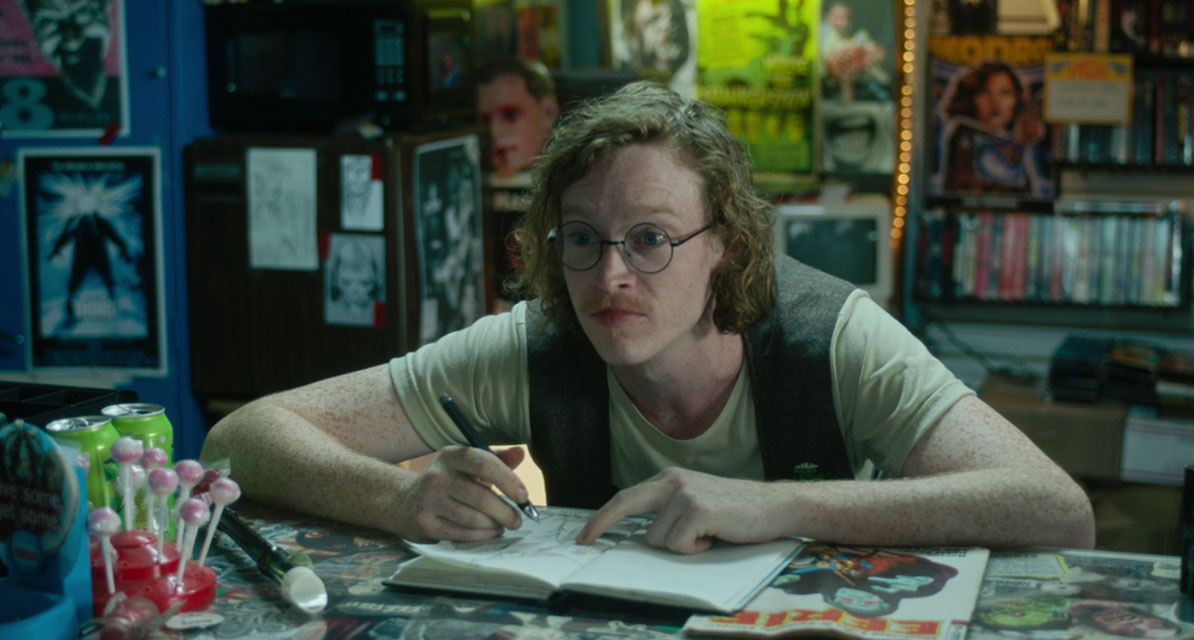 Caleb Landry Jones plays the role of Bobby Wiggins in the zombie horror-comedy 'The Dead Don't Die' directed by Jim Jarmusch. Bobby Wiggins runs a petrol station and store which he maintains as a pop-culture dump yard of various things. When the sleepy town of Centerville is invaded by a horde of flesh-eating zombies, three cops, Cliff (Bill Murray), Ronnie (Adam Driver) and Mindy (Chloë Sevigny) decide to fight the undead. The trio band together with the new Scottish undertaker with a Samurai sword (Tilda Swinton) to deal with the zombie outbreak while other town dwellers like Bobby Wiggins, Hermit Bob (Tom Waits) and Farmer Miller (Steve Buscemi) are still unsure of whom to believe in the bloody mess. The other cast members are Selena Gomez, Austin Butler, RZA, and Danny Glover. The film earned positive reviews when it was premiered at the Cannes Film Festival in May. 'The Dead Don't Die' is scheduled for a June 14, 2019 release.
4. Viena and the Fantomes (TBA)
'Viena and the Fantomes' is an upcoming musical–romantic-drama written and directed by Gerardo Naranjo, who is known for 'Narcos' and 'Drama/Mex.' Set in the U.S. of the '80s, the plot follows a young woman named Viena (Dakota Fanning), who joins a travelling music band in their endless wanderings through the American small towns and villages. The journey turns out to be one of self-discovery for Viena. Caleb Landry Jones plays the character of Albert in the movie while Zoë Kravitz portrays the band manager who takes Viena along with them. Evan Rachel Wood, Frank Dillane, and Jeremy Allen White round out the cast. No release date has been attached to 'Viena and the Fantomes', which had its world premiere at the Sundance Film Festival, 2016.