Nowadays, everywhere we look, relationships seem to have gone for a toss. Broken marriages, adultery incidents, and short-term, attention-swaying romances — these seem to be the major reasons of failed, broken vows. Although you and I may frown at the first mention of 'infidelity', we know, deep down, it is engrained into our systems. And admit it, we all love our dose of flicks on cheating wives and lying husbands. So with that said now, here's the list of really good infidelity movies on Netflix that are available to stream right now. The list includes both cheating wife and cheating husband movies on Netflix.
9. Newness (2017)
Welcome to the world of dating apps and technology-controlled relationships. Gone are the days when people shared letters on the sly or went on secret first dates in coffee shops. In this age of Tinder, love is fast, convenient, and selfish. And this is what happens to Martin and Gabriella when they meet via an online dating app which they both use to hook up with people. After their first date, they go back to Martin's apartment and have sex, with Gabriella later on moving in with him. However, things soon take turn for the worse when they start having arguments and one day, both of them end up sleeping with someone else. Later, they admit about their infidelity to each other and start an open relationship. You can watch this movie here.
8. Palm Trees in the Snow (2015)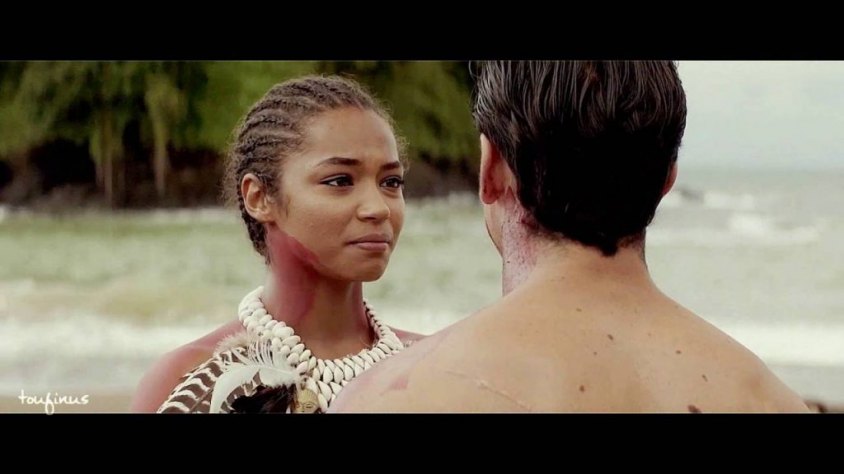 'Palm Trees in the Snow' is a Spanish drama that is adapted from the best-selling novel of the same name written by Luz Gabas. The film follows a format of flashbacks via which it tells the entire story. The plot follows the young Clarence, who discovers a letter which reveals a secret about her dementia-infected aging uncle, Killian. She comes to know that Killian, all these years, had been sending money to a Guinean family in an island. And his family is completely ignorant about this. So, Clarence starts on a journey to uncover the truth of Killian's past and discovers several shocking secrets that had been long-buried and forgotten with the passing years. You can watch this movie here.
7. White Girl (2016)
Heaps of cocaine, nudity, colors, money, and twisted motives — 'White Girl' captures each of these elements of the addiction world quite aptly. But what happens when you introduce love into the midst of this chaos? Let's see. When Leah, a college girl, seeks out intoxication in any form, she meets the Latino drug dealer Blue. Just within a couple of days, both of them start selling drugs and begin earning quite some bucks. However, one day, Blue is busted and arrested, leaving a bag of cocaine in Leah's hands. Now, Leah tries her best to rescue Blue by crossing all boundaries. But does she really mean it? Or is there any ulterior motive? After all, she had met Blue only for five days? Give it a watch and you will find out.
6. Some Kind of Beautiful (2014)
'Some Kind of Beautiful' is about professor Richard Haig, who is a successful, respected man by day, and indulges in his own fantasies with undergraduate students once evening falls. He also has a young girlfriend Kate, who one day informs him that she is pregnant. Hearing this, Richard decides to leave his Casanova ways and take responsibility. However, the past soon comes back to haunt him. Further events show Kate cheating and divorcing him, Richard moving in with her sister, with whom he had been in love even before marrying Kate. Well, with too many romantic entanglements, adultery, and love 'many'-angles, this romantic comedy is an engaging watch. You can watch this movie here.
5. Sleeping with Other People (2015)
'Sleeping with Other People' revolves around a couple who have been subjected to repeated adultery and self-destruction. So when they meet, they decide to keep their relationship strictly platonic. But what happens when romance blooms and yet you are sleeping with multiple other people? How complex can relationships get? Watch this film to see it for yourself.
4. Nymphomaniac (Volume I & II)
From the creator of the most disturbing movies such as 'Antichrist' and 'Melancholia', 'Nymphomaniac', a two-part movie, is another one of his amazing creations. What happens when you are addicted to sex and cannot curb your sexual desires? Adultery is inevitable and it is completely out of your hands. When self-diagnosed nymph, Joe, recounts her past to another man, we come across a history of multiple sexual relationships, betrayals, and self-destruction. Intense, graphically extreme, and passionate, this flick shall stay with you for a long time once you see it. You can watch this movie here.
Read More: Best Schizophrenia Movies on Netflix
3. Blue Is the Warmest Color (2013)
Ranked as one of the most beautiful movies on lesbian romance, 'Blue is the Warmest Color' comes with its own elements of adultery. When Adele accepts her sexuality and starts a passionate affair with Emma, things seem to be just 'too' perfect. But then small arguments and disagreements lead Adele to cheat on Emma with another colleague. Emma comes to know about it and is furious, heartbroken, and shocked. But Adele still cannot get over her deep feelings for her girlfriend. So what happens in the end. Are the two able to reconcile? Check it out and you will know. You can watch this movie here.
Read More: Best Sad Romantic Movies on Netflix
2. Lust Stories (2018)
'Lust Stories' is a 4-part anthology movie that explores the turmoils of love, relationships, and sex in modern India. One story is about married college professor Kalindi, who engages in a sexual relationship with her student Tejas, with an aim to discover her own sexuality. Things soon become complicated when Tejas starts dating his classmate Natasha and Kalindi starts getting obsessively jealous about the two. Another story is about Ajit, who has a sexually passionate affair with his maid, Sudha. This soon changes when he decides to get married. The third tale is about homemaker Reena who is cheating on her husband, Salman by having a secret affair with his best friend Sudhir. You can watch this movie here.
1. The Unmarried Wife (2016)
'The Unmarried Wife' is a Filipino movie which tells the story of Anne Victorio, who is a successful woman but determines to be the perfect mom and wife, which she never was in her past. She is married to Geoff and their perfect marriage is the cause of envy among their peers. However, unknown to many, Geoff had cheated on Anne and this whole idealistic marriage is just a facade in front of people. In order to get over her husband, Anne meets Brian, another single, separated man, and both of them start a passionate relationship. But all the while, Anne is still married to Geoff. The story tries to explore Anne's battles as she struggles to balance this relationship with her motherly duties and her unresolved feelings for her husband. You can watch this movie here.
Read More: Best Family Movies on Netflix