Christmas means different things to different people. For some it is a time for family get together and celebration. While for others, it is a time to catch up on personal goals and relax. No matter what Christmas means to you, I am sure it is an occasion to sit back and enjoy movies — either alone or with family. And that's why we are here: to help you select the right film depending on your taste and company.
Now, Christmas movies are also of various kinds. There are your typical Christmas films that are all about good-vibe, and family celebrations. Then there are mindless action kind of films that you can enjoy without worrying about who was the killer. And there are films that are romantic and hopeful that you like watching with your loved ones. In this list, we will try to mix all kind of Christmas films.
Finally, our biggest gratitude to all the online streaming services, that have made our life so much easier. No longer we have to rush to the nearest store to rent DVDs. Can you imagine going out in the middle of cold, snowy Christmas night? Now you just have to register yourself to one — or more — of these streaming services and forget all the worries. Today, we are going to specifically focus on films available to Hulu. For the Netflix list, check out here. So, without further ado, here's the list of best Christmas and Holiday movies on Hulu.
14. Yes, Virginia (2009)
Let's start with an animated movie. 'Yes, Virginia' is a nice little Christmas movie set in New York City in the year 1897. It is about a young girl named Virginia O'Hanlon who is eight-year-old and loves Christmas. One day one of her classmates asks her a question 'Is Santa Real?'. Virginia unsure of what the answer to the question is, decides to venture into the city to find the answer. During this, she meets a lot of unique characters like Scraggly Santa, a librarian and also her doctor father. Each of them provides her with a different view but unfortunately, none of them are of great help. Determined to find the answer Virginia writes to the New York Sun newspaper, asking them the question. Will she get her reply? It is a wonderful movie about the meaning of Christmas.
13. A Princess for Christmas (2011)
This movie was better than I expected it to be. I mean Christmas spirit is good and all but most of the producers or creators get them wrong on a movie. Most of the times you end up having a movie which is too boring and drags on forever and ends in the same way as the other similar movies. 'A Princess for Christmas' has a good plot and nice characters. The plot is focused on Jules Daly who is trying to raise her orphaned nephew and niece. After losing her job Jules doesn't understand how they will pull through Christmas but thankfully a man named Paisley arrives who invites them to the castle of their grandfather. Try to watch this movie with your loved ones.
Read More: Best Original Shows on Netflix
12. Love at the Christmas Table
(2012)
'Love at the Christmas Table' is a romance-themed Christmas movie. If you don't like romantic stuff then you might not wanna invest in it but come on Christmas is all about love and forgiveness. The film is nice and if you watch it with your partner then you might find it quite fulfilling. The main protagonists of the movie are Sam and Kat. They have been close friends since childhood and have been celebrating Christmas every year together at the Children's Table. They have been friends for a long time and has been helping each other through thick and thin. Now they have all grown up and Sam has not attended the Christmas Eve party for five years. Now, at thirty he realizes that he loves Kat and has one last chance to let her know his feelings.
Read More: Best Movies on Netflix India
11. Inspector Gadget Saves Christmas (1992)
Inspector Gadget has been one of the most popular animated series in the 90s. After seeing serious Robocop stuff it's fun to see a funny, non-threatening robotic officer using his gadgets to comically capture criminals while kids gleefully cheer 'Go Go Gadget!'. 'Inspector Gadget Saves Christmas' is a special from the franchise that was released in the year 1992. The movie is about one and a half hour of length. We have our favorite inspector trying to save Christmas which is being dangerously hampered by Dr. Claw. Santa and his elves are working hard on all the toys that will be delivered during Christmas by Santa. But Claw is going to attack everything on the North Pole. So, it is up to Inspector Gadget to defeat Claw and save Christmas.
Read More: Best Teen Movies on Netflix
10. Noel (2004)
This film has a great star cast. It has the likes of Susan Sarandon, Penelope Cruz, Robin Williams, and Paul Walker. The movie shows different characters with different storylines. But on Christmas eve their lives cross each other. Susan Sarandon plays the character of Rose who is worried sick about her mother who is an Alzheimer's patient. She is sad and tries her best to take care of her. Mike and Nina played by Paul and Penelope are on the verge of leaving each other due to Mike's increasing jealousy. Another character is a waiter named Artie who has a sad life as every Christmas he tries to find his deceased wife. He is sure to have found her in a man named Jules who had intentionally hurt himself so that he can spend his Christmas in an emergency room where he had one of the best Christmas.
Read More: Best Netflix Original Movies
9. A Holiday Engagement (2011)
This is another romantic Christmas movie. The structure isn't something new and has been done before. But still, if you want to watch a romantic Christmas movie then you can invest some time in it. The main protagonist of the movie is a thirty-year-old woman named Hillary Burns who is desperately trying to get the approval of her parents. She wants them to meet Jason whom she wants to marry and is going to bring home this holiday. But trouble brews as Hillary loses her job and Jason dumps her. Unable to face her parents she turns to her friend for advice. She goes on an online dating site where she finds a man to play the role of her boyfriend Jason.
Read More: Best Short Films on Netflix
8. Miracle on 34th Street (1947)
This one's a classic. This movie tries to showcase the spirit of Christmas and how just believing can change anyone's life. Doris Walker is an executive at Macy's. He is tasked with finding a Santa for the Thanksgiving Parade. After the hired Santa turns out to be a drunk he hires Kris Kringle to play the part. The decision was well placed as Kris turns out to be a hit as people start liking him a lot. This earns him a permanent position as Santa in the main outlet of Macy's. But Mrs. Doris doesn't like one fact about Kris. He claims to be the real Santa. Having taught her daughter to stay away from such beliefs and fantasies Mrs. Doris thinks that Kris is mentally unfit for the job. When a court case starts a young lawyer decides to defend Kris and prove to everyone that he is the real Santa.
Read More: Best Feel Good Shows on Netflix
7. The Night Before (2015)
If you love comedies mixed with Christmas theme then this is the movie for you. The star cast of 'The Night Before' is filled with some great actors. We have Joseph Gordon-Levitt who plays the role of Ethan. Next, we have Seth Rogen playing the role of Isaac and Anthony Mackie plays the role of Chris. Ethan, Isaac, and Chris are three childhood friends who have spent some wacky time together. For the past decade, they have been celebrating their reunion on Christmas. Things get freakier when they meet on Christmas as they spend their time-consuming drugs and partying. But now as they have entered adulthood they decide to party for the last time. They get tickets for the Nutcracker Ball which is known as the Holy Grail of Christmas parties. Join them for a fun adventure on Christmas.
Read More: Best German Movies on Netflix
6. Christmas in the Heartland (2017)
This is another great movie that you can sit down and watch with your family. It captures the Christmas feeling quite well. I know many people were quite angry at the ending of the movie since the scene seemed to have been done hastily. I know it's hard to get past that but if you do you can enjoy most of the movie as the actors have done a great job as they try to perform the scenes as smoothly as possible. Judy Wilkins played by Shelley Long and Jessie Wilkins played by Brighton Sharbino are two teenage girls who have completely different lives but Christmas spirit brings them together as they begin to realize that they may have more in common than they had previously thought.
Read More: Best Horror Movies on Hulu
5. Happy Christmas (2014)
If you like watching Anna Kendrick then you might find yourself liking the film. She gives a nice performance and tries to make the film fun. Her comic timing is great at times and also watch out for few of the funny scenes involving the baby. Anyway, let's get to the plot of the movie. 'Happy Christmas' focuses on the life of a dysfunctional and irresponsible character named Jenny, played by Anna Kendrick. She decides to give her older brother Jeff a visit. Jeff is a young film-maker living in Chicago. He has a beautiful wife named Kelly who is a novelist. Jeff and Kelly have a two-year-old son. Upon the arrival of Jenny, Jeff's quiet and peaceful domestic life is shaken. Jenny and her friend Carson try to motivate Kelly into evolving her career. Also, Jenny starts a relationship with the babysitter who is also a pot dealer.
Read More: Best Documentaries on Hulu
4. Dear Santa (2011)
This is a fun romantic Christmas movie. It's not like there is anything deep or satirical that one will need to ponder at the end of the movie. Crystal is an irresponsible adult who belongs to a rich family. She loves spending money, lots of money. What's wrong about spending money, you ask? Well, she hasn't earned a single penny that she spends. It is all her parents' money. Her parents are very much annoyed at their daughter and want to make her responsible. So, they give her an ultimatum. Crystal has until Christmas to get back on track or else her credit cards will be blocked. She panics as she doesn't want the flow of money to stop. Crystal is also worried since she does not have a boyfriend. Fortunately, she stumbles upon a little girls letter to Santa who wishes that Santa finds her widowed father, Derek, a new wife. Crystal realizes the opportunity and tries to get close to Derek.
Read More: Best Romantic Movies on Netflix
3. Home by Christmas (2006)
'Home by Christmas' will touch your heart. It is a nice little Christmas movie which showcases struggle and self-worth. The movie also has a theme of how working hard and striving for good times can get you close to your dreams. The main protagonist of the movie is a woman named Julia Bedford. She is a happy housewife who lives in a nice rich neighborhood. Her husband is successful and loving (or so it seems). They have a 16-year-old daughter. But her happy life soon crumbles as she discovers her husbands secret. He has been cheating on her. Julia's world is shaken and it is hard for her to take it. She files for divorce but her husband is clever and has hidden his assets. Thus, Julia is left homeless with nothing with her except for her car. Will she be okay?
Read More: Worst Movies on Netflix
2. The Heart of Christmas (2011)
Well, this one can be a tear-jerker for many people. This movie is great and captures the Christmas spirit really well. The female protagonist of the movie 'The Heart of Christmas' is Megan Walsh who is a successful businesswoman which earns her a comfortable livelihood but she is always busy. She doesn't even have time for her husband or her children. During Halloween, she takes her children out for trick-or-treating. Megan is surprised when she sees that many families are decorating for Christmas. This is weird since Christmas is still two months away. Not being able to understand the situation she decides to inquire into the matter and learns that there is a kid named Dax Locke who has leukemia and may soon be dead. They want to provide one last special Christmas for him. Megan starts reading Dax's mother's blog and starts reflecting on her life and her priorities.
Read More: Best War Movies on Netflix
1. Bad Santa (2003)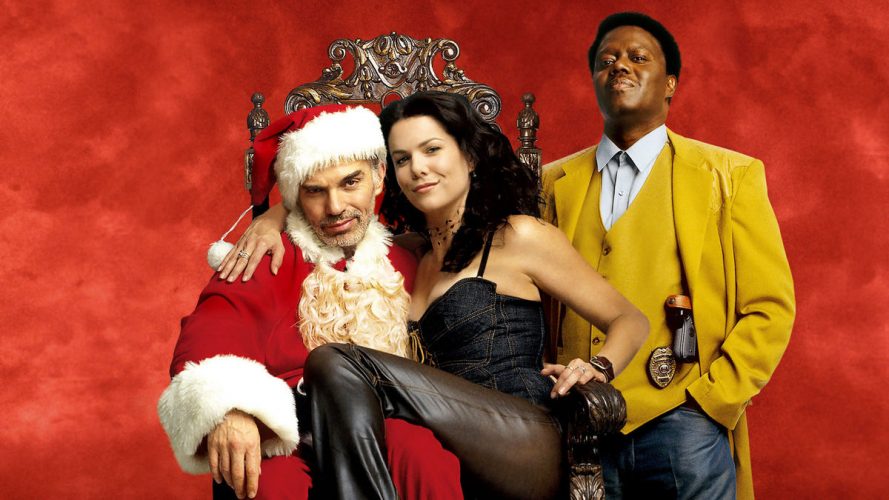 This is a funny movie which one can enjoy during the Christmas Eve. The plot focuses on convicted con man William T. Stokes wand his dwarf friend Marcus. They work only once a year i.e. during Christmas where they dress up as Santa and rob the departmental stores. But this time things may be different as a bartender who has a thing for Santas have got William distracted. Also, there is a kid who thinks that he is the real Santa. Will the duo be able to pull through this year's Christmas or will justice catch up to them?
Read More: Best Holocaust Movies on Netflix