Not every movie is what you can watch with your family. Family flicks are a genre that can be enjoyed with everyone — with your kids, partner, parents, and siblings. While the personal preferences for many may range from dramas to romantic, action and thriller movies, a common choice for all family movie lovers is binging on comedy. They offer the best option for spending some fun moments during your get-togethers. These films help you take some time off, forget about your work, rest on your couch, and escape to a different world, filled with laughter, comic jokes, and witty plots. Considering the genre of all-time family comedy hits, Netflix is literally lit right now. Be it vintage classics or new-age comedies, the streaming giant has it all covered. And with that said now, here's the list of really good family comedies on Netflix that are available to stream right now:
15. 101 Dalmatians (1996)
'101 Dalmatians', the evergreen classic, is based on the novel written by Dodie Smith, 'The Hundred and One Dalmatians.' It released on 27th November 1996 and received huge applause for its plot, theme, and characterizations. The movie revolves around a pampered, glamorous fashion designer, namely Cruella, who has evil plans of stealing her employee, Anita's Dalmatian puppies for making extravagant fur apparels. She intends to use their fur to make a spotted coat. However things don't go as planned and once Cruella's henchmen steal the pups, a frantic search conducted by the devastated owners creates mess everywhere. Adorable, witty and touching, this movie is a must-watch for animal and especially, dog lovers.
14. Stuart Little (1999)
Released on 17th of December 1999, 'Stuart Little' is a movie that is too cute, not to be loved by anyone. It is a must watch for both adults and kids for its light-hearted, comic scenes. Stuart Little is a mouse who is enthusiastic, energetic and clever. Although he has an attitude of his own, he is also very helpful. Raised by the Littles, Stuart begins to embark on various adventures with different characters, including Snowbell (the family cat), which make him learn life lessons on friendship, love, family, and loyalty. This movie can also be applauded for its visual effects and the technology it employed way back in 1999 and yet, it still stands out as one of the best evergreen comedy movies.
13. Mr. Bean's Holiday (2007)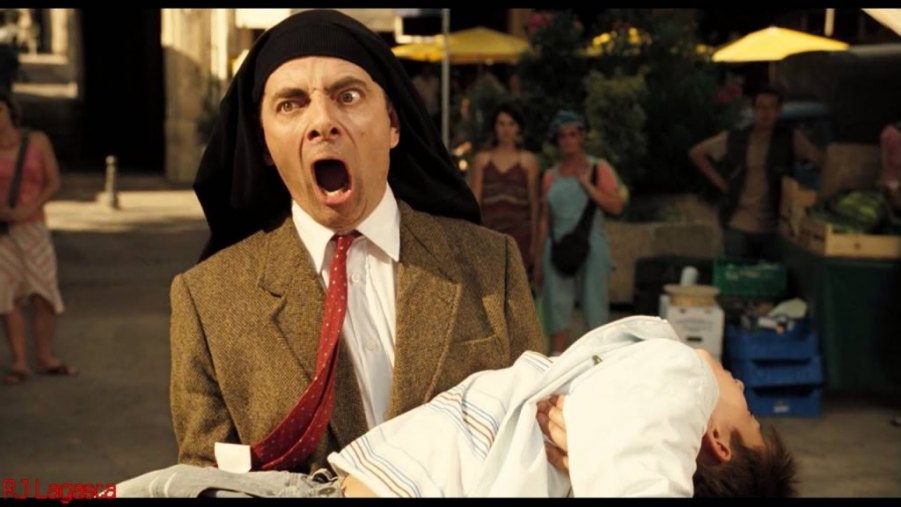 Who does not know Mr. Bean? This is one show which both kids and adults love to watch. Released on the 30th of March 2007, this family comedy is directed by Steve Bendelack. The plot revolves around Mr. Bean winning a trip to Cannes where he, in his not so cool avatar, somehow, unknowingly, manages to separate a young boy from his father. Now, for Bean, as usual, things do not look so good and the movie then revolves on how he sets out to get them back together. In this path, he also finds what true love is. Produced by Universal Pictures, this picture still stands out to be one of the most contemporary, prominent pieces in the comedy genre.
12. Honey, We Shrunk Ourselves (1997)
Released internationally on March 18, 1997, 'Honey, We Shrunk Ourselves' is an adventure comedy for family and kids. It is a sequel of 'Honey, I Shrunk the Kids' and 'Honey, I blew up the kid'. Here, in this part, Wayne Szalinksky prepares to go on a long weekend with his wife. He, meanwhile, plans on donating his problematic shrinking and expanding machine to the Smithsonian Institution. During their vacation, their son was to be looked after by Szalinksky's brother and his wife. However, plans change as the shrinking machine poses to be dangerous again, and this time for the adults. Now, in their tiny forms, the family has to look for means to return to their normal sizes.
11. Daddy Daycare (2003)
'Daddy Daycare' is the perfect movie for a family timeout because of its hilariously insane scenes. The film revolves around two fathers losing their jobs at a huge company and hence having no probabilities of finding employment anytime soon. Therefore, they start their own daycare facility. The facility, named 'Daddy Day Care', uses unusual and strange ways to pamper and care for children. As the institute begins to grow in popularity, it becomes a threat to its rival Chapman Academy which was leading the business previously. Released on 9th of May, 2003, this movie definitely deserves a mention on this list because of its fabulous narration and performances by the protagonists.
10. Evan Almighty (2007)
Released on June 22nd, 2007, Evan Almighty is one of the most expensive comedy films of all time. Evan Baxter is a forty-year-old television star and anchor-turned-US-congressman, who relocates from his city along with his family to Northern Virginia. Then one day, God appears before him and informs him about a devastating flood that is coming to wipe off humanity from the face of the Earth and clean it of its sins. Because of this, Evan starts building an Ark in order to save his community. In this process, he changes his physical appearance so much that he draws new media attention, making him a subject of ridicule and fun. However, amidst several obstacles, messy situations, and chaos, Evan is finally able to achieve his aim.
9. Hotel For Dogs (2009)
This movie is a must watch for those who love animals and pets in any form, especially dogs. It is simple, funny, and comes with its own dose of emotional moments. Released in January 2009, 'Hotel for Dogs' is about young boys Andi and Bruce who need to find a new home for their dog, Friday. Their guardians forbid them to have pets, and hence, these kids begin to search for a place to make it habitable for their fur baby. They come across an abandoned hotel and begin to transform it into a doggie paradise. They use Bruce's mechanical talents to convert the dilapidated building into an all-equipped shelter. However, in the process, they have to face the challenge of anyone intervening and discovering the existence of dogs inside.
8. Are We Done Yet? (2007)
Released in April 2007, 'Are We Done Yet?' is a simple, heartwarming family comedy. It is a sequel to 'Are We There Yet' and revolves around a new couple who have just got married and are in search of a home to settle down. They prefer to live a calm and peaceful life in the suburbs rather than in the city. In this search, they have to face several obstacles and battle innumerable tight financial situations when they discover that the worth of their shortlisted properties is often above their bank balance. The family in the due course of time gets to know how dreams do not come cheap despite wanting to live in a suburban space.
7. Kung Fu Panda (2008)
Who does not know about the famous 'Kung Fu Panda' franchise? This movie is a pure comedy, with a good mix of humor, action, and adventure, which delivers the right dose of entertainment to the whole family. Released on June 6th, 2008, it is about the adorable yet lazy panda bear, Po, who suddenly, and out of nowhere, becomes a Kung fu hero and has to fight dangerous, vicious enemies. Po has always dreamed of becoming the true master of martial arts. And according to a prophecy, he is the supreme hero and the only one who can save his community from destruction and death. So, when the snow leopard Tai Lung comes to destroy everyone, the five legends, namely Tigress, Crane, Mantis, Monkey and Viper have to train Po and transform him into the fighting master. The movie revolves around how the novice Po has to toil, struggle, and learn all the tricks of martial arts in order to fight destiny and save his people from inevitable destruction.
6. Incredibles 2 (2018)
'Incredibles 2' premiered in June 2018 and it is a sequel to 'Incredibles' which was widely successful after its release. In this movie, however, Helen is in the highlight while Violet and Dash are left at home with Bob. The three need to tackle the day-to-day heroics of a normal life. And even in this instalment, the family still does not know of baby Jack's emerging superpowers. Now, with a new villain in the picture, the family, along with Frozone, must join hands to foil his evil plans.
5. Bolt (2008)
Released in November 2008, 'Bolt' is an animated adventure and comedy movie, suitable for both adults and kids. It is based on a super dog named 'Bolt' whose life is full of danger, action, and excitement. He and his owner Penny star in a superhero series wherein Bolt has several superpowers. However, Bolt believes that everything shown in the show is real. So when a certain episode ends in a cliffhanger, Bolt thinks that Penny has been kidnapped and he jumps off from his trailer to search for her. However, he is transported to New York by accident. Now, in his journey to return back to Penny, Bolt meets two travelers, housecat Mittens, and hamster Rhino. He realizes in this journey that one does not need superpowers to become a hero.
4. High School Musical 3: Senior Year (2008)
Released in October 2008, this movie is one of the best comedy dramas for both adults and youngsters. It is even well accepted by music lovers. The movie revolves around Troy and Gabriella who need to cope up with the idea of being parted after their final year at high school. The college year is approaching fast and so they plan to stage a musical which would showcase their hopes, experiences, fears, and wishes in the coming future. There is no one who does not love this movie after watching it. Give it a try!
Read More: Best Dance Movies on Netflix
3. Smurfs: The Lost Village (2017)
'Smurfs: The Lost Village' released in April 2017 as another instalment of the Smurfs franchise. In this movie, Smurfette and his best friends Hefty, Clumsy and Brainy go on an exciting quest through the forest. They start their journey based on a map they found and discover all kinds of magical creatures in the forest. However, Gargamel, a wizard, blocks them on their way and they set off to find a lost village which is on the map. Therefore, they embark on a quest filled with action, adventure, and danger before discovering the secret.
2. Meet the Robinsons (2007)
Released in March 2007, this movie is based on the book 'A Day with Wilbur Robinson' by Willian Joyce. 'Meet the Robinsons' is all about an orphan who wishes to find his own family some fine day. His fate makes him meet a stranger named Wilbur Robinson who could transport him to the future. The story depicts the wish of a boy who wants to belong and be loved. On the way, he meets several strange characters who could make his dreams come true. This movie is for sure a roller coaster ride!
Read More: Best Underrated Movies on Netflix
1. Christmas With the Kranks (2004)
'Christmas With the Kranks' is based on John Grisham's novel, 'Skipping Christmas'. Released in November 2004, this movie is about the Krank family having to face a lonely holiday season, after having spent every year of their earlier vacations with friends, relatives, and close ones. This brings Luther Krank to think about traveling to a certain destination after coming across a poster by a travel agency. While Nora Krank is not sure about going away, she still gives it a thought and then agrees. Since their daughter is not with them right now, they decide to skip Christmas and go on a holiday together. But in a surprising turn of events, their daughter decides to come home. This causes confusion as the Kranks have little time in their hands to sort things out in order to invite families and get ready to welcome the Christmas spirit.
Read More: Best Marriage Movies on Netflix