Not every movie is what you can watch with your family. Family flicks are a genre that can be enjoyed with everyone — with your kids, partner, parents, and siblings. While the personal preferences for many may range from dramas to romantic, action and thriller movies, a common choice for all family movie lovers is binging on comedy. They offer the best option for spending some fun moments during your get-togethers. These films help you take some time off, forget about your work, rest on your couch, and escape to a different world, filled with laughter, comic jokes, and witty plots. Considering the genre of all-time family comedy hits, Netflix is literally lit right now. Be it vintage classics or new-age comedies, the streaming giant has it all covered. And with that said now, here's the list of really good family comedies on Netflix that are available to stream right now:
15. 101 Dalmatians (1996)
'101 Dalmatians', the evergreen classic, is based on the novel written by Dodie Smith, 'The Hundred and One Dalmatians.' It released on 27th November 1996 and received huge applause for its plot, theme, and characterizations. The movie revolves around a pampered, glamorous fashion designer, namely Cruella, who has evil plans of stealing her employee, Anita's Dalmatian puppies for making extravagant fur apparels. She intends to use their fur to make a spotted coat. However things don't go as planned and once Cruella's henchmen steal the pups, a frantic search conducted by the devastated owners creates mess everywhere. Adorable, witty and touching, this movie is a must-watch for animal and especially, dog lovers.
14. Stuart Little (1999)
Released on 17th of December 1999, 'Stuart Little' is a movie that is too cute, not to be loved by anyone. It is a must watch for both adults and kids for its light-hearted, comic scenes. Stuart Little is a mouse who is enthusiastic, energetic and clever. Although he has an attitude of his own, he is also very helpful. Raised by the Littles, Stuart begins to embark on various adventures with different characters, including Snowbell (the family cat), which make him learn life lessons on friendship, love, family, and loyalty. This movie can also be applauded for its visual effects and the technology it employed way back in 1999 and yet, it still stands out as one of the best evergreen comedy movies.
13. Mr. Bean's Holiday (2007)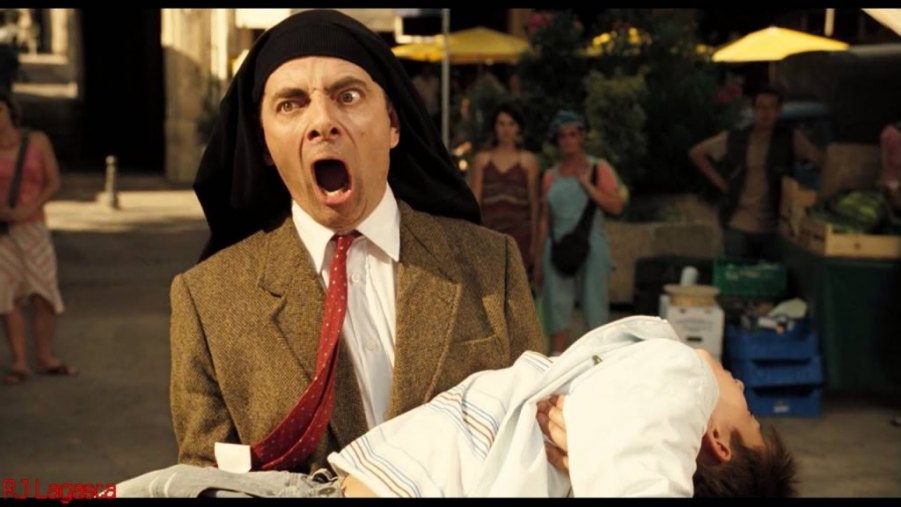 Who does not know Mr. Bean? This is one show which both kids and adults love to watch. Released on the 30th of March 2007, this family comedy is directed by Steve Bendelack. The plot revolves around Mr. Bean winning a trip to Cannes where he, in his not so cool avatar, somehow, unknowingly, manages to separate a young boy from his father. Now, for Bean, as usual, things do not look so good and the movie then revolves on how he sets out to get them back together. In this path, he also finds what true love is. Produced by Universal Pictures, this picture still stands out to be one of the most contemporary, prominent pieces in the comedy genre.
12. Honey, We Shrunk Ourselves (1997)
Released internationally on March 18, 1997, 'Honey, We Shrunk Ourselves' is an adventure comedy for family and kids. It is a sequel of 'Honey, I Shrunk the Kids' and 'Honey, I blew up the kid'. Here, in this part, Wayne Szalinksky prepares to go on a long weekend with his wife. He, meanwhile, plans on donating his problematic shrinking and expanding machine to the Smithsonian Institution. During their vacation, their son was to be looked after by Szalinksky's brother and his wife. However, plans change as the shrinking machine poses to be dangerous again, and this time for the adults. Now, in their tiny forms, the family has to look for means to return to their normal sizes.
11. Daddy Daycare (2003)
'Daddy Daycare' is the perfect movie for a family timeout because of its hilariously insane scenes. The film revolves around two fathers losing their jobs at a huge company and hence having no probabilities of finding employment anytime soon. Therefore, they start their own daycare facility. The facility, named 'Daddy Day Care', uses unusual and strange ways to pamper and care for children. As the institute begins to grow in popularity, it becomes a threat to its rival Chapman Academy which was leading the business previously. Released on 9th of May, 2003, this movie definitely deserves a mention on this list because of its fabulous narration and performances by the protagonists.