The US Patent and Trademark Office gave Marvel Comics and DC the joint ownership of the word 'Superhero' in 1979. It is because when one talks of superheroes or people with superhuman abilities, they immediately think of stars from DC and Marvel Universe. However, the designers of superheroes have committed one big mistake. Most of their heroes are males and they have created fewer females that possess abilities as super as their male counterparts. Though female superheroes work shoulder to shoulder with their male versions, they could not work similar magic like the superheroes with the audiences. But we are not here to talk about that. We today want to talk about the best female superhero costumes. Whether it be Halloween, or any other occasion, here's the list of top costumes that we are sure you would love to own.
10. Aquawoman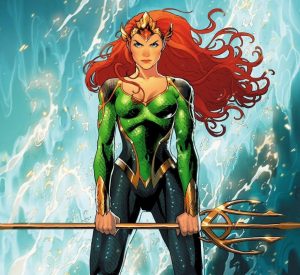 Created as the wife of Aquaman in 1963, Aquawoman, also known as Mera, is the Queen of Atlantis. She has the super ability, powerful enough to control huge quantities of water and the super strength and powers to live under the ocean like her more famous spouse. Aquawoman is depicted as a redhead, wearing a green-colored body-hugging suit that resembles a mermaid's skin. She also wears a headdress and is sometimes portrayed carrying the trident. Not much is known about this sea queen, but we would love to see more of her story and her super abilities when she takes on her enemies in the main lead.
9. Miss America
And that is not the title of a girl participating in a beauty pageant from America! While Marvel Comics introduced America Chavez, or Miss America, the first ever Latin-American superheroine in the year 2011, it would be really great to see Captain America's female counterpart saving the world with her superpowers single-handedly. Miss America has the ability to fly, travel through different dimensions at a superhuman speed, which can exceed the speed of light and also punch her rivals to star dust! Depicted wearing a blue and red striped T-shirt with the star in the centre complete with black shorts, Miss America would be one superheroine to watch out for!
8. Wolverina