Let's just clear something out first, Candy Crush Saga is the best match 3 puzzle game out there. There is absolutely no contest and the game's immense popularity is a testament to this fact. A Divine interface along with some pretty interesting features within the game makes it such a big hit. The sound quality is fantastic and the gameplay is so soft you don't even notice that you have been playing it for more than an hour. It's very addictive as well and unless you make an in-app purchase you are only allowed one life per 30 minutes.
If you have been playing this game for a long time and you are looking for a change to play something different but still in the same "Match 3" genre (or you are just stuck on that one level ), here is the list of video games similar to Candy Crush that are our recommendations. You can play these open world games like Candy Crush Saga for PS4, Xbox, android, iphone or even online.
17. Zookeeper Battle
Developed by Kiteretsu Inc. for Android and iOS, this free game has become one of the most downloaded games on mobile devices in no time. Despite the retro-style graphics, the title has been zooming ahead of Clash Royale and Hearthstone clones to draw over 10 million fans. You get to play with adorable little creatures and go head-to-head against other players. Unlike Candy Crush Saga, which is a purely single player game and all you can do is play against the AI, Zookeeper Battle offers a much more competitive experience. You need to match columns using animal icons, and every time you match a set, your opponent is attacked. Some animals also gain you defense points as well to help you out in situations where are you too far behind. Just like Candy Crush, your plays are limited by the number of Charge points you have, and you need to keep the restriction in mind. If you lose 5 times, you have to wait for a reset until you can play again. It is still one of the most brilliant games available on mobile thanks to its beautiful animations and charm.
16. Two Dots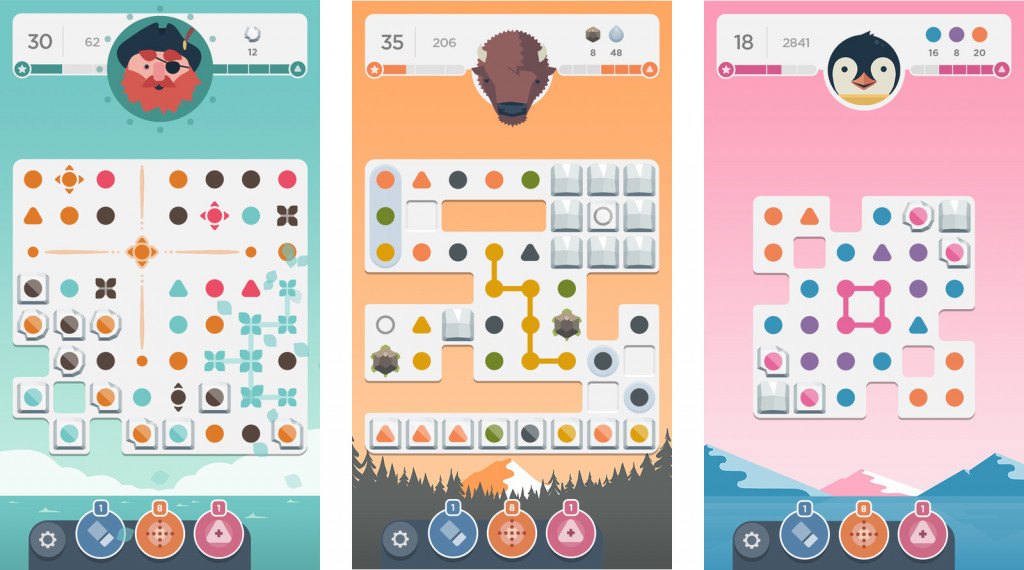 Unlike Candy Crush that makes you match three dots, Two Dots is a bit more complex and you have to line four symbols instead. You get to play on a board that is filled with colored dots, and you need to create lines connecting two dots to each other to connect them on board. Every time you successfully get a match, they will be removed from the board. The game gets more complex over time, and you will be asked to meet certain conditions to make things more challenging. The gameplay mechanics do not change so there is no steep learning curve that you would need to get past. Unlike many of the other games that are very intrusive with their freemium models, you do not have to worry about being restricted when it comes to your playtime.