Hay Day is an immensely popular farming simulator that takes influences from the staples out there and creates an extremely satisfying experience for its users. There is a certain happiness involved in planting a seed and then watching it grow to be a bustling plant. In addition, the trading and resource management aspect of the gameplay adds an extra layer of complexity. However, games do get old and if 'Hay Day' ever gets old for you, then we've got some recommendations. Here is the list of video games similar to Hay Day that are our recommendations. You can play these games like Hay Day on PS4, Xbox One, Xbox 360, PC, iPhone, Android, mac or even online.
12. Kynseed (2018)
The concept of 'Kynseed' is quite unique. Though the game is a farming simulator in all aspects, the gameplay is not exactly similar. You are given an acorn tree to start with which eventually grows into a huge family tree with sprawling branches. These can then be further used to spread your canopy across the land. Various types of branches grow into different plants and you need to efficiently micromanage the planting and harvesting phases in order to reap most benefits. The game has been developed by the same people who were in charge of developing 'The Fable' series of games, so it comes from a house of experienced coders. This definitely shows in the various gameplay aspects and mechanics of the game as they are both polished and oriented for the ease of access for the player. We highly recommend this game if you are looking for farming simulators like 'Hay Day' but with slightly varied gameplay mechanics.
11. Funky Barn (2012)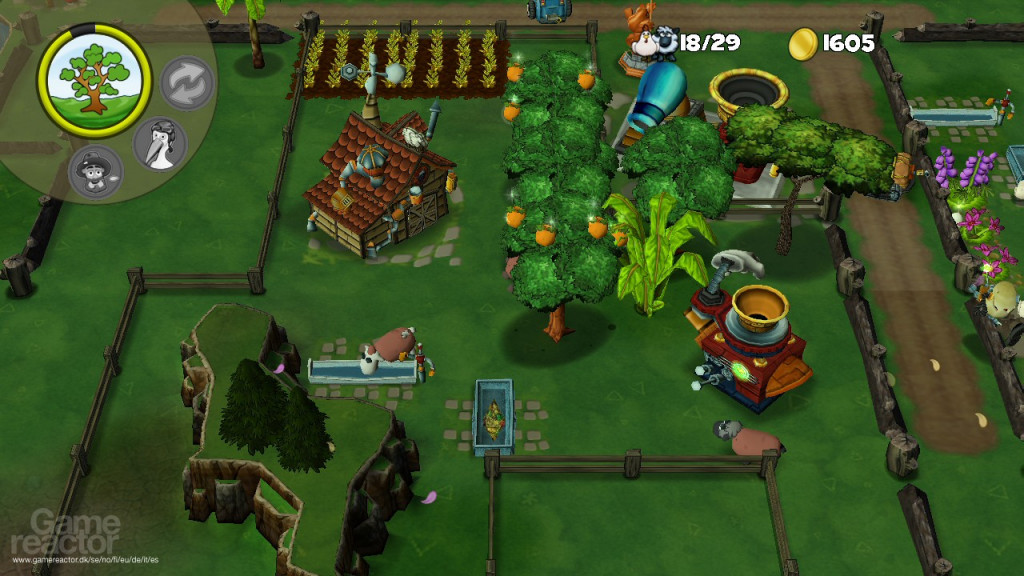 'Funky Burn' plays pretty similar to all other farming simulators out there. The gameplay resembles 'Hay Day' in every way but unlike 'Hay Day', it is available on Nintendo Wii U. Nintendo fans do not get to enjoy a lot of farming simulators, so if they are looking out for one, this is one of the better ones they can pick up. The game allows the player to build a farm from scratch. Several patches of land are available to the player for plantations and they must acquire, plant and harvest seeds at the appropriate time in order to prevent them from rotting. A few basic seeds are available to the player at the beginning of the game and more options open up at later stages. The seeds at the later stages of the game generally reap more benefits but also take longer to mature, so proper crop cycle management is the key for success. There are various equipments available at the store that can speed up this process, but most of them require premium currency which is quite rare in the game.
10. Wayward (2016)