Who doesn't like to watch a teen movie once in a while? Netflix has a vast and diverse catalogue of films in this genre. You'll find not only romantic comedies and musicals but also powerful and heartbreaking dramas that will make you think about your past, present and future. Off late, we've seen a spurt in such movies which often feature teenagers who are either socially awkward or are indulging in drugs and alcoholism, young women trying to find true love, distraught young lads seeking to mingle and college or high-school like setups with parties, sorority groups and swarms of teenagers with their own world of problems.
With teenagers, there are many ideologies they give into, while there are a lot many they don't agree with. The teenage movies on this list are a constant reminder of why teenage is considered awkward by many and clearly depicts the confusion and embarrassments the individuals go through while at a young age. These movies are relatable to not only the teenagers but also to adults who all have been experiences weird teenage years.. From finding love to the brink of losing it, these movies are reminiscent of the fact that the sub-genre is yet to be explored to its greatest depths. Here goes, the list of really good high school movies on Netflix. The list includes teen romance movies, teen drama movies and funny teen movies.
30. F*&% the Prom (2017)
As is evident from the title, 'F*&% the Prom' is a teenage dramedy revolving around Maddy, the aspiring prom queen of Charles Adams High and Cole, an introverted teenager and Maddy's childhood friend who has distanced himself from the former owing to a bullying row in the past when Maddy did not take a stand for him. Years later, Maddy and Cole connect again as friends, while Maddy is in a relationship with the hottest, most handsome guy in the high school – Kane. Enter Marissa, another aspiring prom queen who sabotages Maddy's relationship and Maddy is all set to ruin the prom for Marissa by conniving with Cole. As expected, Maddy wins and gets to be the prom queen, only to be shunned by Cole who asks her to remain friends instead of being in a relationship. Although nothing about 'F*&% the Prom' is unheard of, it still lags behind most of the teenage romances in terms of its effectiveness and the lack of a good star cast.
Read More: Best Suspense Movies on Netflix
29. You Get Me (2017)
A thriller film featuring Bella Thorne, playing a mentally unstable teenager, 'You Get Me' is a teenage high school drama with a twist. The movie begins with Tyler who is dating Alison but they're on the verge of a breakup owing to Alison's extravagant lifestyle. Enraged, Tyler meets Holly (Thorne), who is apparently living with her stepmom in a huge mansion and to Tyler's surprise, Holly pursues him by going overboard on certain things. As Alison meets Holly and they become friends, Alison does some research to find out about Holly's mental disorder and that she's not what she claims to be. The ending is more or less as expected, with Holly trying to extract a revenge from Alison while desperately trying to get to Tyler, but as usual, the antagonist fails. Predictability is the nemesis of this movie which otherwise would have been good if made a couple of decades ago.
Read More: Best Weird Movies on Netflix
28. So Undercover (2012)
Miley Cyrus dons an investigator's hat in this sorority drama which has F.B.I. agents coming together as a part of this teenage action-comedy. In a strange turn of events, Molly, a private investigator is hired by the F.B.I. to pursue Alex, the daughter of a senator who has been identified as a witness of a criminal case. Molly assumes a pseudo-identity and enrols herself as a sorority student under the name of Brooke. Molly falls for Nicholas, one of her love interests in college only to find out that most the people she met at college aren't actually who they are. After Alex is kidnapped, Molly goes all the way to save her and hand over the culprits to the F.B.I. 'So Undercover' is yet another movie which although has a unique premise, is bogged down by its predictable storyline.
Read More: Best Holiday Movies on Netflix
27. Dude (2018)
The core of all losses in a typical teenager's life is summed up in 'Dude' which is a telltale of four teenage friends who're in their high school senior year and are going through a phase when they'd have to give up on things like best friends, love and relationships and have to deal with the death of loved ones and how time flew past them. The combination of sorrow and nostalgic experiences alike, in what started as stoned friends listening to incessant hip-hop turns into a matured yet relatable affair, with friends parting their ways and moving on with life. The story of Lily, Chloe, Amelia and Rebecca and their journey from being a bunch of jerks and party animals to being responsible adults is a likeable yet predictable adventure. If not for Lucy Hale, the movie would've bombed terribly at the box office.
Read More: Best Kidnapping Movies on Netflix
26. #REALITYHIGH (2017)
Speaking of high school rom coms without any end to their cliched plots, '#REALITYHIGH' isn't left out very far behind. There's not a single element in the movie that would make it stand out from the rest of its counterparts – the regular love-hate affair between Dani and Cameron, the drug abuse and alcohol-led swearing, underage sex, verbal and implied insults and a happy ending. The cliched characters and the overdone plot doesn't give any respite from the lacklustre performances and sub-standard humour. '#REALITYHIGH' is a classic example of how not to make a teenage rom-com, except for the racially diverse star cast which was the only acceptable thing about the movie.
Read More: Sexiest Shows on Netflix
25. Step Sisters (2018)
Pick any high school comedy and add some dance to it – what you'd get is 'Step Sisters' minus good performances. The movie begins with Jamilah, a president of the black sorority group at her school. Jamilah also leads the Step Team, the dance team of the school and also a dean's liaison. When a group of white sorority sisters embarrass her school's reputation, she takes it upon herself to teach them a fitting lesson. With Steptacular – a highly revered dance competition around the corner, Jamilah has to teach the white girls how to step dance while keeping her dream of attending the Harvard Business School at bay. The conclusion is predictable – with sisterhood winning all over the cultures and traditions. Except for a few rhythmic dance steps towards the end of the movie, everything else about this flick is passable at best.
Read More: Best Documentaries on Netflix
24. The Outcasts (2017)
A typical girl-fight movie, 'The Outcasts' revolves around the brewed enmity of Mindy and Jodi vs. Whitney and Mackenzie. While the latter duos are perceived to be the vamps in the school, the formers are hell-bent on ruining their senior years for the sake of their own reputation. After yet another embarrassment at the hands of Whitney and Mackenzie, Mindy and Jodi set themselves on a revenge-seeking spree and gather all the other girls who've been victims of their pranks, a.k.a. 'The Outcasts' to give it back to them. Budding romances, strenuous relationships, cheeky humour and witty dialogues form a part of this teenage revenge extravagance which is worth a pass.
Read More: Best Sci Fi Movies on Netflix
23. The Standoff (2016)
Not to be confused with 'Standoff' – a 2016 thriller bearing the same name, 'The Standoff' is a relatively feelgood movie as far as the other movies of this list are concerned. The light humour, the relatable characters and the unique plot is everything you can ask for in a teenage comedy. The story begins with ongoing class elections at a high school and the runner-ups are Farrell and Amy who have been long-standing adversaries. At Big Jim's Auto Depot, one of the rules for winning a new Volvo X60 is that one has to stand incessantly with their hand on the car and never let go until the person is the last one standing. Amy and Farrell compete against each other in a so-called virtual deathmatch to win the car, while others join in. The romances and the pun are as real as they can get.
Read More: Best Kids Movies on Netflix
22. Naomi and Ely's No Kiss List (2015)
As is evident from the movie's name, Naomi and Ely have been best friends since childhood and are also neighbours. Although Naomi has always liked Ely, because of Ely's homosexuality, she's currently dating Bruce- a guy she's reluctant to be with, while Bruce himself has a "thing" for Ely. Both Naomi and Ely maintain a "No Kiss List" of guys whom they both are forbidden to kiss. As Ely and Bruce grow closer owing to Bruce's desperation, Naomi finds out about Ely and Bruce and what has been cooking behind her back. As time passes by, Naomi gets to accept Ely as he is and lets go of her inhibitions towards accepting him as a friend. The duo reconciles in the end while Ely is trying to settle down in a stable relationship with Bruce.
Read More: Funniest Movies on Netflix
21. Rip Tide (2017)
For the surfing enthusiasts, 'Rip Tide' might offer a slightly different storyline and in terms of its cast, it features Debby Ryan as Cora in a leading role. The movie revolves around Cora who's a struggling model working in upstate NYC. While she wants to be innovative and constantly evolving at work, she is regularly shunned by her directors and has to dance to their tunes. While amidst a photoshoot she trips down the stairs that causes her a long-standing embarrassment, she plans on travelling to her aunt's place in coastal Australia for a respite. Her next course of action will determine whether she has to stay back or go to her previous work-ridden yet mundane life. 'Rip Tide' is good in parts, but as a movie, it seldom makes any sense.
Read More: Best Classic Movies on Netflix
20. Raising the Bar (2016)
Another movie with a Disney star in the lead, 'Raising the Bar' revolves around Kelly, an ace gymnast who gets injured and is shunned by the team coach (and her father) along with her other teammates. As her parents are on the verge of a separation and notwithstanding the humiliation any more, Kelly moves to Australia with her mother. Kelly, in Australia, at her new high school starts coaching Nicola, her friend, who's a part of her school's gymnastics team. Despite being continued to be criticised on the social media for her "defeat" in the US, Kelly continues to coach Nicole and helps her win the competition. 'Raising the Bar' is your regular "rising from the ashes" story with a really competitive sport in the backdrop that's worth your time.
Read More: Best Zombie Movies on Netflix
19. Candy Jar (2018)
Although duelling high school debate championships are not new to many, there have by far been only a handful of movies made on the subject. 'Candy Jar' focuses on Lona and Bennett, two debate club members who have soaring aspirations of going to the college of their choice. Both Lona and Bennett have been projected as adversaries in their two-member club who don't leave any chance to act with aggression against each other, and so do their parents. Despite not getting selected for the state high school debate championships, because of them being declared co-winners at a local competition, the feud soars further, only to realize how much they like each other and can't separate. 'Candy Jar' is like a breath of fresh air as far as usual teenage romcoms are concerned and the performances are stealers of the movie.
Read More: Best Alien Movies on Netflix
18. Two Weeks Notice (2002)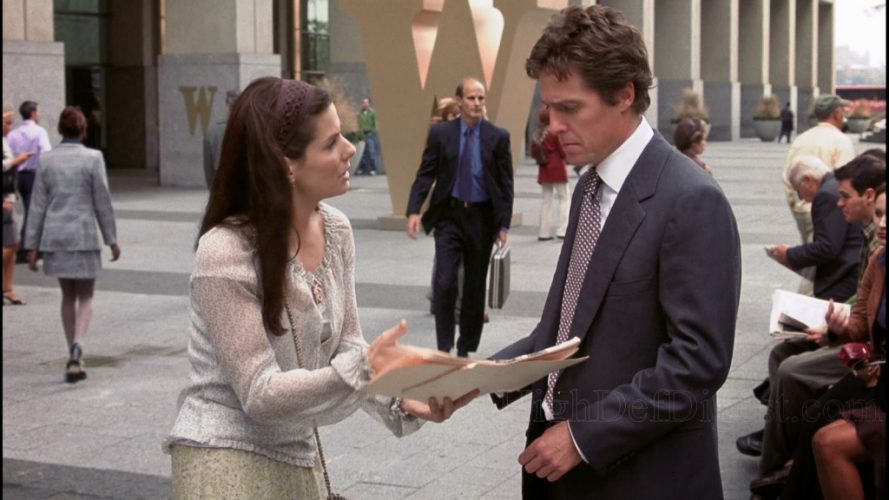 One of the most famous movies featuring Sandra Bullock, 'Two Weeks Notice' is a love-hate relationship that begins with adversaries confronting each other to coming together at the end. Lucy is an environmental lawyer and George is a real-estate developer and playboy. To keep her beloved community centre from being destroyed by George's company, the duo meet and George offers Lucy a fat pay package to come and work for him instead, as opposed to her current profession where she's always been rooting for environmental causes. Once she realizes that George needs her help for every trivial thing, she gives him a two weeks' notice and starts looking for another job which is easier said than done. Despite mixed reviews on the story as well the direction, the movie scripted success at the Box Office.
Read More: Best Romantic Movies on Netflix
17. Wild Child (2008)
The poster boy of all teenage romcoms, 'Wild Child' begins with Poppy and her extravagances. Being the daughter of a widowed father, she pulls off a prank destroying all of her father's girlfriend's belongings, thus resulting in her "extradition" to a boarding school in England. After a few initial setbacks at the boarding school and being punished several times, she discovers her passion for the lacrosse sport and gets herself on the team. She also falls for Freddie and leaves no stone unturned with her pranks as a desperate measure to get herself expelled from the school on the grounds of misbehaviour. Things aren't the same at Abbey Mount when she comes to a realization that has been in front of her all along. Although 'Wild Child' was criticised for being "mild" and "inconclusive" and shallow, the cliched storyline did its job, along with Emma Roberts' presence, which saved it from bombing at the box office.
Read More: Worst Movies on Netflix
16. The Kissing Booth (2018)
One of the Netflix' latest entrants, 'The Kissing Booth' revolves around Elle and Lee – childhood friends who were born on the same day and are practically like siblings. For their upcoming school carnival, Elle and Lee decide to set up a kissing booth. Elle initially despises Noah, Lee's elder brother, but grows a liking for him and the kissing booth gets the credit. Because Lee and Elle had a pact which clearly stated that they won't date either of their relatives, Elle had to keep her affair with Noah a secret until Lee finds out about them eventually and starts keeping his distance from both of them. The conclusion is open-ended which showed Noah going away to another place and Elle riding his motorcycle, uncertain of their future. Although the film was branded as "genre denigrating" and borderline sexist, it still fared well all thanks to the presence of Joey King in the lead.
Read More: Best War Movies on Netflix
15. Girl Asleep (2015)
"Girl Asleep" is a journey through the mind of teen Greta Driscoll. On the brink of her fifteenth birthday, she is transported to a weird parallel universe. It is difficult to label this one in a specific genre; it's a coming of age story with a touch of magical realism and fantasy set on the 70s in Australia. Bethany Whitmore is incredible as a teenager in a strange new world but of course, she had some help, with the amazing script by Matthew Whittet. The cinematography is also beautiful, every shot is carefully thought about and it works.
Read More: Best French Movies on Netflix
14. The Princess Diaries (2001)
Anne Hathaway's debut movie 'The Princess Diaries' went on to become a commercial blockbuster and we don't see any reason why it shouldn't have. The movie begins with a socially awkward teenager Mia Thermopolis who lives with her mother in a remodelled house. She realises only on her sixteenth birthday that her paternal grandmother is also the Queen Mother of Genovia and her late father was the crown prince, thus making Mia the heir to the throne. Flabbergasted at the revelation, Mia has to learn the ways of a royal and is given a complete makeover and elated her social status, much to her embarrassment in some points of the movie. The moments of humour are aplenty and the movie has a feelgood factor which would make you watch it more than once. And Anne Hathaway's charm is contagious as always.
Read More: Best Holocaust Movies on Netflix
13. Sydney White (2007)
A modern retelling of our beloved lore of the Snowhite, 'Sydney White' is a pun-intended take on the sisterhood and conquering it by defeating the "evil" queen. Amanda Baynes plays the titular character, who enters a college as a freshman to restore her mother's sorority to its original status. While at college, she meets with her love interest Tyler Prince and also the Kappa Sorority head Rachel Witchburn, also her arch nemesis. To take on Rachel, she takes help of seven dorks (or in this case, outcasts) and systematically throws out Rachel from her current status to tithers. Despite being termed as a poorly adapted version of the beloved fairytale, Amanda Baynes' performance was praised for being refreshing and the only relishing feature of the movie.
Read More: Best Gay and Lesbian Movies on Netflix
12. Mamma Mia! (2008)
When Meryl Streep and Amanda Seyfried play mother and daughter along with other members of the ensemble cast, the movie would essentially become nothing short of a blockbuster. 'Mamma Mia!' is set in a Greek island of Kalokairi, wherein Sophie (Seyfried) is being wedded to her boyfriend Sky and unbeknownst to her mother Donna (Streep), Sophie has also invited three men who might have had an affair with her mother Donna at the time of Sophie's conception. Because Sophie wants her father to walk her down the aisle, she had been reading her mother's personal diary to zero in on these three men. When Sam. Bright and Bill arrive at Sophie's wedding, having no idea of what is happening, Donna is also wary of the consequences, and ultimately, all three agree to be a third of a father to the wedding bride. 'Mamma Mia!' became one of the highest grossing movies at the time of its release.
Read More: Best Suicide Movies on Netflix
11. When We First Met (2018)
A time-travel movie at the outset, although unbelievable for a rom-com, 'When We First Met' revolves around Avery and Noah and begins with Avery's engagement party where she's being engaged to Ethan, much to Noah's despise who's also present at the party. While Noah recalls their first meeting and passes out inside a photo booth, he wakes up on the day he first met Avery three years ago. On a quest to set things right with the girl he is genuinely in love with, Noah goes back to the day they met at least twice, thus leading to a different course of events altogether. Unfortunately for him, Noah realises that perhaps Avery is not meant for him and ends up in her engagement party yet again, albeit this time a little happier. The film was widely praised for Adam DeVine's performance and his in-depth characterisation in an otherwise lacklustre plot.
Read More: Best Movies Like Porn on Netflix
10. Alex Strangelove (2018)
A strange yet relatable story of a teenager coming out as a gay, 'Alex Strangelove' has Alex as its central character who is in love with Claire, her best friend. While they start dating and Claire comes to know that Alex is unsure of them having sex, she drives him out. Enter Elliot, another openly gay teenager who is treading cautiously with his relationships and friendships alike. Alex is then set up with Elliot to go to the prom by none other than Claire who thinks Alex needs to be more open in confessing his love towards Elliot without any inhibitions. As Elliot and Alex kiss on the prom night, Claire is only happier and moves on with her life. 'Alex Strangelove' is slightly overdone but still works out as a movie that's worth your time.
Read More: Best Korean Movies on Netflix
9. Set It Up (2018)
Setting your bosses up with each other to alleviate their work-schedule does sound like a plan! In a never-heard-before plot, 'Set It Up' begins with two overworked bosses – Kirsten, an editor at a leading sports magazine and Rick, a venture capitalist who works in the same building. Harper and Charlie are their assistants who are on their toes as always, thanks to their demanding bosses. One fine day, when both Harper and Charlie are out to get dinner for their bosses, they meet up and hatch a plan to get their bosses laid. Despite a few initial setbacks, Harper and Charlie taste success when they come to know about the engagement of their bosses. The movie ends rather abruptly with Kirsten and Rick breaking up but Charlie and Harper coming together. 'Set It Up' is a remastered romcom with the same skeleton yet a very different flavour.
Read More: Best Black Movies on Netflix
8. The First Time (2012)
Dave and Aubrey become instant friends after meeting up at a party that is later raided by the cops. As Dave wants to talk to Aubrey about his feelings for Jane, the girl he's deeply in love with, Aubrey too is dating Ronny and is wary of her relationships other than her boyfriend. As they grow closer and hang out more with each other, their feelings for each other grow even stronger despite jealous ex-lovers, them finding it difficult to have good sex and the idea that Dave has to move to another city for a job spells more troubles for Aubrey. 'The First Time' garnered mixed reviews from critics owing to lack of a compelling storytelling or powerful characters. Still, 'The First Time' is an enjoyable flick and can be watched on a leisure Sunday afternoon.
Read More: Best Rom-Coms on Netflix
7. Girlhood (2014)
Marieme is parting from her oppressive family and starts a new life after meeting a group of three free-spirited girls. She changes her name, her dress code, and quits school to be accepted into the gang, hoping that this will be a way to freedom. Directed by Céline Sciamma, this French film full of twists has an amazing script and brilliant performances. Karidja Touré especially executes a powerful performance in self-discovery and search for a new life. Although the "Girlhood" is not especially aesthetically pleasing, it has a female-centric and empowerment-driven theme that is very well executed. While it is not the type of movie for everyone, it's definitely worth a try.
Read More: Best Spanish Movies on Netflix
6. The Spectacular Now (2013)
Sutter is a high school playboy who likes hanging out with girls and partying all along, without a zeal for long-term relationships. After a breakup with his girlfriend, he gets drunk and passes out on the front yard of Amy's house. Incidentally, Amy and Sutter have been in the same class but Sutter is unaware of her. Both Sutter and Amy have different outlooks on life – while Amy is more worried about her future, Sutter is content with his job at the apparel store and believes in living the moment – a.k.a. 'The Spectacular Now'. What transpires between Amy and Sutter and how they shun their misunderstandings to find love for each other forms the rest of the movie. 'The Spectacular Now' received critical acclaim upon its release and was called a "coming-of-age" movie with well-researched characters and layered storyline.
Read More: Best Rom-Coms on Netflix
5. Beauty and the Beast (2017)
One of the highest grossing musical live-action movies of all the time, 'Beauty and the Beast' garnered a lot of praise for outstanding performances and the visual effects. The plot begins with an enchantress who, disguised as an old beggar, curses a castle and all the people present in it, including the prince to turn in to household objects and a beast respectively, with no memory of the past events. The prince (now the beast) must learn to love before the last petal of the enchanted rose falls. Several years later, Belle, a countryside lass, meanders into the beast's castle in search of her father Maurice and asks the beast to imprison her instead. All ends happily when the beast and the "beauty" Belle fall for each other despite their imperfections. Beautiful, lavish and outright charming, 'Beauty and the Beast' is a spectacle worth witnessing.
Read More: Best Football Movies on Netflix
4. Heathers (1988)
A classic from the 80s, "Heathers" is "Mean Girls" with a very dark twist. Winona Ryder is Veronica, a girl trying to survive the social jungle that is high school, by hanging out with the three most popular girls in school (all named "Heather"). When she meets JD (Christian Slater), she enters in a spiral of hate, murder, and revenge. The film became a cult classic due to the charisma of the couple of misfits that Rider and Slate interpret but also because of its dark atmosphere. "Heathers" is not for everyone, its dark comedy and obscure approach on the high school drama may be seen as over dramatic. However, the controversy is one of the factors that turn this one into a film you should watch.
Read More: Best Disney Movies on Netflix
3. To All the Boys I've Loved Before (2018)
As the name suggests, 'To All the Boys I've Loved Before' is the story of a teenager Lara Jean Covey who's a high school junior. Apparently, she writes about her feelings to boys she has intense feelings for, in letters, but never posts them instead, she locks them in the closet. One fine day, to her worst nightmares, Kitty, her younger sister mails the five letters to all of her five former crushes, thus leading to unwanted confrontations, explanations and guilt. Lucky for her, one of the boys, Peter, finds true love in Lara before they kiss. 'To All the Boys I've Loved Before' is a nicely laid out movie with likeable characters and swooning romances that is difficult to forget.
Read More: Best Chick Flicks on Netflix
2. Divines (2016)
Nominated for a Golden Globe, "Divines" follows a teen from a dysfunctional family from Paris that comes across a young dancer who turns her life upside down. Although the plot seems simple, it is extremely more complex. Scene after scene, the characters, the settings, the relationships, every element comes with incredible strength. From a classroom argument to a daughter-mother discussion, almost every scene is heart-breaking. "Divines" is a film about survival in a mad world in which the characters feel incredibly real. Actresses Oulaya Amamra and Maimouna are incredible and I'm sure we will hear more about them in the future.
Read More: Best Medical Shows on Netflix
1. Mustang (2015)
"Mustang" is a Turkish movie inspired by Sofia Coppola's Virgin Suicides. It takes place in a small village in northern Turkey and follows the story of five orphan sisters whose conservative family slowly takes away all forms of 'perversion' from them in order to make them 'suitable wives' Distinctly and subtly directed by Deniz Ergüven, this is a strong heart-breaking take on a coming of age story. While certainly sympathizing with the girls, the director also makes clear that arranged marriages of teenage girls are part of the village custom. Nobody ever dares to challenge it. The five main actresses are immensely talented despite their age. You should have a pack of tissues while watching it, you will need it.
Read More: Best Teen Movies of All Time