'Green Book' is the kind of rare, disarming film that is at once relevant and piercing, yet makes sure that you have a bloody good time watching it, making up for a slight lack in cinematic craft with a rich, pounding heart that is bound to leave yours full. That is not to take away, for one second, the nuance in the writing department and how deftly Farrelly directs the material with a deliberate light touch, lending the film much of its overall feel good vibe. We in the critical circles have been accustomed to rave about directorial styles, statements, hard-hitting imagery, and cinematographic signatures in a way that we often forget that sometimes the simplest tales have the most to tell. Simplistic storytelling, as I like to call it, and have already in a number of my previous articles. 'Green Book' is a winning example of that, and while it models itself as a breezy comedy for the most part, it is an account that has something worthwhile to say, and one that you want to hear.
The themes 'Green Book' encompasses don't merely touch upon friendship, family, racism, acceptance, and identity, but all this served with a generous dose of good hearty humour is something that is bound to light up a myriad evening. If you are here, and have seen the film, there should be little reason for you to not take pleasure in my raving. The feel good movie of the year, something about 'Green Book' just fits; something distinct, or on the contrary, everything. The 60s are delightfully brought to life and you genuinely feel drawn to the authenticity of the setting.
As much as I acknowledge the script and the writing and the overcoming simplicity in treatment, I also acknowledge that the film enormously benefits from the chemistry of its mismatched leads: Viggo Mortensen and Mahershala Ali, both stellar performers in their own right, but together, they are the kind of potent combination you didn't know you needed, until you see them weave the magic of opposites on screen. One is feisty, full of zing and motor mouthed; the other is remarkably composed, watchful of his words, actions and the very walk he walks. Under normal circumstances, their combination would spark fireworks, and it does on many occasions which are for instance, also the funniest bits of the film, but in the world Farrelly creates, the two are pitted against each other as affably watching each other's backs despite their visible differences. The two are as far apart as they could be, and yet, at the core of the film lies the delicate friendship two unlikely companions form over a trip lasting two months.
Plot: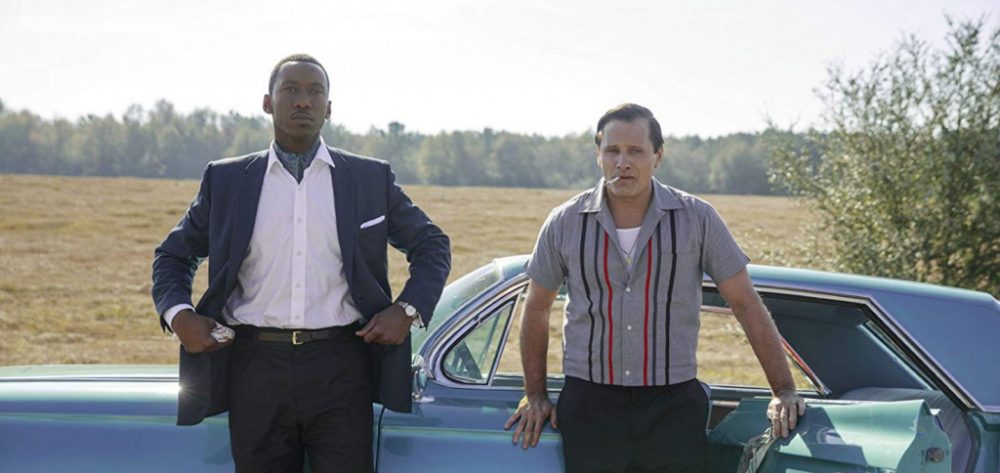 The film is based on a true story set in the racism dictated 1960s America, and follows our protagonists, two men from polar opposite walks of life, taking a tour down into the deep South where racism didn't merely dictate a way of life for people, but hateful practices against people of colour were commonplace, to an extent of being considered within the realm of normalcy. The notoriety of the era and region with respect to racist and hateful attitudes towards African-Americans is quite well-known, so more on that later. For now, we focus on what brings these two highly unlikely men together.
Tony 'Lip' Vallelonga, played with unsurprising sincerity and an unassuming charm by Viggo Mortensen, is an Italian American staying in New York, working as a bouncer for a bar that is presumably closed down for renovations, following an amusing opening act, rendering Tony jobless and on the lookout. He is shown as somebody who is quick to establish high links in hopes that they prove useful later, not afraid to put his street smart tricks on display if the occasion calls. feisty with the fist if need be, but always likeable and charming enough to have your attention when he is on screen, and your heart.