Netflix has proved to be a wonderful platform for Malayalam cinema. With the current facelift this particular regional industry is going through, the online streaming service has made available for the public those films that are daring, different, and not exactly oriented for a commercial audience. Some of the films on this list, like 'Eeda' (2018), have largely shocking themes and interesting filmmaking styles. A picture like 'Chaayam Poosiya Veedu' (2015), that would probably fail to find a big market in the theatres due to its bold character portrayals, has found a reasonably high following on the internet.
Netflix has allowed the smaller films within a relatively small industry to see the limelight, and this is important, because various distinctive portrayals of subjects that find importance within Kerala help in the progressing of art, and it gives a stand-alone voice to independent filmmakers. You'll find that the movies I have selected for this list are all different from each other, and from the wider releases outside of Netflix that make a mark at the box office. I do so with the hopes of celebrating difference and highlighting change in cinema.
10. Minnaminungu (2017)
There are two things that make 'Minnaminungu' (The Firefly) work. The first and most effective of these is the leading performance from Surabhi Lakshmi that landed her a National Award. Her portrayal of a struggling mother takes this film to heights it definitely wouldn't have reached otherwise. Next, there's the story, which on its own is quite moving and hard-hitting, though the final product here does suffer from some narrative issues. Following the mother as she works odd jobs in order to feed and educate her only child, 'Minnaminungu' shows how the society of which the woman is a part takes advantage of her unpleasant circumstances, with her falling prey every time. The film does falter at times with its evidently low-budget cinematography and uninspired supporting cast performances, but I do find the tale it tells to be memorable on its own.
9. Shavam (2015)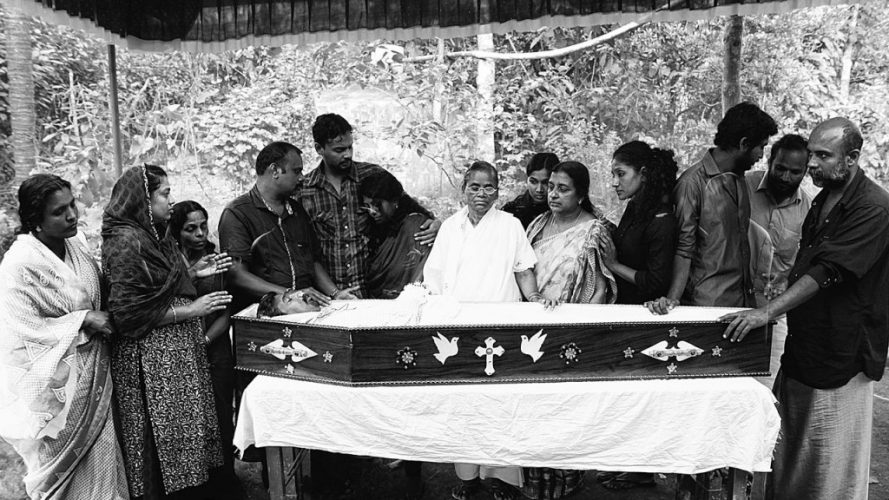 What attracted me most to this film was its title, which translates to 'corpse', though the usage of this particular word in the Malayalam language is especially morbid in tone. Having to do with the unexpected death of a man in a Christian family, 'Shavam' attempts to capture the dull and lifeless aftermath of his passing, when relatives, neighbors, and friends visit, and family members crowd around to offer their vocal sadness. Similar in a lot of ways to the critically acclaimed 'Ee Ma Yau' (2017) that came later, this film offers a more artsy approach to similar themes, incorporating a neglected third person as the protagonist, someone we do not see, though his presence is felt in the movement of the camera and the assumed strides into several of the household's rooms. 'Shavam' took home the award for Best Foreign Film at the Barni International Festival, Moscow.
8. Eeda (2018)
'Eeda' (Here) has its importance here as being one of the more daring releases to be available on the service. Following a love story between two individuals who meet purely by chance, the film addresses its main concerns rather quickly. Taking place in the Kannur district of Kerala, the couple faces something of a dilemma as their families each belong to rival political parties functioning in the area. As their relationship takes flight and turns into a more intimate affair, their backgrounds seem to silently disapprove of their romance. Using slight changes in their names to call out real political parties, the film succeeds in showing a very real as well as brutal condition of one of the most dangerous, politically triggered localities in the state. Nimisha Sajayan and Shane Nigam both give memorable performances as the counterparts of the couple, and the film has been competitively directed.
7. Toy Maker (2015)
'Toy Maker' is probably the most intimate film on here, in relation to the connection the audience makes with a film's protagonist. Following the story of a toy maker who has lost more than a little by the death of a childhood friend, the film chronicles his search for identity, a journey he attempts to make by recreating the people of his past with the people of the present, surely a delusional way of carrying out things, though it seems to provide him with a sense of satisfaction. This confusing drama of life directed by him takes a toll on his "actors" as well as the audience watching, but it nevertheless is a worthwhile experience of an otherworldly, surreal nature. Few things make sense from a narrative viewpoint, though like some of Kerala's best art films, this too attempts to dissect the character of its leading man by taking a walk through his mind and thoughts, both of which are disturbed at the moment.
6. Annayum Rasoolum (2013)
Does 'Annayum Rasoolum' (Anna and Rasool) talk about a love story that doesn't matter? Most love stories aren't held in high regards (as considered by the ones who form the two ends of the romantic capsule) by outsiders, but then, perhaps, this one's a little different. Rajeev Ravi's spectacular film tells a small, seemingly insignificant tale of a brief infatuation, as narrated by a third person, about two people from different religions and backgrounds, both of whom notice the presence of the other in their lives, though either party isn't keen on opening up about it. By the final act, the film turns into something of a tragedy, but despite this, there's a lot about the romance to be enjoyed, the best thing being how authentic it feels. Fahadh Faasil gives one of the best performances of his career as Rasool, a taxi driver and the male counterpart of this short-lived love story that is surprisingly poignant and deep.
5. Maheshinte Prathikaram (2016)
The National Award winner of Best Feature Film In Malayalam, 'Maheshinte Prathikaram' (Mahesh's Revenge) was a film that created a wave of change upon its release. Director Dileesh Pothen kickstarted his career behind the camera with what is perhaps one of the most successful directorial debuts to date, telling the story of a local photographer's revenge on the goons who attacked him, something that tears his ego apart, providing him with the required level of determination to hit back. The film gave way to several memorable catchphrases and cinematic moments like few pictures before it, and told a love story in a way that hadn't been attempted before, in Malayalam cinema. Though I'm not as big an admirer of this film as the majority of the Kerala crowd, I can still appreciate its appeal and even enjoy it to a degree myself. Syam Pushkaran, the screenwriter of this film, went on to win a National Award for his work here.
4. Angamaly Diaries (2017)
To present a film in a style never carried out in Malayalam cinema before it, with a cast of 86 fresh faces is definitely a big risk to take. Director Lijo Jose Pelliserry tells his tale of a bunch of outlaws in the streets of Angamaly with a brash, raw, unforgiving execution, making for a zany, almost insane realization of events, in a film that is rather well-acted and well-written. A cinematographic achievement, the 11-minute long shot that climaxes the film is truly one of the greatest achievements on Indian celluloid. There isn't much to say about the plot of this film, which might be its biggest flaw, but in its defense, 'Angamaly Diaries' had advertised itself as a 'local' film, one that refused to care about conventional filmmaking methods, thereby not catering to the expectations of average filmgoers, giving them an experience totally out of the blue. Thankfully, this was one they could take home, making it one of Pelliserry's many effective experimental endeavors.
Read More: Best Christian Movies on Netflix
3. Aalorukkam (2018)
Let me talk a little bit about Indrans first, to give you a better idea of why I've placed this film so high up on the list. Indrans is one of Kerala's best loved comic actors, who began his way into the public domain by becoming a tailor for celebrities before his time. Noted for this thin, funny-looking face and expressions, Indrans had unfortunately been pushed into the team of typecast actors during the '90s and 00s. The role of Pappu Pisharodi, the protagonist of 'Aalorukkam' (A Man Gearing Up), is so unlike the characters he has played in the past, and he pulls it off with such brilliance, capturing the pain of an old man conducting a sort of armchair hunt for his missing son almost perfectly.
The film is quite depressing, moving with a slow pace crafted well enough for the audience to conduct a detailed study of the characters they see unfold on-screen. The aging man's son had left him several years ago, and on account of his failing health, he makes a sort of last wish to the doctors in charge of him, who agree to help him in his hunt. Propelled to excellence by director VC Abhilash's keen eye for visual influencers, the film does, still, have its drawbacks connected with a low-budget visual touch, which dents the cinematic quality of the film considerably, something that is aided by some of the cardboard performances on the side. Indrans gives a career-best performance here, and is probably the biggest highlight of the film. He went on to win a National Award for this role.
2. Ozhivudivasathe Kali (2015)
'Ozhivudivasathe Kali' (An Off-Day Game) is a deeply layered film that practices the oft-used satirical plot device of using something innocent and childish to tell the much bigger tale. Covered from head to toe in metaphors, the film talks about five friends who get intoxicated in some faraway place, by the bushes. Once under the influence, they begin to talk about themselves and their ideologies, which allows us to get a better understanding of the characters. Sanal Sasidharan, the film's director, doesn't attempt to introduce his leading men in a conventional sense, and does so with a strong sense of patience to it all.
It is polling day, and the weather is quite dim, which provides the setting for this film's story. After having talked around, the group of friends plan to play a little game, one that they used to enjoy as children, though this time, as they go through round after round, it becomes clear that this particular game is not like any that had come before it. Having clearer stances on politics and oppression, 'Ozhivudivasathe Kali' stores its aesthetic brilliance in its subtle messages delivered through the cinematography and editing. After scenes of high intensity, the camera often rests on the shot of a lake, which works as a reflective tool. Is the film attempting to get its audience to conduct a study of themselves, in a way that they get to realize that they are no different from the rather unlikeable characters on display here.? The climax is one of the most depressing in Malayalam film history.
Read More: Best Romantic Movies on Netflix
1. Ottaal (2015)
Shot in the visually pleasing land of Kuttanad, 'Ottaal' (The Trap) tells the sad, heartbreaking tale of the relationship between a boy and his grandfather, who happens to be his sole living family member. Adapted from Anton Chekov's timeless novel Vanka, the film is supposedly told from the viewpoint of the boy, named Kuttappayi (who is seen writing a letter to his grandfather earlier on in the film from a time in the future), his recollections of his hometown set the stage for a magnificent picture about hope, loss, and nostalgia. Director Jayaraj designs a very intimate experience for the viewers with inexperienced actors and a low-budget feel to his work, the strong points of the film then being the connection made between the long-time estranged grandfather and his grandson, who happen to be the only two characters that appear throughout the film. Nature and several other elements that form strong memories for someone who resides next to the backwaters of the state find their beauty being used to exceptional effect here. Though the village where the boy comes to is otherworldly, his purpose of visit is in connection with his deceased parents, something that isn't heavily sympathized in the picture. What is sympathized here is the major question that the film poses: "why do we ignore all that we have?"
Read More: Best Bollywood Movies on Netflix