Matt Damon is an American actor, film producer and screenwriter. Damon is ranked among Forbes magazine's most bankable stars and is one of the highest-grossing actors of all time. Damon has received various accolades, including an Academy Award, from five nominations, two Golden Globe Awards, from eight nominations, and has been nominated for three British Academy Film Awards and six Emmy Awards.
Damon began his acting career by appearing in high school theater productions. He made his professional acting debut in the film 'Mystic Pizza' in 1988. He came to prominence in 1997, when he wrote and starred in 'Good Will Hunting', alongside Ben Affleck, which won them the Academy and Golden Globe awards for Best Screenplay and earned Damon a nomination for the Academy Award for Best Actor. He continued to garner praise from critics for his roles as the eponymous character in 'Saving Private Ryan' in 1998, the antihero in 'The Talented Mr. Ripley' in 1999, a fallen angel in 'Dogma' in 1999, an energy analyst in 'Syriana' in 2005, and a corrupt Irish-American police officer in 'The Departed' in 2006.
Damon is also known for his starring roles as Jason Bourne in the 'Bourne' franchise and as a con man in the 'Ocean's' trilogy. For his supporting role as the rugby player Francois Pienaar in 'Invictus' in 2009 and his leading role as an astronaut stranded on Mars in 'The Martian' in 2015, he received Academy Award nominations for Best Supporting Actor and Best Actor, respectively. The latter also won him a Golden Globe Award for Best Actor. He has received Emmy Award nominations for his portrayal of Scott Thorson in the biopic 'Behind the Candelabra' in 2013 and for producing the reality series 'Project Greenlight'. He also received an Academy Award nomination for producing 'Manchester by the Sea' in 2016.
At this point, the question that might be circling your mind is what is the next Matt Damon? Well, the good news is that we have a clear answer to that question. Here's the list of upcoming Matt Damon films scheduled to release in 2019 and thereafter. We can only hope that the latest Matt Damon movies would be as good as some of his recent ones.
1. Ford v. Ferrari (2019)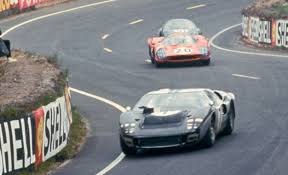 'Ford v. Ferrari' is an upcoming action biographical drama film directed by James Mangold. It stars Christian Bale and Matt Damon while Caitriona Balfe, Jon Bernthal, Josh Lucas, and Noah Jupe have been signed in supporting roles. The film follows an eccentric, determined team of American engineers and designers, led by automotive visionary Carroll Shelby and his British driver, Ken Miles, who are dispatched by Henry Ford II and Lee Iacocca with the mission of building from scratch an entirely new automobile with the potential to finally defeat the perennially dominant Ferrari at the 1966 24 Hours of Le Mans race in France. It is scheduled to be released on June 28, 2019, by 20th Century Fox.