There's a movie for every different mood. Sometimes you want to watch something relaxing and light so you go for a "feel good" movie like 'Forest Gump'. Then there are days when you need some motivation to keep going, so you end up watching inspiring sports flick like 'Creed'. But then there are these other days when we have a love/hate relationship with the kind of movies we're watching. We look for the scariest and the most disturbing movies. We stay up all night to watch them and then wonder why would we scar ourselves this way, threatening our good night's sleep for the rest of the week.
A sub-genre of horror, disturbing films offer a very different kind of escape to those who enjoy watching these. If you're one of those people who squirm, twitch and squeal with fear but still enjoy scaring themselves with torturous flicks, then you don't have to lurk around the deep web to look for these. Netflix has a fair share of anxiety-induced disturbing movies that'll give you the kind of scare you're looking for. Check out the list below of the most disturbing movies on Netflix and before you press play, make sure you're buried deep in your blankets and ready to throw up with all your lights turned on. You might also be able to watch a few of these creepy, shockingly disturbing movies on Hulu or Amazon Prime.
14. The Autopsy of Jane Doe (2016)
The body of the beautiful Jane Doe is discovered by a Sheriff in the middle of a crime scene, what baffles him is how the dead body does not fit the crime scene at all. He takes the body to a coroner named Tommy Tilden to find out the apparent cause of her death. Tommy Tilden is joined by his son who is also his assistant and tries to help him uncover the mystery behind her death. As the night gets darker and darker, the pair dwells deeper and deeper into the strange and disturbing secrets of Jane Doe.
13. The Invitation (2015)
Everything seems normal in the beginning when Will and his girlfriend Kira are invited to a party at Will's ex-girlfriend and her present boyfriend David's place. But as the night starts to unfold, Will starts to sense a hidden agenda that his ex-girlfriend and her friends might have. Old wounds start to bleed again when a wave of unsettling memories slowly creep in. Maybe it's Will's underlying guilt that's driving him insane or maybe his paranoid intuition is completely justified.
12. Train to Busan (2015)

Hollywood has given us a number of great zombie apocalypse movies, but this South Korean thriller is unlike any other. Imagine being stuck amidst a zombie apocalypse while you're confined to the boundaries of a speeding train. You cannot leave the train and you cannot stay on it either. This is the exact situation Sok-woo gets in when he boards a train to Busan with his daughter. The world outside is not the same anymore and the remaining population inside the train is starting to transform as the epidemic spreads from one person to another. Suk-woo and other passengers on the train fight for the survival of their loved ones as the train bolts from Seoul to Busan.
11. Green Room (2000)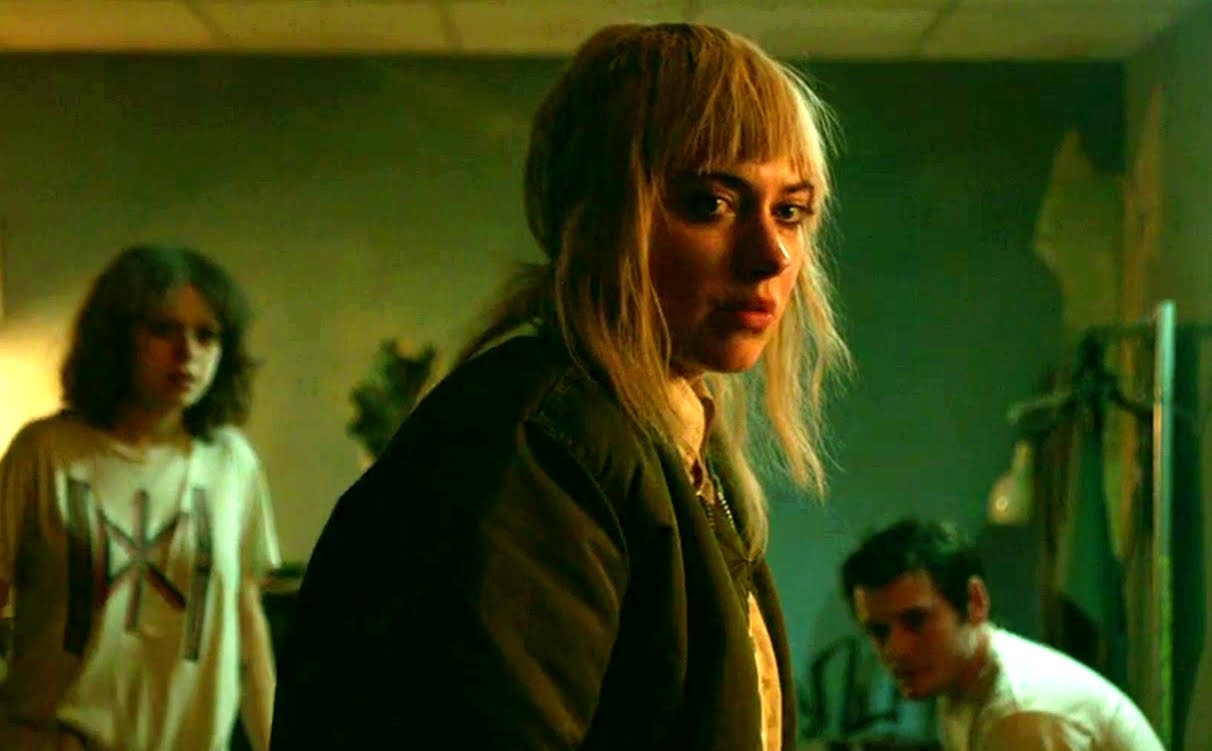 'Green Room' is like a shot of adrenaline that will keep you at the edge of your seat until the very end. Written and directed by Jeremy Saulnier, the movie is about a band that goes on a tour to popularize themselves. At a night club in the Pacific Northwest, things get nasty when the band witnesses a gruesome murder committed by a gang of skinheads. Being the only witnesses of the murder, all the members of the band must escape the venue to survive and reach back home to Washington, DC alive before the gang of Neo-Nazi killers gets them.
10. I Am the Pretty Thing That Lives in the House (2016)
An atmospheric horror film, 'I Am the Pretty Thing That Lives in the House' is a story about a horror writer and her caretaker as they keep experiencing supernatural forces in their house. The author in question, Iris Blum, suffers from chronic dementia, and thus the managers of her property have hired Lily Saylor to look after her. Lily begins noticing shadowy figures of a woman in the house and starts panicking. As time progresses, the division between fantasy and reality blurs in her eyes. We are reminded of the fact that Iris had written in one of her books that there are certain realms where the living and the dead co-exist. So is her house also a realm like that? This film has the charm of a vintage horror because of its setting and interesting characters. For those who love tense atmospheres more than jump scares, this is the film to watch. The disturbing element in the film is the restraint shown by the filmmaker. There is always a constant sense of tension which leaves the audiences quite unnerved at times.
9. The Perfection (2019)
One of the most disturbing Netflix originals, 'The Perfection' is a film which you should definitely keep children away from. The central character of the film is a musical prodigy called Charlotte (Allison Williams) who is going to the most elite music school on her teacher's invitation. She manages to become friends with one of the best students of the school, Lizzie, and slowly they become sexually involved as well. When the two of them reach the school, they realize that under the garb of a musical school, something rather horrifying goes on here. But how will the two of them manage to survive the wrath of such brutal criminals? Violence is the reason we are asking you to watch this film in the company of adults only. Some of the scenes are too gory for even the most hardened fans of violence in cinema. The director Richard Shepard cleverly uses genre conventions to give us a thriller which will remain embedded in our minds for a long time.
8. Apostle (2018)
One of the finest horror movies you will find on Netflix, 'Apostle' is written and directed by Gareth Evans. The story of this film is centred around a man called Thomas Richardson who returns home to the news that his sister has been kidnapped by a sinister cult and is now being held as a prisoner on their private island. Thomas is determined to rescue her from this ordeal and sets out as soon as possible. Thomas' plan is to infiltrate the organization while posing as one of their followers. As he steps onto the island, he is shocked by their brutal methods of performing rites and rituals. He slowly comes to understand that the cult members want to perform a human sacrifice of his sister. The brilliant art direction which we get to see in this film is something which is bound to stay with us for a long time. A constant sense of dread is present throughout the film, and this has been possible because of Evans' mastery behind the camera.
7. Would you Rather (2012)
We've all played the popular party game "Would you rather" at least once in our lives. But this one here is a little different. Iris is a young woman who is worried about her sickly brother. She is introduced to a philanthropic aristocrat who invites her for dinner and a game of "Would you rather", luring her by offering medical treatment for her brother if she manages to win the game. A simple game of would you rather. What is the worst that can happen, right? That's probably what she thought before going to the party. But upon arriving, she realizes that the game is nothing but a deadly quest for survival.
6. Under the Shadow (2016)
During the Tehran missile attacks of 1984, a man departs for the war, leaving behind his wife and daughter alone in their apartment. A common Islamic belief suggests that Djinn are evil entities that are carried by the wind to places that instill terror and suffering. When everyone else leaves, the mother and the daughter remain alone hunting down the missing doll which is very dear to the daughter but has now been seized by the Djinn whose intention is to separate the two from each other. The mother and daughter struggle to survive in their war-torn surroundings while a disturbing dark force squirms in the shadows and haunts them.
5. Gerald's Game (2017)
Gerald's Game is a psychological horror based on a novel written by Stephen King. It starts off on a harmless note when a couple escapes to a remote lake house with the intention to spice up their sex life. Things get nasty when the husband dies unexpectedly and wife Jessie is left handcuffed to the bed frame. Jessie is horrified when the demons inside her head start lurking out in the shadows of the empty house as she struggles to tame the resurfaced darkness that had been buried deep within her ages ago. The most disturbing thing about this film is that it's hard to comprehend whether or not everything that Jessie sees is real or just a mere projection of her deepest fears.
4. Emelie (2015)
The Thompson couple plans to go out to celebrate their Wedding Anniversary leaving their kids at home with a babysitter named Maggie. But when Maggie bails out, the parents seek help from a friend named Anna (Sarah Bolger). Sarah initially seems like a blessing in disguise to the kids and allows them to do whatever they want and also eat extra chocolate chip cookies. But her behaviour slowly starts to change and while the other two smaller siblings are busy playing around, the eldest one of the three starts noticing her dark and evil intentions. Young Joshua makes it his responsibility to protect his two younger siblings from the psychotic babysitter.
Read More: Best Sports Movies on Netflix
3. The Witch (2015)
'The Witch', set up in the 1630s New England, tells the story of a William and Katherine who live right beside lush green wilderness with their 5 children. The family starts to turn against each other when their newborn son vanishes in thin air and the crops they grow on their land start to deteriorate. The whole family starts to crumble under the psychological pressures of the grave and stressful situation. But to add to their miseries, their eldest daughter becomes the victim of dark forces or witchcraft and black magic.
Read More: Best Cartoon Shows on Netflix
2. Hush (2016)
Every once in awhile writers choose to seclude themselves from the rest of the world to find peace, which may even reflect on what they write later. Author Maddie Young does something similar when she loses her hearing ability as a teenager. She lives in utter isolation away from the noise and hassle of the society. But her peace does not last long and her tranquil retreat is torn apart when the disturbing sight of a masked killer suddenly appears on one of her windows. Your heart pounds faster with every passing minute of the movie as Emily tries to outsmart the killer.
Read More: Best Inspirational Movies on Netflix
1. The Conjuring (2013)
'The Conjuring' is by far one of the most disturbing movies of this century. This one literally possesses you like an evil spirit and sticks with you even after you turn on the lights. The movie is set in the 1970s when a family consisting of Carolin and Roger and their five daughters move into a new home near Rhode Island. Soon everyone in the house starts experiencing strange, terrifying and unexplainable occurring. Worried Carolin reaches out to paranormal experts, Ed and Lorraine Warren, who seem to be the only hope for the family in desperate times like these. The Warrens discover that the entire house is possessed by a powerful satanic presence which has latched on to the family and will go wherever they go. The Warrens decide to help the family and bring in their whole team of paranormal investigation experts to fight against an evil presence that is willing to obliterate anything and everything that stands in its way.
Read More: Best Gangster Movies on Netflix