Directed by Scott Silver, this film about Eminem's life sees the rapper's humble beginnings and his eventual rise to fame. Music documentaries are always entertaining because they are incisive steps into the genres and lives of celebrity musicians and give us an idea of where these people are coming from. 8 Mile became a commercial and critical success and I think most people have heard Eminem spitting rhymes in Lose Yourself. Here is the list of movies similar to '8 Mile' that are our recommendations. These films all deal with hip-hop and rap, either as a musical genre or through some of the biggest names in the industry. You can watch several of these movies like 8 Mile on Netflix, Hulu or Amazon Prime.
12. CB4
Directed by Tamara Davis this film parodies the NWA and other aspects of gangsta rap. The film stars Chris Rock and includes several celebrity appearances including Eazy-E, Ice Cube, and Shaquille O'Neal. The title of the film is a reference to a prison cell, vis-a-vis, cell block 4. The plot follows three boys with talent but no marketable image. These boys reinvent their image after a local gangster's assistant gets thrown in prison and one member of the trio steals his identity. With a new gangster image, this group comes up with controversial hits and becomes a chart-topper, but things begin to go south as they have falling outs and the imprisoned gangster breaks out and swears revenge. The film was a brave foray into mixing hip-hop and comedy and deserves mention.
Read More: Movies Like Sicario
11. Breakin'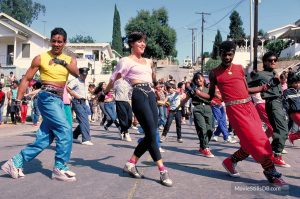 Directed by Joel Silberg, this film deals with one of the most important aspects that are associated with hip-hop – breakdancing. The film's setting is inspired by a multi-racial hip-hop club in Los Angeles.The plot follows a dancer who leaves her traditional training to form a trio with other breakdancers and eventually win over the judges in an audition. This film remains one of the strongest films in terms of its dance sequences, but perhaps not as strong when it comes to its characterization and narration.