In 2015, very famous English novelist Alex Garland made his directorial debut with this cool looking sci-fi psychological thriller film 'Ex Machina'. The plot deals with Caleb Smith (Domhnall Gleeson), a 26-year-old programmer who while working at the world's largest internet company wins a code writing competition and as a result is invited to spend a week at the private mountain estate of the company's reclusive CEO Nathan Bateman (Oscar Isaac). There, he gets to be part of a truly groundbreaking experiment in the world of artificial intelligence by administering the Turing Test to the world's first intelligent humanoid robot named "Ava" (Alicia Vikander). Little does he know that Ava is capable of displaying far more emotional intelligence and that she proves to be more deceptive than both Caleb and Nathan imagined her to be.
While we've seen plenty of movies dealing with artificial intelligence before, what makes this movie so memorable is that it's a very smart, sleek, stylish movie with themes of a cerebral psycho-techno thriller and that it has a lot of unexpected plot twists that arrive out of nowhere. Although it's a very fascinating and highly allegorical movie, it mainly deals about manipulation and power. This is not for those people who are expecting to see some spectacular CGI exposition or some action scenes explosions. Rather this film is very thought-provoking whose ending will keep you pondering for hours. The acting is good most notably for the performances of both Alicia Vikander and Oscar Isaac. Overall, this movie is a visually striking experience and is a classic definition of an original, science fiction film. Don't call yourself a sci-fi lover if you haven't seen this one.
Anyways, there are a lot of movies out there with themes quite similar to that of Ex Machina. While most of these movies have themes of Artificial Intelligence incorporated in them, some of all them also deal with dystopian post-apocalyptic worlds, space exploration, elements of horror, high-octane sci-fi action etc. We have tried to come up with a list of films similar to Ex Machina that are our recommendations. If you are interested, you might be able to stream some of these movies like Ex Machina on Netflix or Amazon Prime or even Hulu.
1. I, Robot (2004)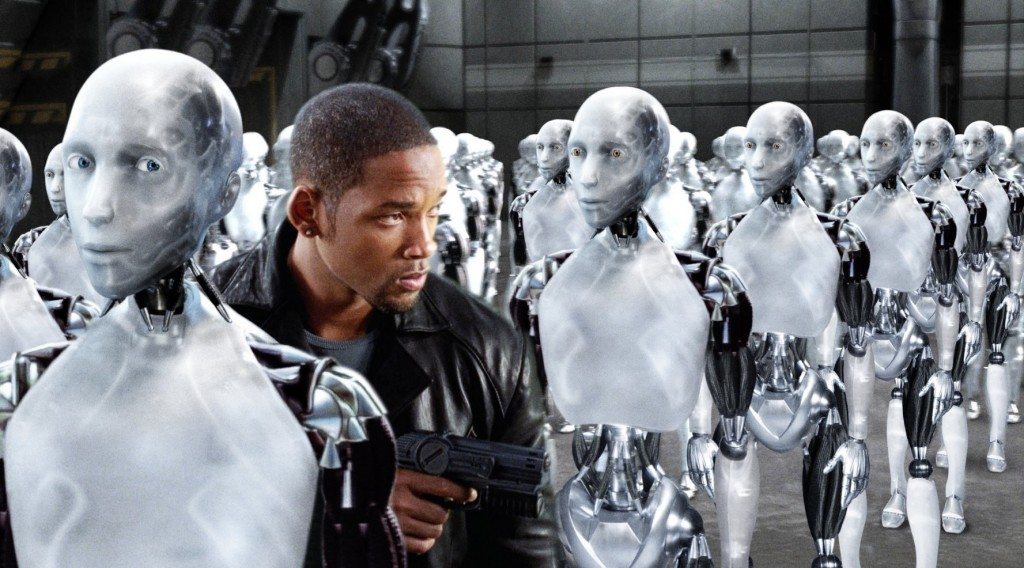 Based on the short story of the same name by the very popular science fiction writer Isaac Asimov, this movie takes place in 2035 where Detective Del Spooner (Will Smith) who has a strong dislike for robots is tasked with investigating a crime and suspects that it was perpetrated by a very unusual robot whose actions could lead to uncovering a large secret that could possibly threaten the existence for humanity. While this is a very entertaining movie which builds up the suspense and also raises a question regarding the humans' over reliance on very advanced technology, its predictable ending is a bit of a let down. Still, it depicts the use of robots very well followed by some great visual effects and some good acting by Will Smith. Overall, it is a fun techno cop thriller indeed.
Read More: Movies Like The Vow