From the classic detective adventures of Sherlock Holmes or Agatha Christie's famous character of Hercule Poirot to the never-ending delight Lieutenant Columbo has brought to its audience, murder mysteries have always piqued interest of audiences.
With Netflix, we have had the opportunity to watch an array of movies belonging to this beloved genre and while most of them were more recent, a few were also from the 50s and 60s. Regardless of your taste, we've tried to put together movies ranging from wonderful, gripping classics to modern crime thrillers at one single place. So take a seat, turn off the lights and enjoy this list of really good murder mysteries on Netflix.
22. Righteous Kill (2008)
With the teaming up of Al Pacino and Robert De Niro for this gritty crime drama, one would expect a lot of action, suspense and thrill, and it somewhat fits up to the expectations. 'Righteous Kill' is the narrative of a killer who leaves poetry after murdering his victims, thus gaining the nickname – "Poetry Boy". Another unique thing about the poetry boy is that most of his murder victims are convicts and criminals, thus gaining him the vigilante tag as well. A major twist comes in the end, which I must not reveal, and the so-called "righteousness" is aptly justified in the end. Although touted as a suspense thriller, the audiences kind of predict where the story of this serial killer is leading to, thus making it somewhat predictable at the outset. 'Righteous Kill' opened up to negative reviews with critics calling it "dumb" and "overly generic".
21. Murder Mystery (2019)
Jennifer Aniston and Adam Sandler are comedy legends, and thus there was a huge buzz all around the world of entertainment when it first came to light that they would be working together on a Netflix original film. The result of their collaboration is 'Murder Mystery', which, besides being a hilarious comedy, also tackles a murder case. Sandler plays the character of a cop, Nick Spitz, and Aniston plays his murder mystery enthusiast wife, Audrey. When they take a trip to Europe to rejuvenate their marriage, Audrey and Nick come across a man on their flight who invites the couple to spend some time with him on his family yacht. They readily agree and go on to meet many famous people on the ship. However, soon their happy trip comes to a screeching halt when a rich billionaire gets murdered on the yacht. Their problems keep worsening when Nick and Audrey are themselves suspected of committing the murders.
The film is one of the most popular 2019 releases of Netflix. Though the story and the humor are both pretty mediocre, it is the performances by the two leading actors which will keep you hooked to the film. Both Aniston and Sandler have impeccable comic timing and use their prowess to the full effect.
20. Taking Lives (2004)
This serial killer film sees Angelina Jolie playing the role of an FBI profiler who is handed the case of a man who murders victims and then takes on their identity for a few days. This killer is extremely elusive and Illeana Scott (Jolie) does not have many leads to help her track him down. There is only the witness to his last murder, and his own mother's confession that her son was last seen on a journey to Quebec City. Illeana has to catch this notorious serial killer as soon as possible to prevent him from leaving behind more corpses. The film has certain moments of brilliance, but overall it is a pretty dull affair. The poor writing of the film does not even allow an actor as powerful as Jolie to shine to her fullest.
19. Shelter (2010) [a.k.a. '6 Souls']
Featuring Julianne Moore and Jonathan Rhys Meyers in leading roles, 'Shelter' is the narrative of Cara Harding, a psychologist and Adam/Priest/David/Wesley, a patient having multiple personality syndrome. As it turns out, the real David was murdered and Jonathan Rhys Meyers' character assumed David's personality as one of his – something that Dr Cara has to investigate as to what happened, who murdered David while trying to treat Adam/Priest/David/Wesley of his multiple personality syndrome. As the investigation runs deeper, Cara and her family are also on the cusp of becoming murder victims. With a few jump-scares and decent performances, 'Shelter' is the one psychological horror-thriller you shouldn't miss.
18. Shimmer Lake (2017)
A film narrated backwards, 'Shimmer Lake' begins on a Friday and culminates on the previous Tuesday. A bank robbery that occurs on Friday has Andy as the prime suspect who is on the run with all the stolen money. Andy's brother Zeke is one of the four men pursuing Andy. The said bank is owned by a judge who has been murdered in his own house and there has been an explosion in a meth lab which has killed the wife and son of another accomplice in the robbery. Complicated with a lot of plot twists and given the reverse chronological storyline, 'Shimmer Lake' has a lot of loose ends along with the brain-wrecking thrill that you can't miss. Oftentimes, 'Shimmer Lake' has been ranked alongside movies such as 'Pulp Fiction' for its gritty portrayals.
Read More: Sexiest Shows on Netflix
17. Copycat (1995)
Sigourney Weaver, Holly Hunter and Dermot Mulroney star in this psychological thriller-cum-murder mystery film directed by Jon Amiel. The film centers around Dr. Helen Hudson, a criminal psychologist who leads a rather quiet life after having been attacked by a psychopathic killer. This attack leaves her with agoraphobia. Dr. Hudson now lives in a hi-tech apartment all alone, with only a friend called Andy by her side. However, her quiet life does not remain quiet anymore when Dr. Hudson is asked to solve the case of a serial killer who has been pretty prolific off late. The most interesting part of his modus operandi is that he copies the modus operandi of famous serial killers who have shocked the world before him. Thus the perfect nickname for this serial murderer turns out to be the Copycat Killer. The film is meticulously crafted and well-written. The character of Inspector M.J. Monahan played by Holly Hunter is written with a lot of nuance, making her feel rather real.
16. Badla (2019)
An official Hindi remake of the 2017 Spanish thriller 'The Invisible Guest', 'Badla' is a low-budget film starring one of the biggest stars in the history of Indian cinema, Amitabh Bachchan. Supporting him with her strong performance is Taapsee Pannu, who plays the role of a successful entrepreneur who has been charged with the murder of the man she has been having an extramarital affair with. Pannu's character, Naina Sethi, gets her personal lawyer to hire a defense lawyer called Badal Gupta (Bachchan).
When Gupta speaks to Naina about the case, he keeps on insisting that she is hiding something from him. Naina, on the other hand, sticks to the story that the entire thing was a setup to make it look like she is actually the killer. The film is built up well, but the resolution given is laughable, to say the least. The two leading characters repeating the same dialog over and over again makes the film boring in certain places despite the running time clocking in at a modest 118 minutes. The best thing about the film is the performances of the two leading actors.
15. A Murder In The Park (2014)
The story of the life of Anthony Porter is one of the most intriguing real-life you shall ever come across. Porter was charged with murder and was set to be executed for his punishment in the year 1999. However, only a few hours before his death sentence, Porter was released from prison as it was widely believed that he was wrongfully arrested for a crime he didn't even commit. It is this entire ordeal which becomes the subject of the documentary 'A Murder In The Park'. Porter quickly became a national figure and the face of the movement against the death penalty. Instead of Porter, Alstory Simon was the one who got jailed because of his alleged involvement in the murder. The documentary tries to argue how this entire thing was a mistake, and that Porter was the true killer in the first place. This film ends up asking several important questions regarding the case, and even provoked the Cook County State to reopen the case in 2013.
14. Talvar (2015)
This 2015 film is inspired by the real-life double murder case of 2008 in Noida, India which left the country shocked. Till date, the actual murderer has not been identified. The film centers around the character of Ashwin Kumar, a veteran police detective who is the officer-in-charge of a double murder. However, each person he interrogates gives a different version of the crime and he can't reach the conclusion no matter how hard he tries. The condition Kumar faces can be best described as a Rashomon effect where there are numerous conflicting versions available of a single incident and what exactly went down becomes rather hand to understand. The film received critical acclaim soon after its premiere at the Toronto Film Festival. The best aspect of 'Talvar' is its writing. Vishal Bhardwaj, the eminent Indian filmmaker has done a masterful job in coming up with this film's screenplay. Meghna Gulzar's direction also does great justice to Bhardwaj's writing.
13. Dark Places (2015)
Featuring Charlize Theron and Nicholas Hoult, 'Dark Places' follows the narrative of Libby Day, a woman whose family was murdered in a farmhouse in Kansas when she was eight years old, leaving her an orphan and living off donations and contributions ever since. The cops had concluded that her brother Ben was responsible for the crime and had convicted him for the murder of his two sisters and mother. Thirty years later, Libby visits a society called "The Kill Club" which investigates famous crimes and has Libby believing that Ben might be innocent after all. The revisit to the heinous crime comes at a cost – the pain of losing the loved ones. Dark and gripping, 'Dark Places' is both captivating and brutal at its outset with Theron's character at the center.
Read More: Best Documentaries on Netflix
12. 1922 (2017)
This film, as the most recent on this list, welcomes one more Stephen King novel to the big screen. Set in 1922 Nebraska, Wilfred James is a farmer living in a conflicted marriage with his wife Arlette, with whom he has a 14-year-old son. After arguing over a land recently inherited which leads to conversations of divorce he decides to murder his partner and convinces his son to help him with this savage task. This story of murder contains exceptional performances by its cast and lingering suspense giving the dark and mysterious drama a fascinating approach and exploration.
Read More: Best Football Movies on Netflix
11. Rustom (2016)
A finely made Hindi crime thriller, 'Rustom' stars Akshay Kumar in the leading role as an officer of the Indian Navy called Ruston Pavri. Besides his work, Rustom and his wife Cynthia share a strong marriage where apparently there is no chance of any dent. However, it so happens that when Rustom is not present at home for an extended period of time, his wife gets involved with a friend of his called Vikram. When Rustom comes to know of the ordeal, he immediately confronts Vikram about the affair behind closed doors. But what we hear from outside are three gunshots and then Rustom leaves the office.
However, when Rustom pleads not guilty of the crime after his arrest, a trial by jury declares him innocent, believing that he pulled the trigger in self-defense. Is the judgment correct? Or has there been deeper planning behind the murder? This is what the film tries to answer. The story of 'Rustom' is loosely based on the K. M. Nanavati v. State of Maharashtra Indian court case. It was after this case that the jury trial was abolished by the government of India. The film is well-constructed, but still suffers from unnecessarily melodramatic moments in certain places.
10. Secret in Their Eyes (2015)
Boasting of a star cast including actors like Julia Roberts, Chiwetel Ejiofor, Nicole Kidman, Dean Norris among others, 'Secret in Their Eyes' is the official remake of an Argentine film bearing a similar storyline. In the aftermath of 9/11, Ray, an FBI counterterrorism operative and Jess, an investigator with the LA's DA office, are taken aback by a brutal killing of a young woman whose insides have been bleached to destroy any pieces of evidence. Turns out, the young woman is Jess's daughter Carolyn. Ray then sets himself on an investigation spree while trying to figure out who the murderer might be when deeper, darker secrets associated with Jess emerge. Although the movie was panned for its lack of imagination, along with being a shabbily done remake of the original, its star cast is what should have you watch it once.
9. In The Shadow Of The Moon (2019)
A Netflix original film, 'In The Shadow Of The Moon' is directed by acclaimed filmmaker Jim Mickle who has also helmed projects like 'Mulberry Street' and 'Cold In July'. The film centers around the life of police detective Thomas Lockhart who is in search of a serial killer. However, the way this serial killer operates is rather unique. He becomes active every nine years and then again vanishes into thin air without any trace whatsoever. The only problem Lockhart faces while investigating the case is that the evidence defies all scientific logic and reason. Is the killer operating with supernatural means? Or has he made some breakthrough scientific discovery? This is the question you will be asking yourself as you sit down to watch 'In The Shadow Of The Moon'. However, do remember that the film might leave you with a sense of disappointment with the resolution of the plot. The cinematography is surely the best aspect of this film.
8. Drishyam (2015)
One of the most unique murder mystery films on this list, 'Drishyam's entire story is told from the point of view of the murderer and how he (they) protects himself from the clutches of the law. The story centers around the family of Vijay, a cable TV operator in a small coastal town of southern India. He lives a happy life with his wife, and two daughters, but their happiness proves to be rather short-lived. When the elder daughter Anju is secretly filmed by the son of a high-ranking police officer while she takes a shower, the latter asks for sexual favors if Anju wants the video deleted. When a scuffle ensues, Anju accidentally kills the guy. What follows is a cat-and-mouse chase as the victim's family tries to find his body and pin the murder on Vijay's family. Will Vijay's meticulous planning help his family avoid jail-time? Ajay Devgn shines as the leading actor in the film along with Tabu, who plays the role of Inspector General Meera Deshmukh, the mother of the victim.
7. Agatha And The Truth Of Murder (2018)
The story of legendary mystery writer Agatha Christie disappearing from her house for a period of eleven days has been rather well-documented. This fictionalized reimagination of what might have happened during the days Christie was not at home has been written by Tom Dalton and directed by Terry Loane. Tired with her writing and bogged down with the problems in her personal life, this film sees the writer wanting to escape her monotonous existence for something more exciting. While looking for ways to break the monotony, Christie is approached by a woman for some help in the murder case of her partner who has been brutally murdered on a train. While the entire country looks for Agatha Christie, the writer goes undercover to solve a real-life mystery case for the very first time. The plot has certain inconsistencies in it, but it must be said that the film is overall a rather entertaining watch.
6. Small Town Crime (2017)
An underrated film to begin with, 'Small Town Crime' is a narrative of an alcoholic ex-cop Mike Kendall who discovers a woman's body on the roadside of a highway sets himself on an investigation spree to get to her killers. A violent murder mystery with an ample dash of humour and a splendid characterization (also featuring Octavia Spencer btw), 'Small Town Crime' is a set of gripping turn of events which forces the life of an ex-cop move in a direction he doesn't want it to, which also puts him and his family in substantial danger. The film opened to favorable and positive reviews from critics, thus making it one of the most unheard-of yet mind-boggling murder mysteries in recent times.
Read More: Best Kids Movies on Netflix
5. Thorne: Scaredycat (2010)
A UK-based crime drama, 'Thorne: Scaredycat' might have a funny title but the story is equally intrepid and captivating at the same time. Featuring Detective Inspector Tom Thorne who has his own way of investigating gruesome murders, the newest case consists of two women who were murder victims and who apparently were murdered hours apart from each other in very different ways. Thorne comes to a conclusion that the two murders are somewhat related to the serial murders that had happened a few months ago and that it is the work of a notorious serial killer and what appears to be a new recruit who is working in tandem with the sociopath. Intense and satisfying, 'Thorne: Scaredycat' is one of the many examples of intellect and grit showcased by DI Thorne.
Read More: Funniest Movies on Netflix
4. Fracture (2007)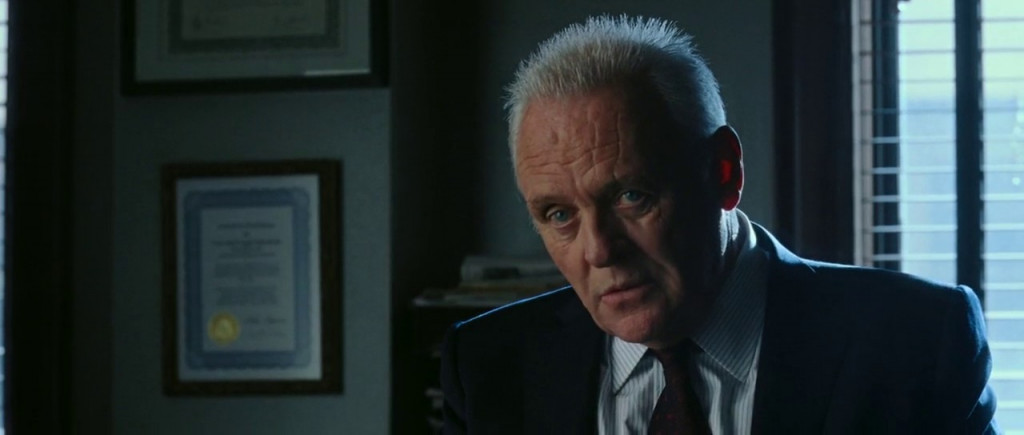 Featuring Anthony Hopkins, Rosamund Pike, Ryan Gosling in leading roles, 'Fracture' is the story of Ted Crawford, an aeronautical engineer, who, on the suspicion that his wife is having an affair with a police detective Nunally, shoots her. Upon arriving at the crime scene, although Ted confesses his crime, he is assaulted by Nunnally, thus cementing Ted's suspicion further. The film proceeds with Ted's trials at the court along with his confrontations with Nunnally and his ailing wife who is off the life support now. 'Fracture' opened up to rave reviews and critics and audiences ended up praising Hopkin's performance as the protagonist and the antagonist while calling the film "an absorbing legal affair".
Read More: Best French Movies on Netflix
3. The Interview (1998)
With Hugo Weaving on the front cover, "The Interview" is an excellent thriller that has found the ability to gloriously feed suspense and mystery with as little as a room with four walls. Set almost entirely in an interrogation room, it follows the gradually growing tension between a suspect dragged out of his house to be questioned at a police station and the two cops accusing him of murder. Intense and gripping, its storyline-twists are nothing less than highly enjoyable for every mystery-seeking audience out there.
Read More: Best Disney Movies on Netflix
2. The Hateful Eight (2015)
Put your seatbelt on for an amazing Tarantino ride set in a western wintery America, years after the Civil War. After the blizzard begins on a cold winter morning, a couple of characters, being unable to further their journey, settle and seek refuge in Minnie's Haberdashery, a warm and cozy lodge which has already welcomed other travelers from various parts of the war-torn country. The set of 8 characters which include a hangman, a cowboy, a crazy fugitive, etc. begin with, get to know each other until two of them are poisoned and killed. Only one of the eight knows who the murderer is and the audiences are exposed to the little secrets that start to emerge in this theatre-play-like structured masterpiece. Of course, the performances are brilliant and many are Tarantino's regulars we have already seen in many such action-packed suspense thrillers. Go watch it now, if you haven't already.
Read More: Best Spanish Movies on Netflix
1. The Invisible Guest (2016) [a.k.a. Contratiempo]
A Spanish crime mystery thriller, 'Contratiempo' is the narrative of Adrian, a wealthy business magnate who is out on a bail for the alleged murder of his lover. He meets with Virginia, a seasoned lawyer and has only three hours of time to create a credible defence for himself to fight his case against the alleged murder. As it turns out, Laura, Adrian's dead lover, was in an adulterous relationship and Adrian was wrongly framed for the murder, given the fact that their relationship had ended years ago. With suspense-filled cues around Adrian's case and with immense character-depths, 'Contratiempo' often leads the audiences into believing something that isn't the truth at all, thus making us start over again to look for clues. One of the unique premises wherein the audiences get to turn into detectives, 'Contratiempo' is a gripping and mind-boggling narrative seldom forgotten.
Read More: Best Alien Movies on Netflix