From the classic detective adventures of Sherlock Holmes or Agatha Christie's famous character of Hercule Poirot to the never-ending delight Lieutenant Columbo has brought to its audience, murder mysteries have always piqued interest of audiences.
With Netflix, we have had the opportunity to watch an array of movies belonging to this beloved genre and while most of them were more recent, a few were also from the 50s and 60s. Regardless of your taste, we've tried to put together movies ranging from wonderful, gripping classics to modern crime thrillers are one single place. So take a seat, turn off the lights and enjoy this list of really good murder mysteries on Netflix. You can also watch some of these best murder movies on Amazon Prime or Hulu as well.
20. The Factory (2012)
Mike Fletcher, played by John Cusack, obsessively investigates the case of a murdered prostitute, whose body was cut up and kept inside a freezer by a violent serial killer. When an argumentative dinner at home leads his teenage daughter to sneak out of the house to meet her boyfriend, things take a sharp turn to the worst as she is soon kidnapped by the same killer whom Mike is trying to locate. An intense investigation on the disappeared daughter begins in the cold streets of New York City thereafter, with Mike and the serial killer pitted against each other. Although the theme often heard of and seen before, it still manages to do its tricks and entertain an audience seeking for a suspenseful crime thriller where the steps of a man aren't always easy to follow.
Read More: Best Rom-Coms on Netflix
19. Righteous Kill (2008)
With the teaming up of Al Pacino and Robert De Niro for this gritty crime drama, one would expect a lot of action, suspense and thrill, and it somewhat fits up to the expectations. 'Righteous Kill' is the narrative of a killer who leaves poetry after murdering his victims, thus gaining the nickname – "Poetry Boy". Another unique thing about the poetry boy is that most of his murder victims are convicts and criminals, thus gaining him the vigilante tag as well. A major twist comes in the end, which I must not reveal, and the so-called "righteousness" is aptly justified in the end. Although touted as a suspense thriller, the audiences kind of predict where the story of this serial killer is leading to, thus making it somewhat predictable at the outset. 'Righteous Kill' opened up to negative reviews with critics calling it "dumb" and "overly generic".
Read More: Best Holiday Movies on Netflix
18. Shelter (2010) [a.k.a. '6 Souls']
Featuring Julianne Moore and Jonathan Rhys Meyers in leading roles, 'Shelter' is the narrative of Cara Harding, a psychologist and Adam/Priest/David/Wesley, a patient having multiple personality syndrome. As it turns out, the real David was murdered and Jonathan Rhys Meyers' character assumed David's personality as one of his – something that Dr Cara has to investigate as to what happened, who murdered David while trying to treat Adam/Priest/David/Wesley of his multiple personality syndrome. As the investigation runs deeper, Cara and her family are also on the cusp of becoming murder victims. With a few jump-scares and decent performances, 'Shelter' is the one psychological horror-thriller you shouldn't miss.
Read More: Best Kidnapping Movies on Netflix
17. Shimmer Lake (2017)
A film narrated backwards, 'Shimmer Lake' begins on a Friday and culminates on the previous Tuesday. A bank robbery that occurs on Friday has Andy as the prime suspect who is on the run with all the stolen money. Andy's brother Zeke is one of the four men pursuing Andy. The said bank is owned by a judge who has been murdered in his own house and there has been an explosion in a meth lab which has killed the wife and son of another accomplice in the robbery. Complicated with a lot of plot twists and given the reverse chronological storyline, 'Shimmer Lake' has a lot of loose ends along with the brain-wrecking thrill that you can't miss. Oftentimes, 'Shimmer Lake' has been ranked alongside movies such as 'Pulp Fiction' for its gritty portrayals.
Read More: Sexiest Shows on Netflix
16. Dark Places (2015)
Featuring Charlize Theron and Nicholas Hoult, 'Dark Places' follows the narrative of Libby Day, a woman whose family was murdered in a farmhouse in Kansas when she was eight years old, leaving her an orphan and living off donations and contributions ever since. The cops had concluded that her brother Ben was responsible for the crime and had convicted him for the murder of his two sisters and mother. Thirty years later, Libby visits a society called "The Kill Club" which investigates famous crimes and has Libby believing that Ben might be innocent after all. The revisit to the heinous crime comes at a cost – the pain of losing the loved ones. Dark and gripping, 'Dark Places' is both captivating and brutal at its outset with Theron's character at the centre.
Read More: Best Documentaries on Netflix
15. Mindfulness and Murder (2011)
A Thai film, 'Mindfulness and Murder' starts with the murder of a homeless youth whose dead body has been found at the Manahat Temple in Bangkok. With the police brushing off the case as a natural death, Father Ananda, an ex-cop and now a Buddhist monk, decides to investigate the case on his own. As he digs deeper, murkier secrets come to the fore including involvement of many of his fellow monks in the case. With a lot of twists and pulpy action, 'Mindfulness and Murder' is a defining movie of the murder mystery sub-genre and is also perhaps never-heard-of.
Read More: Best Korean Dramas on Netflix
14. 1922 (2017)
This film, as the most recent on this list, welcomes one more Stephen King novel to the big screen. Set in 1922 Nebraska, Wilfred James is a farmer living in a conflicted marriage with his wife Arlette, with whom he has a 14-year-old son. After arguing over a land recently inherited which leads to conversations of divorce he decides to murder his partner and convinces his son to help him with this savage task. This story of murder contains exceptional performances by its cast and lingering suspense giving the dark and mysterious drama a fascinating approach and exploration.
Read More: Best Football Movies on Netflix
13. Secret in Their Eyes (2015)
Boasting of a star cast including actors like Julia Roberts, Chiwetel Ejiofor, Nicole Kidman, Dean Norris among others, 'Secret in Their Eyes' is the official remake of an Argentine film bearing a similar storyline. In the aftermath of 9/11, Ray, an FBI counterterrorism operative and Jess, an investigator with the LA's DA office, are taken aback by a brutal killing of a young woman whose insides have been bleached to destroy any pieces of evidence. Turns out, the young woman is Jess's daughter Carolyn. Ray then sets himself on an investigation spree while trying to figure out who the murderer might be when deeper, darker secrets associated with Jess emerge. Although the movie was panned for its lack of imagination, along with being a shabbily done remake of the original, its star cast is what should have you watch it once.
Read More: Best Sci Fi Movies on Netflix
12. Small Town Crime (2017)
An underrated film to begin with, 'Small Town Crime' is a narrative of an alcoholic ex-cop Mike Kendall who discovers a woman's body on the roadside of a highway sets himself on an investigation spree to get to her killers. A violent murder mystery with an ample dash of humour and a splendid characterization (also featuring Octavia Spencer btw), 'Small Town Crime' is a set of gripping turn of events which forces the life of an ex-cop move in a direction he doesn't want it to, which also puts him and his family in substantial danger. The film opened to favourable and positive reviews from critics, thus making it one of the most unheard-of yet mind-boggling murder mysteries in recent times.
Read More: Best Kids Movies on Netflix
11. Thorne: Scaredycat (2010)
A UK-based crime drama, 'Thorne: Scaredycat' might have a funny title but the story is equally intrepid and captivating at the same time. Featuring Detective Inspector Tom Thorne who has his own way of investigating gruesome murders, the newest case consists of two women who were murder victims and who apparently were murdered hours apart from each other in very different ways. Thorne comes to a conclusion that the two murders are somewhat related to the serial murders that had happened a few months ago and that it is the work of a notorious serial killer and what appears to be a new recruit who is working in tandem with the sociopath. Intense and satisfying, 'Thorne: Scaredycat' is one of the many examples of intellect and grit showcased by DI Thorne.
Read More: Funniest Movies on Netflix
10. Department Q: A Conspiracy of Faith (2016)
A Danish thriller, 'A Conspiracy of Faith' deals with controversial child murders allegedly committed in the name of religious rituals and the perpetrators of the heinous crime who are chased by Detective Carl Marck and his assistant Assad. Surrounding the Danish investigators of Department Q, the movie begins with an old message in a bottle which has been deciphered as written in blood by an eight-year-old. The murderer and the culprit is a cult group leader who kills children in the name of religious practices if denied ransom. Though not a fast-paced thriller with loads of action and CGI, 'Department Q: A Conspiracy of Faith' is still a pretty decent take on intra-departmental conflicts and the graphic sequences of child murders which might take you by surprise.
Read More: Best Classic Movies on Netflix
9. Tinker Taylor Soldier Spy (2011)
By entering the world of espionage and confidential conflicts and investigations, "Tinker Taylor Soldier Spy" offers a highly entertaining mystery thriller with an incredible British cast to die for, including Gary Oldman, Colin Firth, Tom Hardy and Benedict Cumberbatch among others. Set in the times of the Cold War, it begins with the narrative of an agent from the British Intelligence who has been killed on a trip to Budapest, which leads the head of the organisation to retire along with his assistant George Smiley. However, shortly thereafter, George is recruited back into business by the new set of people in charge in order to investigate the possible existence of a mole within the corporation. A smart and well-constructed piece that gives the spy film genre a new and exciting story to enjoy, 'Tinker Tailor Soldier Spy' has truly been regarded as a thriller masterpiece.
Read More: Best Chick Flicks on Netflix
8. Fracture (2007)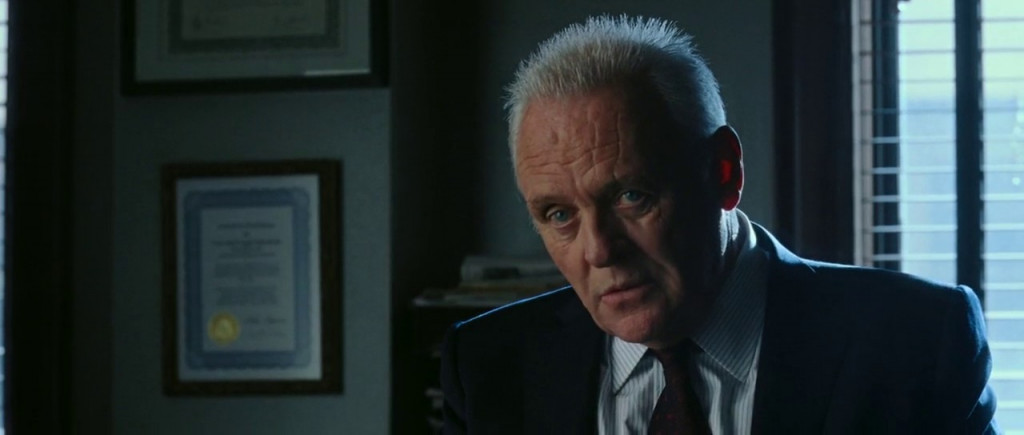 Featuring Anthony Hopkins, Rosamund Pike, Ryan Gosling in leading roles to name a few, 'Fracture' is the story of Ted Crawford, an aeronautical engineer, who, on the suspicion that his wife is having an affair with a police detective Nunally, shoots her. Upon arriving at the crime scene, although Ted confesses his crime, he is assaulted by Nunnally, thus cementing Ted's suspicion further. The film proceeds with Ted's trials at the court along with his confrontations with Nunnally and his ailing wife who is off the life support now. 'Fracture' opened up to rave reviews and critics and audiences ended up praising Hopkin's performance as the protagonist and the antagonist while calling the film "an absorbing legal affair".
Read More: Best French Movies on Netflix
7. The Interview (1998)
With Hugo Weaving on the front cover, "The Interview" is an excellent thriller that has found the ability to gloriously feed suspense and mystery with as little as a room with four walls. Set almost entirely in an interrogation room, it follows the gradually growing tension between a suspect dragged out of his house to be questioned at a police station and the two cops accusing him of murder. Intense and gripping, its storyline-twists are nothing less than highly enjoyable for every mystery-seeking audience out there.
Read More: Best Disney Movies on Netflix
6. The Constant Gardener (2005)
Featuring Ralph Fiennes in what was proclaimed to be a stellar performance, 'The Constant Gardener' is the story of Justin Quayle, a British diplomat who has been posted in Kenya and has a hobby in gardening. His wife Tessa (Rachel Weisz) is an Amnesty activist, has been brutally murdered, along with her driver and later, it is revealed that Tessa's colleague, a gay doctor Bluhm has also been murdered. Deeply moved by the untimely death of his wife, along with a long-standing suspicion that Tessa might have been cheating on him, Justin sets himself on a journey that would take him across continents in search of the perpetrators of the crime. Termed "exhilarating, gripping and suspenseful", and "one of the year's best films" by critics, 'The Constant Gardener' is a murder mystery you cannot afford to miss.
Read More: Best Feel Good Movies on Netflix
5. The Hateful Eight (2015)
Put your seatbelt on for an amazing Tarantino ride set in a western wintery America, years after the Civil War. After the blizzard begins on a cold winter morning, a couple of characters, being unable to further their journey, settle and seek refuge in Minnie's Haberdashery, a warm and cosy lodge which has already welcomed other travellers from various parts of the war-torn country. The set of 8 characters which include a hangman, a cowboy, a crazy fugitive etc. begin with, get to know each other until two of them are poisoned and killed. Only one of the eight knows who the murderer is and the audiences are exposed to the little secrets that start to emerge in this theatre-play-like structured masterpiece. Of course, the performances are brilliant and many are Tarantino's regulars we have already seen in many such action-packed suspense thrillers. Go watch it now, if you haven't already.
Read More: Best Spanish Movies on Netflix
4. The Dragon Tattoo Trilogy (2010)
Not to be confused with David Fincher's 2011 film featuring Rooney Mara and Daniel Craig, 'The Dragon Tattoo Trilogy' has been adapted from Swedish crime novels written by late novelist Stieg Larsson. After the immense success of the movie "The Girl With The Dragon Tattoo", two more film adaptations followed starring Noomi Rapace that were combined and to which were added extended scenes forming the trilogy that is now available on Netflix. The trilogy begins with the story of a journalist who gets involved with a female hacker who helps him on his search for the killer of a woman murdered 40 years ago. It is an intense, long and breathtaking thriller filled with suspense, violence and an extraordinarily absorbing tattooed woman. A perfect concoction for the murder mystery enthusiasts.
Read More: Best Suspense Movies on Netflix
3. Wind River (2017)
Set inside the Wyoming Wind River Native American Reservation, Cory Lambert, a seasoned tracker and a Wildlife Service agent finds the body of a young native American girl Natalie with gruesome injuries. An amateur FBI investigator Jane starts an investigation to unfold the mysteries behind Natalie's murder and as it turns out, something really bad happened on a night preceding a few days before the murder that involved Matt's (Natalie's boyfriend, who was found murdered too) drunk friends and a lot of cover-ups. 'Wind River' was widely praised for pathbreaking performances, layers deep characters, spellbinding thrill and depictions of chilling crimes. If you have missed 'Wind River', you're missing out a lot on bone-chilling murder mysteries.
Read More: Best Zombie Movies on Netflix
2. The Invisible Guest (2016) [a.k.a. Contratiempo]
A Spanish crime mystery thriller, 'Contratiempo' is the narrative of Adrian, a wealthy business magnate who is out on a bail for the alleged murder of his lover. He meets with Virginia, a seasoned lawyer and has only three hours of time to create a credible defence for himself to fight his case against the alleged murder. As it turns out, Laura, Adrian's dead lover, was in an adulterous relationship and Adrian was wrongly framed for the murder, given the fact that their relationship had ended years ago. With suspense-filled cues around Adrian's case and with immense character-depths, 'Contratiempo' often leads the audiences into believing something that isn't the truth at all, thus making us start over again to look for clues. One of the unique premises wherein the audiences get to turn into detectives, 'Contratiempo' is a gripping and mind-boggling narrative seldom forgotten.
Read More: Best Alien Movies on Netflix
1. Se7en (1995)
With Morgan Freeman and Brad Pitt in leading roles, 'Se7en' is an absorbing narrative of a string of murders being investigated by Detectives David Mills and William Somerset – murders which outline the seven deadly sins – gluttony, greed, sloth, lust, pride, envy and wrath. As the duo moves from one murder scene to another, sometimes involved in a wild-goose chase to lookout for the murderer, it turns out they're too late to reach their designated "spots" and it is too late for the crime has already been committed. Edge-of-the-seat action, a roller-coaster of emotions and headstrong, well-written characters form an inseparable piece of the whole narrative, something which was termed "brutal, grimy, slick and gory" by many reviewers. Roger Ebert has listed 'Se7en' as one of the greatest movies of all time, calling David Fincher's direction dark and moving. 'Se7en' should be first on your list of movies that you should watch if you're a fan of murder mysteries. Period.
Read More: Best Suspense Movies on Netflix