The film was born in France in the hands of the Lumière brothers, and the revolutionary Georges Méliès. Arguably, France makes the best movies outside of US. Right since the birth of French New wave, France never has had any shortage of filmmaking talent or good movies. French cinema is known for its realism and bold subjects. And if you are in the mood of exploring French cinema, head to Netflix US which seems to have an amazing catalogue of French movies. Whether you are looking to laugh or cry, this is our list of really good French movies on Netflix US.
Notwithstanding the fact that nowadays, there's been a lot of competition as far as cinema is concerned, with many filmmakers trying to excel at every department of the filmmaking, French cinema has been evolved ever since the advent of cinema. Not only from France, there have been many renowned directors and filmmakers who have been involved with French language cinema but belonging to nations such as Poland, Austria, Russia, Argentina, Georgia to name a few. Names like Gasper Noé, Roman Polanski, Michael Haneke, Otar Iosseliani et al have been known to blend the rich French culture and topics with their own cinema, which is not only beautiful but also very profound when you watch it.
Arguably, France is the most successful film industry of Europe – both commercially and critically, and we have seen an increase in the number of good French movies releasing every year. Owing to its rich cultural history, the impact of wars, the participation in world politics, the cuisines and the fashion capital that it is known as, France and French movies have found their fans across all corners of the world, thus making the nation one of the largest exporter of international movies. Not only filmmakers, French cinema and film industry has also given us some of the finest actors and actresses that we can think of today. Brigitte Bardot, Marion Cotillard, Léa Seydoux, Alain Delon, Vincent Cassel, Audrey Tatou, Isabelle Huppert etc. are some of the prominent international names of actors and actresses who hail from France or are fluent in their French.
French cinema has also covered a wide variety of genres – from comedy to horror to steamy romance to adventure, drama, and fantasy movies, they have been there and done that. Based on what we could find on Netflix US, here's a list of best French-language movies that you can watch on the streaming media service. Also, you might find some of these best French movies on Amazon Prime Video or Hulu. The list includes funny French movies, scary French movies, French lesbian movies and French romantic movies.
25. The Lady in the Car with Glasses and a Gun (2015)
This movie has a darkly playful story with intriguing ambiguity which makes it a weird ride. We follow the life of Dany Dorémus, a secretary that at the beginning of the movie steals her boss' car. However, when she discovers a body in the trunk of the car, she becomes the lead suspect in the murder. Because it is a very visual film with a lot of music, "The Lady in the Car with Glasses and a Gun" can be very engrossing. Although it might not be a movie for everyone's taste, you should give it a shot.
Read More: Best Romantic Movies on Netflix
24. We Are Family (2016) [C'est quoi cette famille ?!]
One of the funniest French comedies out there, 'C'est quoi cette famille ?!' revolves around a kid named Bastien and his six other half-siblings. Turns out, both of Bastien's parents have married, separated, and remarried, again and again, resulting in many half-brothers and half-sisters whom he shares a house with. After having enough of the short-lived living arrangements along with parents changing every now and then, so are his siblings, all the kids take a stand and decide not to move places anymore. Instead, they want their respective parents to come and stay along with them on a rotational basis. Hilarious to the core and comprising of rib-tickling fun, 'C'est quoi cette famille ?!' is a genuine take on the prevailing urbane culture kids nowadays are getting used to.
Read More: Funniest Movies on Netflix
23. Slack Bay (2016)
Set in the year 1910, 'Slack Bay' is a notorious area near the Chanel coast where many tourists have vanished owing to a high tide in the area, as the river and the sea join during the high tide. Around the bay, there are a bunch of families, the most prominent of them, however, is the Bourgeois family, who are degenerate after generations of inbreeding within themselves. Amid an ongoing investigation by two corrupt police officers, love simmers and new alliances form, while most of the people are holidaying in the summers. 'Slack Bay' cuts a lot of slack in the script and was mostly panned by the critics and audiences alike, still, is one of the best French language movies on Netflix.
Read More: Best Classic Movies on Netflix
22. He Even Has Your Eyes (2016)
An Afro-American couple Paul and Sali, who's unable to have a kid on their own, have been applying to adopt a child. One fine day, Sali gets a call stating the approval of their adoption. The 6-month boy, who is about to be adopted is named Benjamin and has adorable blue eyes. But there's only one problem – the boy is white. And the couple isn't. There begins a struggle of Paul and Sali's desires vs. their relatives' and parents' who don't want a child of different ethnicity or colour. 'He Even Has Your Eyes' is a lighthearted comedy, with power-packed performances, a good script that promises an enjoyable experience.
Read More: Best Zombie Movies on Netflix
21. In the Shadow of Iris (2016)
The movie begins with a couple Antoine and Iris who's dining at a restaurant. While Antoine pays the bill, Iris vanishes and is apparently kidnapped. Shortly, he receives a call from the kidnappers who demand a ransom to release her. The police begin their investigation. Meanwhile, turns out, Iris had faked her own kidnapping because Antoine had been cheating on her with a lady named Claudia amidst their own lacklustre sex life and Antoine's likeness for BDSM. 'In the Shadow of Iris' is the story of a lost woman named Iris who perils in spite of being morally upright the whole time.
Read More: Best Alien Movies on Netflix
20. Wedding Unplanned (2017)
A wedding that gets planned in a rather unexpecting way, 'Wedding Unplanned' begins with Mathias and Alexia, a couple who have been dating each other from some time. Mathias then starts cheating on Alexa with Juliette, a wedding planner. One fine day, Alexia finds Juliette's visiting card in Mathias' pocket and the viewers are tricked into believing that Alexia has suspicions on Mathias' loyalty. Instead, Alexia thinks because Juliette is a wedding planner, Mathias has been visiting her for Alexia and Mathias' wedding. And Alexia says yes to their wedding, unbeknownst that Mathias has now fallen for Juliette. Confusing, yet a hilarious take on the relationships, 'Wedding Unplanned' is an enjoyable watch.
Read More: Best Romantic Movies on Netflix
19. Un + Une (2015)
Antoine is a music composer, who mostly works in the line of composing music for films. He gets to go to India on a journey of self-discovery and to compose music for the Indian rendition of 'Romeo and Juliet'. Back home, though he has a girlfriend, he's more of a "casual" relationships guy and upon his visit to India, during a gala, he falls for the wife of France's Ambassador to India, Anna. We get to see a lot of colourful Indian landscape, notably the streets, people, cars, vehicles, trains, journeys and food and it is Antoine and Anna's journey which brings them closer. Or does it? Well, there's only one way to find out.
Read More: Best Romantic Movies on Netflix
18. Disorder (2015) [Maryland]
Not an out-of-the-box story, still engrossing and engaging to begin with, 'Disorder' is the story of Vincent, an ex-French Special forces' soldier who has recently returned from Afghanistan and has been hired as a private bodyguard to protect Jessie and her son, the wife and child of a wealthy Lebanese businessman. Owing to his PTSD, he is still recovering from the perils of war and also has a strong likeness for Jessie. While he could sense when a threat is looming on him and especially on Jesse, and an attack does happen, he successfully thwarts any attempts on her life. 'Disorder' is more of a standard issue and there's nothing new about it, still, it makes for a gritty watch.
Read More: Worst Movies on Netflix
17. Ares (2016) [Arès]
One of the rare French movies with a futuristic setup, for French cinema, is not renowned for science fiction movies, 'Ares' is set in the dystopian future in the 2030s, with France's economy is a sorry state of affairs. In a blade runner kind of a setup, where polluted air, clumsy streets, digital signboards are a common sight, the population is mostly unemployed, the government is a lot more corrupt and the police is controlled by corporates. The basic premise of the movie is that the unemployed humans, mainly the sportspersons, are being used as guinea pigs by big pharma companies to test their products. The movie surrounds the narrative of Ares, a boxer who is ranked among the top, agrees to test a drug upon him to get the money in order to bail her sister out from prison. 'Ares', apart from the futuristic narrative, doesn't seem to hold enough water.
Read More: Best War Movies on Netflix
16. Much Loved (2015)
A bilingual movie made both in Arabic and French, 'Much Loved' is one of the firsts in addressing the perils of prostitution prevailing in Morocco and is the narrative of Noha (Loubna Abidar), who is the apparent queen among her circle of other sex workers, with her buddies Soukiana and Randa. While Noah has been in the business from some time, Soukiana is a shy girl who is still getting her way through the flesh trade and Randa is the newest entrant and is a homosexual. Hilma, another hooker joins the group and the group of four set off really well, partying and having fun together when not at work. Noha's family is a hypocrite, for they condemn her work still take money from her. 'Much Loved' is a tale of lust over love, and money over compassion, which has been showcased in the most brutal yet realistic way.
Read More: Best War Movies on Netflix
15. I am Not an Easy Man (2018)
An eye-opening sex comedy, 'I am Not an Easy Man' marks a very important milestone in the French cinema, especially when there's a lot of discussion around Feminism versus the prevailing male chauvinism. The movie begins with Damien, who is a male chauvinist but doesn't stop when it comes to flirting with women and expressing his so-called "dominance" in front of them, after decades of patriarchy. He bumps his head on a pole and passes out. When he wakes up the next morning, he seemingly has entered a parallel dimension where females have an upper hand. He finds feminine clothes in his closet, has to shave his body parts, be in a submissive position during sex, with women kissing him goodbye while leaving for work, males doing household chores etc. 'I am Not an Easy Man' changes the perspective of men and how it feels being on the "receiving" end. A must watch!
Read More: Best Gay and Lesbian Movies on Netflix
14. Fatima (2015)
A French-Canadian drama, 'Fatima' is the narrative of titular Fatima, a North African immigrant who's in her mid-forties and is a single mother of two kids – 18-year-old Nesrine and 15-year-old Souad, who lives in Lyon, France. The stereotypes associated with immigrant workers living in a peace-loving nation have been clearly shown in the movie. Fatima works as a cleaning lady in shifts, while she's trying her level best to learn French and speak to her daughters in French, while the latter is seemingly good at it. One fine day, while cleaning a staircase, she takes a fall and is bed-ridden. She writes up all of her feelings in letters to her daughters in Arabic, something she had been wanting to do for long. 'Fatima' is a compelling watch and a tale of a woman who finds her solace in the language of her soul.
Read More: Movies That Will You Cry on Netflix
13. Headwinds (2011)
Paul and Sarah are carrying the burden of their troubled marriage within the family, while they live along with their children Clement and Manon. Sarah is the breadwinner of the family, being a doctor, while Paul is now a struggling writer whose novels were once a charm. When Paul asserts to take a vacation to help him concentrate and write, a fight ensues resulting in Sarah storming out of the house. Notably, Sarah is not shown in the movie after this point, which is strange and leads everyone into believing that she has been kidnapped or died, pending an investigation in which Paul comes clean. The rest of the movie is a single father's struggle to cope with his life and focus on the upbringing of his two children. 'Headwinds' is certainly going to impress you.
Read More: Best Holocaust Movies on Netflix
12. Nocturama (2016)
Termed "riveting" and "nerve-wracking" by critics, 'Nocturama' is a uniquely compelling story revolving around an ideology called "hipster terrorism". The movie begins with a bunch of young adults prowling across Paris, with timestamps appearing in the bottom of the screen as it happens after a big incident while rounding up criminals. We could see them appearing anxious, observant and at the same time, a little scared. Cut to a few scenes later when we could see them enter a shopping area, trying on clothes, listening to music and waiting for one of the biggest incidents in Paris' history. 'Nocturama' is a gripping venture that cannot be missed.
Read More: Best Gay and Lesbian Movies on Netflix
11. Blind Date (2015)
Coming to one of those movies which rely heavily on the performances despite having a simple script, 'Blind Date' packs a good punch when it comes to delivering a heartwarming entertainer. The movie is set around a young pianist named Machine, who aspires to be a professional in the space. Machin is a workaholic, socially awkward man, living in the apartment next to Machine, who likes his solitude and sedentary lifestyle. After sensing that a lively pianist has moved next door, he tries to scare her by taking the advantage of thin walls and makes her think there's a paranormal phenomenon around her. Soon, they start having conversations, dinners etc. across the wall without seeing each other. Their love intensifies, and they start sleeping together, albeit separated by a thin wall. Whether they can they keep themselves from seeing each other or not forms the rest of the narrative. 'Blind Date' is a comedy at the outset, with romance and melodrama forming its core.
Read More: Sexiest Movies on Netflix
10. Mercenary (2016) [Mercenaire]
'Mercenary' is the narrative of Soane, a 19-year-old man who has a stocky build, which is ideal for a prop forward Rugby position. Soane is picked up from a Polynesian town and is asked to come and join a mainland French rugby team, which he reluctantly accepts. Leone, his father, objects to this decision and then deems his son has died before chasing him out. Soane, upon arriving in France and being declared unfit for some reason, resorts to doping, works as a bouncer and fools around. Soane's embracing of his new identity amid all the chaos forms the crux of the film.
Read More: Movies That Will You Cry on Netflix
9. My Golden Days (2015)
Before leaving for Tajikistan, Paul Dedalus reminisces on his adolescent years: he remembers his childhood, his trip to the USSR where he lost his virginity, and the love of his life, Esther. "My Golden Days" is a nostalgic drama that will take you back to growing up in France in the 80s. Although it tells a common love story, what makes this movie so unique is the way it is told. That will keep you captivated and interested in the life story of Paul. This film premiered at the 2005 Cannes Film Festival and was very praised by the general public and critics.
Read More: Best Holocaust Movies on Netflix
8. Nothing to Hide (2018) [Le jeu]
A nightmare scarier than the 'Nightmare on the Elm Street', 'Nothing to Hide' is the sum of all fears as far as the social gatherings are concerned. The movie begins with three couples – Marie and Vincent (both doctors), Charlotte and Marco, Thomas and Lea and a lonely guy named Ben. While on a dinner, the seven decide to make their cellphone conversations, SMSes, and pictures public – something that starts as a game but doesn't go very well as planned. With married men and women receiving sexts, dirty pictures, voicemails from mistresses etc., this game turns into something that shouldn't have begun in the first place. Apparently, everyone has something to hide.
Read More: Worst Movies on Netflix
7. The Climb (2017) [L'Ascension]
An uplifting tale with its own warmth and cherishing moments, 'The Climb' is the story of Sam, an unemployed lad who is all in love for Nadia, but, in order to prove his undying affection for her, he promises to climb the Mt. Everest, without any mountaineering experience whatsoever. He marches off to Nepal with a book and a Nutella jar and is shocked to experience incline at first instance, much before getting closer to the mountains. All he does is befriending people, smile and keeps going!
Read More: Sexiest Movies on Netflix
6. The African Doctor (2016)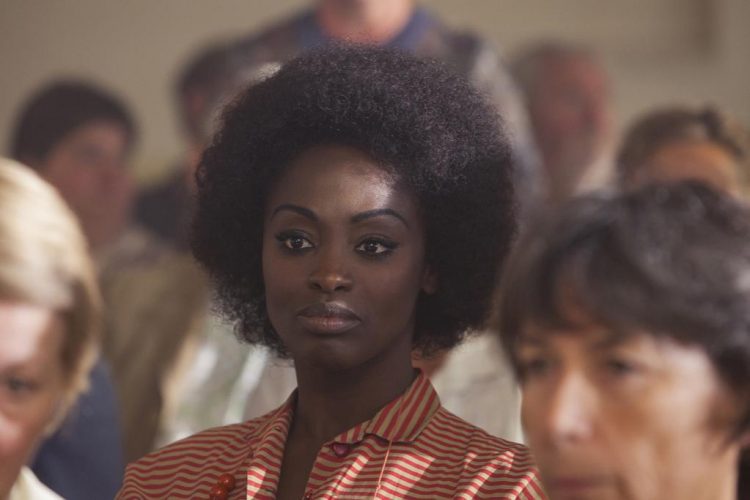 Seyolo Zantoko just officially became a doctor. Now, he begins a new challenge in his life: moving with his family to a small rural village in French and trying to become one of the most respected doctors in the area. "The African Doctor" is mainly the story of the efforts of a Congolese descent in France to integrate into that society. It delivers a touching story with a touch of comedy. Also, it tells a timeless story, of immigrants struggles and family problems. Furthermore, it can be considered a brilliant satire of race, culture, and acceptance!
Read More: Best Spanish Movies on Netflix
5. Marguerite (2015)
Marguerite Dumont is a very wealthy and eccentric woman that lives in Paris in the 1920s. Because she is passionate about music and opera, she decides to perform in front of a real audience. The problem is she is not a good singer. Inspired by true events, "Marguerite" is a top-notch foreign movie with great performances. Catherine Frot, who plays Marguerite, is especially incredible. Besides, it is an emotionally charged movie that still manages to find the balance between funny and sad. An intelligent and engrossing cinematic experience that you will love if you are into French cinema.
Read More: Best Movies on Netflix India
4. Things to Come (2016) [L'avenir]
Internationally, 'Things to Come' is one of the most rewarded French movies out there. The movie also went on to claim success at the box office and received critical acclaim upon its release. The story revolves around Nathalie (Isabelle Huppert), a mother of two and a wife, she is a professor of philosophy at a high school in Paris. She is an ideal mother and wife and likes to have a work-life balance while keeping in touch with her former students and taking care of her overbearing mother. After 25 years of their marriage, on one fine day, her husband asserts that he's leaving Nathalie for another woman. Her world comes crashing down, yet, she feels liberated and is keen on starting afresh. 'Things to Come' is all about hope and expectations and moving on with one's life.
Read More: Best Original Shows on Netflix
3. Breathe (2014)
Charlie is a French teenager tortured by her solitude and self-doubt. But when she discovers self-confident Sarah, the two become instantly inseparable. Charlie uses this friendship to feel alive and happy, consequently feeling invincible. However, when Sarah starts looking for a new friend, their friendship takes an intense and dangerous turn. "Breathe" is a breath of fresh air in the middle of so many traditional coming of age stories. The friendship between the two main characters is so intense and complex, changing completely what we are used to watching. Director Mélanie Laurent demonstrates how talented she is, and proves that she has a wonderful future in cinema.
Read More: Best Original Shows on Netflix
2. Divines (2016)
Nominated for a Golden Globe, "Divines" follows a teen from a dysfunctional family from Paris that comes across a young dancer who turns her life upside down. Although the plot seems simple, it is extremely more complex. Scene after scene, the characters, the settings, the relationships, every element comes with incredible strength. From a classroom argument to a daughter-mother discussion, almost every scene is heart-breaking. "Divines" is a film about survival in a mad world in which the characters feel incredibly real. Actresses Oulaya Amamra and Déborah Lukumuena are incredible and I'm sure we will hear more about them in the future.
Read More: Best Teen Movies on Netflix
1. Blue Is the Warmest Color (2013)
Adèle is a high school student who is beginning to explore herself as a woman. She dates men but finds no satisfaction. Then, she meets Emma and their relationship grows into more than just friends as she is the only person with whom she can express herself openly. Together, Adèle and Emma explore social acceptance, sexuality, and the emotional spectrum of their maturing relationship. "Blue is the Warmest Color" is a wonderful exploitation of sexuality and social acceptance. It has everything you could ever want: an emotional story, great performances, and beautiful cinematography.
Read More: Best French Movies of All Time