Rom coms have had a very distinct fan following altogether based on the type of the movie. Rom coms can range from a high school musical to a romantic comedy, from a frat movie to a stoner movie, rom coms have covered them all. Whether or not a rom com is likeable is a matter of the viewers' perception and taste. For example, I may not like a dash of horror in a rom com but some might. Same goes with thrillers. It won't be a folly to state here that rom-com is one of the most experimental sub-genres out there, and depending upon the premise, the movie can be shaped in a way no one expects it to be. A surprise is essentially the only element of this sub-genre which would lead to higher box office collections because rom coms are mostly infamous for being clichéd and standard issues. Business as usual, if you will.
Not only the movies or their scripts but even the actors and actresses associated with rom coms have also been stereotyped to similar roles for the entirety of their careers. Michael Cera, Adam Sandler, Ben Stiller, Katherine Heigl etc. are some examples of actors and actresses who have forever been associated with rom coms, if nothing else. Had it been not for some surprise hits, rom com could've have been a very bland, stereotypical genre catering only to a select few audiences.
Craving a good romantic comedy is inevitable every few weeks. There is something about those stories filled with romance that make anyone feel good and happy. Netflix US has dozens of romantic comedies just waiting for you to tune in when the mood allows. But how do you choose? The Cinemaholic has got you covered. Here is the list of really good Netflix romantic comedy movies, which can make you cry, laugh, drool, and cherish the never-ending romance.
30. Rumour Has It…(2005)
Featuring Jennifer Aniston and Mark Ruffalo in leading roles, 'Rumour Has It…' is the story of Sarah, a writer who writes obituaries and wedding announcements and Jeff Daly, her fiance. As she's attending her sister's wedding along with Jeff, her grandma makes a shocking revelation. At the time of Sarah's conception, her mother had eloped to Cabo and spent time with her classmate Beau, leading Sarah to believe that Beau could be her biological father. Sarah sets herself off on a spree to find out who her father really is while trying to put up with a diffident and possessive Jeff. 'Rumour Has It…' is a lightweight, passable affair.
Read More: Funniest Movies on Netflix
29. Naomi and Ely's No Kiss List (2015)
Naomi and Ely have been friends for life. They apparently maintain a "No Kiss List" which comprises of a list of guys whom they both can't kiss. Ely is gay but Naomi doesn't accept his sexuality. Naomi has started dating Bruce II, a handsome hunk but always had a crush on Ely, who doesn't give her much attention. In a strange turn of events, Ely and Bruce come closer and share a kiss. They start hanging out together, unbeknownst to Naomi, who has a troubled family. When Naomi comes to know of the arrangement, she disdains Ely initially, but then agrees to accept who he is, while falling for Gabriel, one of her friends. 'Naomi and Ely's No Kiss List' is a heartwarming and refreshing romance affair one can watch on a lazy afternoon.
Read More: Best Classic Movies on Netflix
28. Sex and the City: The Movie (2008)
Carrie and Mr Big are getting married in a pompous affair after moving into an apartment. Carrie's friends – Samantha, Charlotte, and Miranda are worried about their own problems and couldn't be happier, even if their friend is getting married to the man of her dreams. While Samantha is still finding the love of her life, Charlotte wants to get pregnant, and Miranda is miffed with her cheating boyfriend. Amid all the chaos, Carrie's guest list has bloated and her wedding gown is all over the place. Interpersonal relationships, love and hate and finding hope is what the movie is all about.
Read More: Best Zombie Movies on Netflix
27. I Give It a Year (2013)
Despite their differences, Nat and Josh have recently got married. However, their friends and family are not convinced their marriage is going to last a year. Will they be right? "I Give It a Year" is a modern romantic comedy for fans of "500 Days of Summer" and "Celeste and Jesse Forever". Writer-director Dan Mazer does a wonderful job at creating a funny and entertaining movie. It stars Rose Byrne, Rafe Spall, and Minnie Driver.
Read More: Best Classic Movies on Netflix
26. Some Kind of Beautiful (2014)
Another passable affair on this list, with the cliched romcom setting, 'Some Kind of Beautiful' has Pierce Brosnan (as Richard Haig), Jessica Alba (as Kate) and Salma Hayek (as Olivia) at the helm. Kate and Olivia are sisters and Kate happens to be in love with her English professor Richard Haig, who has a penchant for girls much younger than himself. Kate tells him one day that she's pregnant, leading Richard to marry her and settle down in life. When Kate asserts that she doesn't have any feelings for Richard any more, an elated Richard then runs to Olivia, who he has been eyeing since before he started dating Kate. 'Some Kind of Beautiful' is the exact opposite to its name.
25. Coffee Shop (2014)
Donavan runs a coffee shop and is a socially-awkward romantic – she doesn't gel well with either her clientele or her boyfriends. Everyone thinks Donavan isn't competent enough to run the business, the banks are on to her and her ex-boyfriend wants to sell the shop to a large conglomerate. Donavan believes that the people have forever enjoyed her barista and she would keep it running forever. One of the curious customers at her shop – Ben, finds her ways interesting and tries to strike a chord with her, which he might probably fail at. 'Coffee Shop' is a routine affair with many cliches, still makes for a tolerable affair.
Read More: Best Gay and Lesbian Movies on Netflix
24. In-Lawfully Yours (2016)
Jesse, who used to live in a happy family, is devastated by the sudden demise of her father-in-law and a divorce. She moves into a small town to live with her mother-in-law while visiting a local church. The locals are not very keen on welcoming her and despise them living in the town. The local pastor is also her brother-in-law who piques her interest and they start seeing each other, much to the disdain of the townsfolk. Meanwhile, her ex-husband is back in the town, now trying to convince Jesse to consider reuniting again. With Jesse being bombarded with a social dilemma, 'In-Lawfully Yours' makes for a fun watch given the enigmas she has to face. The societal hypocrisies and the lack of independence a single woman has have been showcased in the movie in a funny and non-invasive manner.
23. The Break-Up (2006)
Yet another Jennifer Aniston's movie on this list, 'The Break-Up' boasts of a star cast that comprises of Vince Vaughn, Jon Favreau, Justin Long, Vincent D'Onofrio among others. In an apparent battle of the sexes, 'The Break-Up' begins with an art dealer Brooke, who is not happy with the way she's being treated by her boyfriend Gary, who runs a tourism business with his two brothers and decides to break up with him. In a series of misunderstandings, thus leading to the escalation of the "battle", we could see an enraged Brooke, who is increasingly irate with the mistakes Gary has been making. If you watch this movie, you could feel the pile-up of emotions Brooke might have been facing.
22. Must Love Dogs (2005)
Revolving around Sarah Nolan, a preschool teacher who is living a sedentary life after a bad divorce eight months ago, 'Must Love Dogs' is a story of dealing with the losses, while trying to find new love, albeit owing to the pressure of your near and dear ones. Sarah is set up for an online dating by her overly active sister Carol, which leads her to meet two men – one of whom is a divorced man and the father of one of Sarah's preschool children. She doesn't want to date Bob because it would be unprofessional. She meets another man who is also a boat builder named Jake, who too has been force-fed online dating by one of his friends. The tale of three divorced people looking for solace in their lives 'Must Love Dogs' is all about hope and commitment.
Read More: Best Holocaust Movies on Netflix
21. Playing it Cool (2014)
With Chris Evans and Michelle Monaghan in leading roles, one can expect only endearing romance and heartening comedy, if nothing else. 'Playing it Cool' features ME – a screenwriter who's suffering a writer's block owing to lack of any actual experiences surrounding love. He often ends up trampling on hearts in order to experiment but fails every time. In search of an actual heartfelt experience, while pretending to be a philanthropist at a gala dinner, he meets with and befriends HER. But HER has already been engaged and they decide to keep it only till friendship. Soon, they find each other deep in love. ME has to conquer HER heart, while HER has to battle her inhibitions in this charming romance.
20. Sierra Burgess is a Loser (2018)
A typical high school comedy, 'Sierra Burgess is a Loser' has Sierra as its central character – an intelligent, socially awkward and not-so-popular girl at the school. Enter Veronica, the sultry, queen bee of the school who is antagonistic to Sierra and keeps dominating her. When Jamey, a football player, asks for Veronica's number, for he's smitten with her, she gives him Sierra's number, just to mess with both of them. Jamey starts talking to Sierra, believing he's been talking to Veronica and soon after, Veronica gets dumped when Sierra offers her academic help which she agrees to. Sierra and Veronica, in cahoots, try and trick Jamey into thinking he's been dating Veronica whereas it was Sierra all the while. All ends well, with Veronica, Sierra and Jamey making amends with each other. Simplistic characters, engaging storytelling and a feel-good factor form an inseparable part of the movie.
19. Two Weeks Notice (2002)
Some of you would've noticed the grammatical error in the title of the film. The movie revolves around Lucy, a morally upright, Harvard-educated lawyer, who has been the voice of social activism and opposes blatant violations of environmental rights. Enter George Wade, the face of a real-estate firm which has forever been opposed by Lucy for one reason or the other. George also happens to be a playboy character who has had his stint with good-looking female lawyers, but now his firm needs a competent partner. He offers Lucy a job in his firm which she reluctantly accepts, only to give him two weeks' notice before her resignation. The movie is one of the most successful movies of Sandra Bullock after 'Gravity'.
18. Drinking Buddies (2013)
There's a lot of endearing romance in this rom-com, but don't expect closure. None at all. 'Drinking Buddies' starts with two friends Luke and Kate who work at a brewing company and spend a lot of time together drinking. Oftentimes, they're joined by their other colleagues from their company. They both are married to different people – Kate is married to Chris and Luke is married to Jill. When Jill and Chris come visiting their respective spouses at work, the four plan to go on a double date, which ends badly as Jill kisses Chris when alone. After a few more heartbreaks, one-night stands and goof-ups, Kate and Luke still end up being friends, going back to their marriages. 'Drinking Buddies' was appreciated for decent performances, smart humour and a simplistic storyline.
Read More: Kids Movies on Netflix
17. Larry Crowne (2011)
Tom Hanks plays the titular Larry Crowne in this silly rom-com, a retired Navy veteran who works at a superstore. One fine day, when he's fired from the store, he decides to go back to college and take the much-needed classes. He buys a scooter and joins the college's community of scooter-riding nobodies. He takes the speech class by Mercedes Tainot (Julia Roberts) and another class on economics. As a divorced man in his mid-forties, he needs to find the new meaning of his life, re-examine his crush and now an endearing relationship with Mercedes, while addressing the latter's problems as well. 'Larry Crowne' is Tom Hanks' movie, through and through and would be remembered for its easy-going, relatable script and the chemistry between Hanks and Roberts.
16. The Decoy Bride (2011)
Lara Tyler is a famous Hollywood actress who just wants to get married peacefully with author James Arber. To get rid of the paparazzi, they hire a local girl as a decoy bride. Starring David Tennant and Kelly MacDonald, this is a light rom-com with a bunch of funny and emotional moments. Moreover, the setting is beautiful which elevates it comparing with other comedies. It is written by comedian Sally Phillips and Neil Jaworski.
Read More: Best Kids Movies on Netflix
15. The Kissing Booth (2018)
Elle and Lee, born on the very same day in the same hospital, have been brought up as siblings and not friends. They've created a rulebook which decides what they must do and what they mustn't and one of the rules mandates them to stay away from dating any mutual relatives. Noah is Lee's elder brother and has a crush on Elle. In high school, as the school carnival approaches, Elle plans to set up a kissing booth. On the day of the carnival, after a booze-driven spree, Elle and Noah end up kissing each other, but she keeps it a secret form Lee as she doesn't want to violate the "rule". Lee is all heartbroken but amends are made towards the end of the movie. 'The Kissing Booth' relies heavily on the performances and derives very less from the script, which perhaps led to it being panned critically. Still, it is one of the best romcoms on Netflix US as of now.
Read More: Best War Movies on Netflix
14. No Reservations (2007)
Kate is the head chef at a popular restaurant in downtown Manhattan. She is of a very domineering nature when it comes to cooking and maintains a unique sense of style around her dishes. On an unfortunate day, her sister Christine is killed in a car crash and her world comes crashing down. Christine's 9-year-old daughter Zoe comes to live with Kate, who is now troubled and couldn't concentrate on her cooking. The restaurant employs a new sous chef Nick, who has a jolly way of handling things and gets closer to both Kate and Zoe, which Kate is wary of. When Nick is offered the role of the head chef, Kate and Nick part ways, only to reconcile in the end. With a high emotional quotient and an amazing chemistry between its leading actors, 'No Reservations' shouldn't be missed.
13. When We First Met (2018)
Inspired by "Groundhog Day" and "About Time", "When We First Met" follows Noah who gets friend zoned after the first date by Avery, the girl of his dreams. However, three years later, he gets the chance to travel back in time and change that night (over and over again), hoping to win Avery's heart. This Netflix Original movie is an original spin on the time-travel romantic genre. It is humane, funny and down-to-earth. If you are looking to be surprised by a chick flick, you should watch this one.
Read More: Best Romantic Movies on Netflix
12. How to Lose a Guy in 10 Days (2003)
Benjamin Barry and Andie Anderson may seem a normal couple. However, that is not the case. Before they started dating, Benjamin bets that he could make a woman fall in love with him in ten days. On the other hand, Andie was assigned to write "How to Lose a Guy in 10 Days" for the magazine she works for. Kate Hudson and Matthew McConaughey are not only extremely funny but also have great chemistry together. It is because of this that "How to Lose a Guy in 10 Days" quickly became a huge success and an instant classic of the chick flick genre. If you want an entertaining and witty movie, you should watch it!
Read More: Disney Movies on Netflix
11. She's Out of My League (2010)
Kirk is a socially introverted TSA agent who works at the Pittsburgh International Airport. He has a strenuous relationship with his girlfriend, Marnie, soon to be his ex. Molly, an attractive woman finds Kirk being a little naive yet polite as compared to other male TSA agents. On her way to the aircraft, Molly forgets her phone and asks Kirk to arrange for a return. Thinking that Molly is "out of his league", Kirk finds no reason why their romance would prevail if there's any. Turns out, Molly has fallen for an imperfect yet delightful Kirk and despite all the differences, they end up being in a relationship with each other. 'She's Out of My League' is a light-hearted romcom bordering with sex comedies, but is somewhat vulgar and childish at the same time.
Read More: Best Zombie Movies on Netflix
10. Spanglish (2004)
Flor is a latino woman who has trouble speaking English. She has recently moved to LA with her daughter and has landed at a housekeeper's job in the city. While she works at the Clasky's, she comes to know of the problems the family has been lately into and offers advice on how things should rather be, but isn't able to express herself given the language barrier. The entire story is narrated by a grown-up Christina, Flor's daughter who tells that her mother had to learn English in order to put some sense in this dysfunctional family.
Read More: Best Alien Movies on Netflix
9. Alex Strangelove (2018)
Alex Truelove and Claire are best friends. While making out and planning to have sex, Alex meets up with Elliot, a gay teenager, and is immediately smitten by him, for Alex himself is unsure of his sexuality and orientation. Alex admits to Claire about his feelings for someone else, whom she thinks of a girl and asks him to move away. After Alex confesses to Claire that he's gay, Claire still wants to accompany him for the prom, only to surprise him with Elliot, Alex's intended date. Leaving all the inhibitions aside, Alex and Elliot kiss each other on the prom night. Coming out with one's sexual orientation is the highlight and the inspiration of the film.
Read More: Best Romantic Movies on Netflix
8. Sleeping with Other People (2015)
Allison Brie and Jason Sudeikis team up in this movie to portray two serial cheaters that cannot maintain a relationship. After a one-night stand in college, they meet again after twelve years and realize how many relationship problems they have. And, although they want to remain, friends, they start to fall for each other. "Sleeping with Other People" is an unconventional but smart romantic comedy in which the cast has tremendous chemistry. It is an underrated chick flick, available on Netflix.
Read More: Family Movies on Netflix
7. Set it Up (2018)
Harper and Charlie work as assistants to Kirsten and Rick respectively. While Kirsten is the chief editor of an online sports magazine, Rick is a VC. When Harper and Charlie meet on a chance encounter, while fetching dinners for their respective bosses, they feel their bosses are too overworked and are in need of a dire break. They arrange for their bosses to cross each others' ways and Rick and Kirsten start dating each other, only to split up shortly after, owing to Rick's cheating. In the entire process, Harper and Charlie realize they too have had hidden feelings for each other and embrace with a kiss. 'Set it Up' is pleasant, funny and completely out-of-the-box, still keeps up with the rom-com sub-genre.
Read More: Funniest Movies on Netflix
6. Blind Date (2015)
A woman named Machine has moved into a new apartment, and she aspires to be a professional pianist, hence a constant outflow of music from her apartment, which has Machin, an introverted, sedentary, yet reclusive man as her neighbour. As neighbours, their apartments are separated by a thin wall, and hence, they are constantly in "touch" with each other with respect to what they're doing, without actually seeing each other. Soon after, as their "distant" relationship intensifies, they start having dinner conversations and bed conversations together, still separated by the wall. The movie concludes with Machin breaking through the wall to get to see her for the very first time. 'Blind Date' packs a punch with its unique premise, an undying, unconditional romance and genuine laughter moments all the while.
Read More: Worst Movies on Netflix
5. Don't Blame the Kid (2016)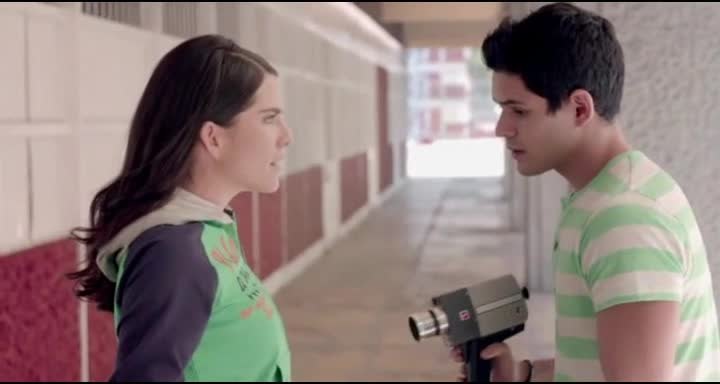 Maru, a young woman has casual sex after a drunken adventure with an irresponsible, immature, unemployed bachelor named Renato which she regrets afterwards. Turns out, after a few days, she comes to know that she's pregnant. Not paying heed to the advice of people around her, Maru decides to bear the child and move in with the imbecile who was responsible for her situation. Keeping aside their initial differences, Maru and Renato start developing a closely-knit relationship, much to everyone's surprise. 'Don't Blame the Kid' is a definitive Spanish rom-com with pathbreaking performances and a relatable premise.
Read More: Best Sci-Fi Movies on Netflix
4. Man Up (2015)
Nancy is a single woman who is struggling to find a stable relationship. Her stint at blind dates isn't very successful either and she ends up losing the guy instead. While travelling on a train to London to meet her parents, Nancy has a chance encounter with Jessica who's reading a self-help book on dating, but she forgets the book on the train. When Nancy follows her at the Waterloo station, Jessica's blind date Jack bumps into her and gives an impressive introduction, thinking Nancy is Jessica. After a bunch of misunderstandings followed by reconciliation, Nancy considers a permanent, longlasting relationship with Jack. 'Man Up' was appreciated for being refreshing and replete with outstanding performances, a rare feat for a romcom.
Read More: Best War Movies on Netflix
3. The First Time (2012)
One night at a friend's house party, a confident teen, Dave (Dylan O'Brien), meets an artistic girl named Aubrey (Britt Robertson). "The First Time" is the story of how they fall in love with each other over one weekend. It is a tale of first love and how confusing it is to experience love for the first time. Besides having witty dialogues and decent acting, this movie has a phenomenal soundtrack, each song is able to shine at the right moment. That is why this movie resonates with so many people around the world.
Read More: Worst Movies on Netflix
2. To All the Boys I've Loved Before (2018)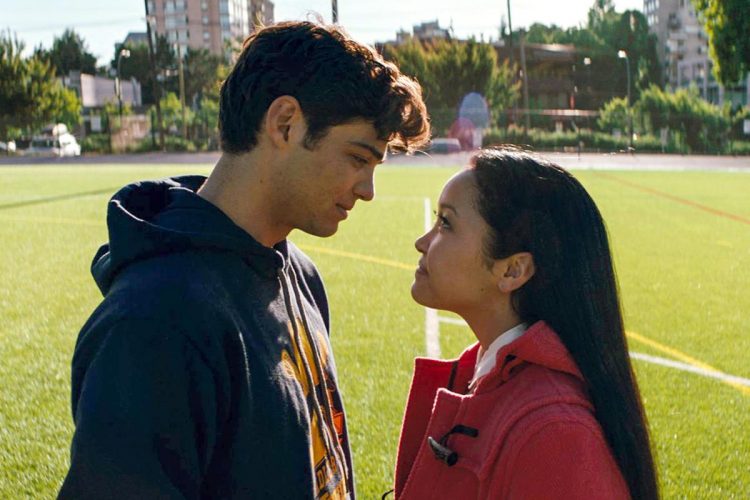 Lara Jean, when she was in high school, had written letters to her crushes, but she never posts them and locks them in the closet. When her little sister Kitty posts the letters to her crushes, Lara's world comes crashing down as all the five jilted yet hopeful lovers pay her a visit. Initially flabbergasted at the happenstance, Lara discovers that she still has feelings for Peter, one of the recipients of the letters and starts dating him again. The tale of Lara from a reluctant lover who drools over her crushes to an outspoken girl who can speak for herself, 'To All the Boys I've Loved Before' is endearing and has an enjoyable storyline, much to the surprise of many critics and audiences.
Read More: Best Holocaust Movies on Netflix
1. Love Actually (2003)
In this movie, we follow the lives of eight couples and their daily lives. Set in the month before Christmas in London, "Love Actually" is all about falling in love and out of love, meeting the right people or making mistakes. Emma Thompson, Liam Neeson, Colin Firth, Keira Knightly and Martin Freeman are just some of the many wonderful actors that brought this movie to life. Although this chick flick has a great storyline, the movie would not be the same without this strong and talented cast. "Love Actually" is the perfect movie to relax and watch with your loved ones.
Read More: Movies That Will You Cry on Netflix