Of all the categories that the Academy has presented Oscars in, the one category I feel has the least number of disappointments, snubs, or surprises, and is the most consistent with respect to quality is the Best Supporting Actor category, especially considering the absolutely golden nominees that have emerged in the last few years. The lineup of actors being announced in this category, safe to say, has outshone the nominees for the Best Actor categories on multiple occasions for me at least, and if past trends and future predictions have anything to tell us, it's that the lineup for this year looks better than ever, with stalwarts, stars and relatively younger actors looking to deliver great all round performances. The current winner of the award too, Mahershala Ali for 'Green Book', emerged victorious among a list of truly remarkable, stellar performances from Sam Rockwell (2018's winner for 'Three Billboards Outside Ebbing, Missouri'), Adam Driver, Sam Elliott and Richard E. Grant. So, without further ado, here's the list of best supporting actor contenders for Oscars 2020.
8. Jon Hamm, 'The Report'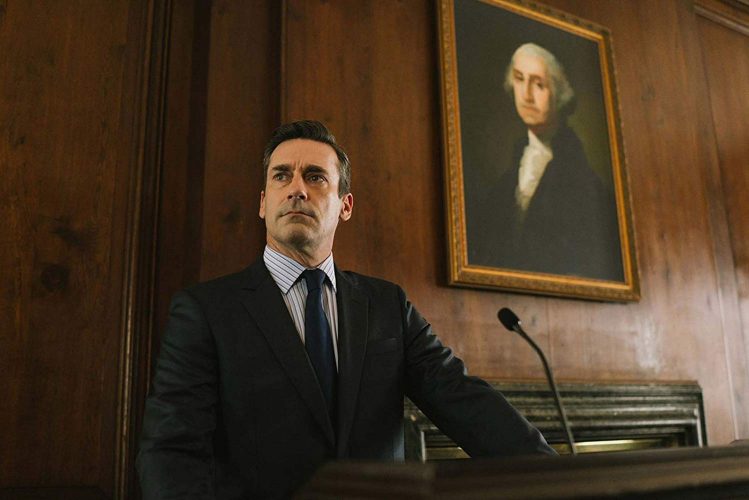 As stated in a series of articles preceding this, 'The Report' is one of our predictions to be scoring a lot of brownie points come awards season. Its sensitive socio political theme and the uproar it created at Sundance ought to take care of that. However, more than the central performance, we are counting on the supporting performances to blow our minds. While another veteran, Annette Bening is predicted to be in for Best Supporting Actress, we expect the charming actor to be in a possible bidding for his first Academy nomination yet for his role in the film.
7. Matthew Ryes, 'A Beautiful Day in the Neighborhood'

While the film is expected to earn honours this year by virtue of the man whose influential life this film glorifies, the extremely likeable Fred Rogers, 'A Beautiful Day in the Neighborhood' is also expected to earn top acting honours, especially with Tom Hanks in the role of Fred Rogers, and a host of other supporting actors. Notable among those would be Matthew Ryes, winner of an Emmy for his fantastic work on 'The Americans', and portraying Lloyd Vogel, a reluctant magazine writer who is given Rogers' profile to work upon. As he gets to know the man himself, his views on kindness, empathy and positivity change, and the film charts that transformative journey, along with highlighting Rogers' real life friendship with journalist Tom Junod.
6. Gary Oldman, 'The Laundromat'
The winner of the Academy award for Best Actor in a Leading Role last year for his eerily real portrayal of Winston Churchill, Gary Oldman, a legend in his own right, has his name attached to two major projects this year, both being on our list of most anticipated films; the first being 'The Woman in the Window', a psychological thriller, and the second, one that I expect to be the more powerful portrayal of the two, would be in Steven Soderbergh's 'The Laundromat', a film based on the very controversial Panama Papers Leak.
5. Timothée Chalamet, 'Little Women'
I wouldn't be wrong in considering Timothée Chalamet a young prodigy, given the rather humanely excellent work he has done in such a short span of time, and the wide recognition he has gained for those roles. At 23, the young, talented actor has been nominated for an Academy Award for best actor in a leading role for his sensitive portrayal of Elio in 2017's 'Call Me By Your Name', following it up with both BAFTA and Golden Globe nods as a supporting actor in last year's 'Beauutiful Boy', wherein he played a struggling drug addict as his family goes through an emotional upheaval owing to his addiction. Chalamet will be seen this year in Greta Gerwig's second directorial, 'Little Women', as Theodore Laurence, the husband of Amy March from the adaptation and the March family;s neighbour growing up. I fully expect an actor of Chalamet's calibre to make a mark even among a cast studded with other talented actors.
4. John Lithgow, 'Fair and Balanced'
A two time contender in the same category for 'Terms of Endearment' and 'The World According to Garp', I fully expect his portrayal of Roger Ailes to be given his third nod in the category. The role is a powerful one, but one that will also quite possibly attract a lot of negative connotations, given the panning Ailes received leading up to the conditions of his resignation upon revelation of sexual misconduct allegations against him by several of his co-anchors, and who better than a seasoned actor like John Lithgow himself handling it. Even if in a slightly negative role, one can expect fair recognition from the Academy atleast in this category that they seem to get right almost every year.
3. Willem Dafoe, 'The Last Thing He Wanted'

Very few actors, even the venerated ones, can currently match the highly versatile personality that is Willem Dafoe. At this point, it just seems like an exercise in futility to try quoting why he would/should be nominated. A four time Oscar nominee including last year's signature act portraying Vincent Van Gogh in 'At Eternity's Gate', Dafoe takes on the role of an ailing father and an arms dealer, whose daughter walks off from covering the '84 presidential elections to care for him, but instead inherits his job as an arms dealer, becoming complicit in an international conspiracy. High hopes from this one.
2. Brad Pitt, 'Once Upon a Time in Hollywood'
It is not very often that you see a global star like Brad Pitt being up for an award in the Best Supporting Actor category, but it will be so this year in Quentin Tarantino's magnum opus and one of the most anticipated films of the year, 'Once Upon a Time in Hollywood'. We in fact predict the film to be up for most major award categories, but even before a promo of the film is released, the few categories that we can be absolutely sure of (mostly), based on the history of QT's films, are the screenplay and the acting categories, especially the supporting roles, with QT's signature style of writing meatier, dialogue-heavy roles for even supporting cast members. For the record, Christoph Waltz held the Oscar for Best Supporting Actor twice under Tarantino's direction, playing Colonel Hans Landa and Dr. Schultz in 'Ingluorious Basterds' and 'Django Unchained' respectively.
1. Al Pacino/Joe Pesci, 'The Irishman'
You know it is going to be a great year when Joe Pesci, who has stepped out from voluntary retirement for Martin Scorsese's next feature, 'The Irishman', and Al Pacino, another Hollywood heavyweight being directed by Scorsese for the first time are both on cards to be competing for the best supporting actor category. A look at past records should tell you why this contest can be so potent. Al Pacino, a legend in the acting circuit, has won the triumvirate of acting awards, but only one Academy Award for actor in a leading role. Joe Pesci on the other hand, alhough only touted to appear in the film in an extended cameo, has won an Oscar in the same category under Scorsese's direction, for 'Goodfellas'.
Read More in Oscar Predictions:
Best Picture | Best Actor | Best Supporting Actress | Best Actress