Paul Rudd is an American actor, comedian, writer and film producer who studied theatre at the University of Kansas and the American Drama Academy, before making his acting debut in 1992 with NBC's drama series 'Sisters'. In 1994, he appeared in 'Wild Oats' for six episodes. He left 'Sisters' in 1995 to appear in the comedy film 'Clueless' with Alicia Silverstone. He also appeared in 'Halloween: The Curse of Michael Myers', William Shakespeare's 'Romeo + Juliet', 'The Locusts', 'Overnight Delivery', 'The Object of My Affection', and '200 Cigarettes'. He starred in the 1999 film 'The Cider House Rules' that earned him and the cast a SAG nomination for Outstanding Performance by a Cast in a Motion Picture.
He played FBI Agent Ian Curtis in Benny Chan's 2000 Hong Kong action film 'Gen-Y Cops'. In 2002, he was cast on the sitcom 'Friends' as Mike Hannigan, who dates and then marries Phoebe Buffay, played by Lisa Kudrow. In 2006, he appeared in several episodes of 'Reno 911!' as "Guy Gerricault", the coach of a lamaze class, and then portrayed a drug lord in the 'Reno 911!: Miami' film. He guest-starred as a has-been 1990s rock star, Desmond Fellows, on the television series 'Veronica Mars', in the 2007 episode "Debasement Tapes".
He is known for his starring roles in the films 'Clueless' in 1995, 'Romeo + Juliet' in 1996, 'Wet Hot American Summer' in 2001, 'Anchorman: The Legend of Ron Burgundy' in 2004, 'The 40-Year-Old Virgin' in 2005, 'Knocked Up' in 2007, 'Role Models' in 2008, 'I Love You, Man' in 2009, 'This Is 40' in 2012, 'The Perks of Being a Wallflower' in 2012, 'Anchorman 2: The Legend Continues' in 2013, 'Ant-Man' in 2015, 'The Fundamentals of Caring' in 2016, 'Mute' in 2018, 'Ideal Home' in 2018 and 'Ant-Man and the Wasp' in 2018.
In addition to his film career, he has appeared in numerous television shows, including the NBC sitcom 'Friends' as Mike Hannigan, along with guest roles on 'Tim and Eric Awesome Show', 'Great Job!' and 'Parks and Recreation' and hosting 'Saturday Night Live'. He received a star on the Hollywood Walk of Fame on July 1, 2015.
At this point, the question that might be circling your mind is what is the next Paul Rudd movie/tv show? Well, the good news is that we have a clear answer to that question. Here's the upcoming Paul Rudd films/tv shows scheduled to release in 2019 and 202. We can only hope that the latest Paul Rudd movies and tv shows would be as good as some of his recent ones.
1. Avengers Endgame (2019)
'Avengers Endgame', is an upcoming American superhero film based on the Marvel Comics superhero team the Avengers, produced by Marvel Studios and distributed by Walt Disney Studios Motion Pictures. It is intended to be the direct sequel to 2018's 'Avengers: Infinity War', as well as the sequel to 2012's Marvel's 'The Avengers' and 2015's 'Avengers: Age of Ultron' and the twenty-second film in the Marvel Cinematic Universe (MCU). The film is directed by Anthony and Joe Russo, with a screenplay by the writing team of Christopher Markus and Stephen McFeely, and features an ensemble cast with many actors from previous MCU films. Paul Rudd will reprise his role of Ant-Man.
The film was announced in October 2014 as 'Avengers: Infinity War – Part 2'. The Russo brothers came on board to direct in April 2015 and by May, Markus and McFeely signed on to script the film. In July 2016, Marvel removed the film's title, referring to it simply as 'Untitled Avengers film'. Filming began in August 2017 at Pinewood Atlanta Studios in Fayette County, Georgia, shooting back-to-back with 'Avengers: Infinity War', and ended in January 2018. Additional filming took place in the Downtown and Metro Atlanta areas. 'Avengers Endgame' is scheduled to be released on April 26, 2019.
2. Living with Yourself (TBA)
'Living with Yourself' is Netflix's upcoming comedy series from 'Little Miss Sunshine' directors Jonathan Dayton and Valerie Faris. Paul Rudd plays dual roles in the series, which follows a desperate man facing a dead end in his life. He undergoes a new treatment to move on and become a better person. His dreams come true at a heavy price. He finds himself as a brand new individual after the treatment. But the new version soon reveals itself as his most dangerous enemy. Dayton and Faris direct eight episodes of the first season of 'Living with Yourself.' Created by Timothy Greenberg, the comedy has Anthony Bregman and Jeff Stern serve as producers on behalf of Likely Story banner. Tony Hernandez, Rudd, and Jeff Blitz also join Greenberg to executive produce the series.
3. My Beautiful Stutter (2019)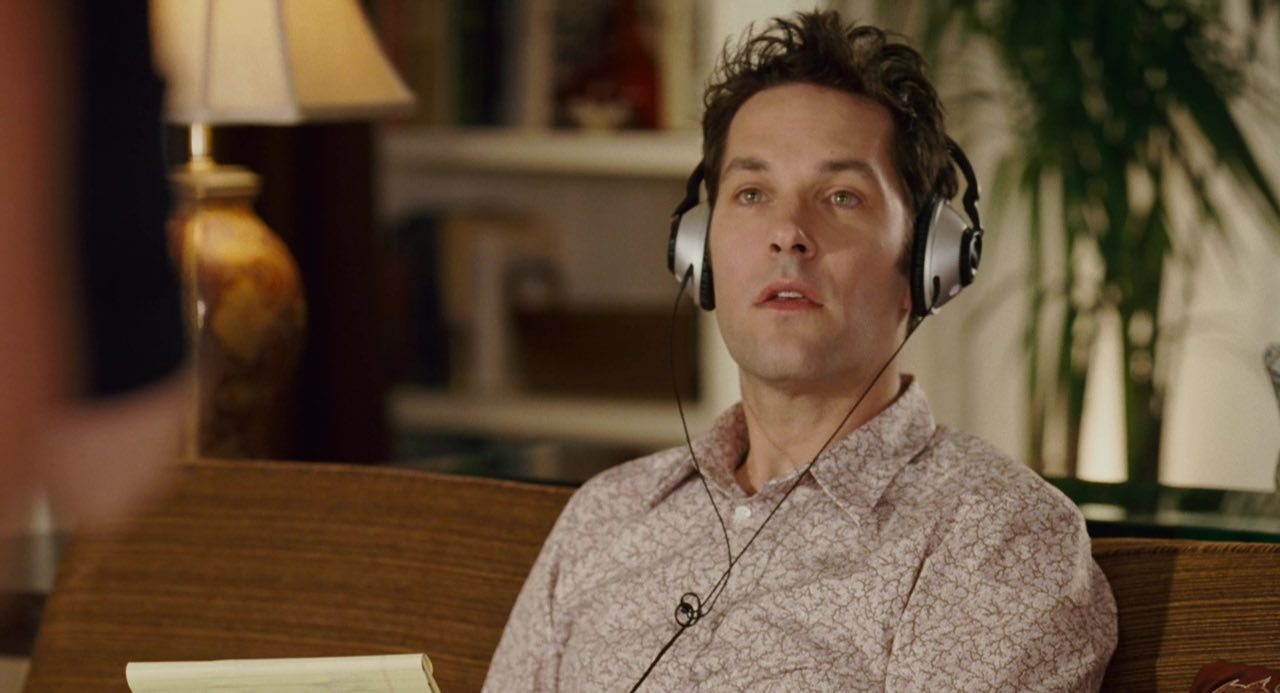 Paul Rudd serves as the executive producer of the documentary, 'My Beautiful Stutter.' The project documents the lives of five kids, ages between 9 to 18, who stutter. They come from various parts of the U.S. and join an interactive arts-based program conducted by The Stuttering Association for the Young (SAY) in New York City. The participants share their painful and harrowing experiences of bullying and stigmatization because of their stutter. Over the course of a year, five kids meet other children who stutter as a part of the interactive program and they reinvent their life with the help of the support circle. By the end of the documentary, we see them say out loud the amazing idea puts forward by The Stuttering Association for the Young, 'it's okay to stutter.' Paul Rudd has been working with the charity for nearly a decade. He actively takes part in fundraiser initiatives for Camp SAY, the annual summer camp organized by SAY. Last year, Rudd hosted the annual All-Star Bowling Benefit for SAY. The fundraiser event, which was held at Lucky Strike in New York City, featured Broadway stars like Thomas Kail, Chilina Kennedy and Betsy Wolfe. 'My Beautiful Stutter' opens on July 4, 2019.
Read More: Upcoming Robert Downey Jr Movies