Free movies. Who doesn't love them? With the advent of several streaming sites like Netflix, Hulu, Amazon, you can watch movies online. As a result movie watching is now much more convenient. Only a few years back, the only two options to watch movies were either going to a movie theater or rent a CD/DVD (or be at the mercy of cable channels). Thankfully, that has changed now. You just need a good internet connection and a streaming device and you are good to go. Having said that, is movie-watching cheap? May be .. may be not. It depends on how big movie buff you are and how much money are you willing to spend on movies. But let's assume you think the movie watching is expensive, we are here are to present you best free movie streaming websites where you can watch online without paying anything. Obviously, you have to remember that since these are free, you options are also going to be limited. The good news is that some these free streaming sites require no sign up.
If you love watching documentaries, this is the one of the best free streaming movie sites. They have a quite a good collection of documentaries on almost every category there is: political, world conflicts, money, business, science, travelling. The site describes itself as Self-described "biggest source of free documentaries to watch online". I will leave it up to you to decide if that's true or not.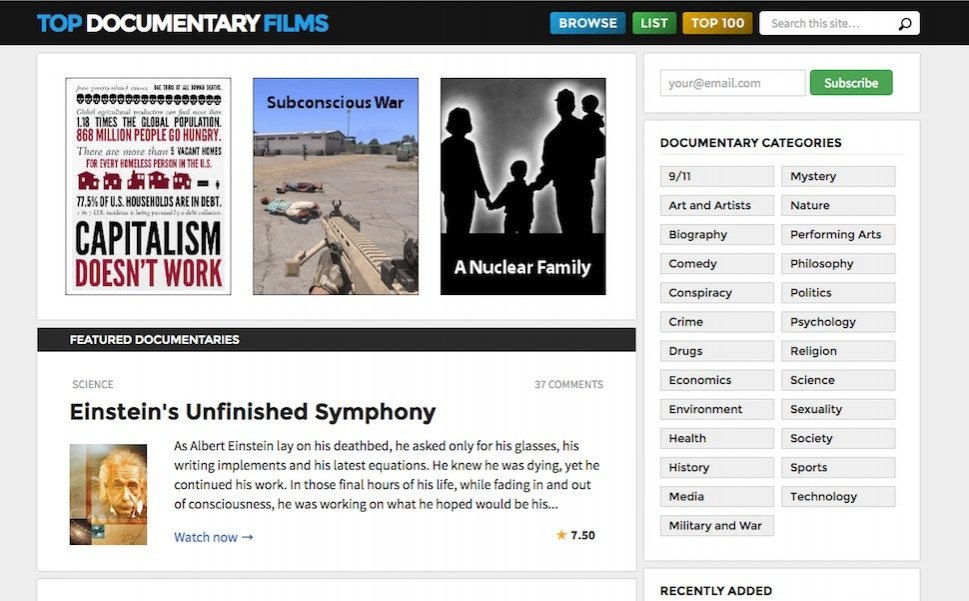 Another great place for documentary lovers. TopDocumentaryFilms may not have as big collections as WatchDocumentary.org, but certainly they are more up to date. Many recently released documentaries are also available on the site. The site also has user ratings for each film, so you can definitely get an idea of what you would like to watch.