The eighth episode of the third season of the series both keeps in and defies the tradition of the eight episode of the show, with the slot in the previous seasons being occupied by Interdimensional Cable. Well, the format this season remains the same: show the viewers a bunch of unforeseen footage clip by clip along with a bare connecting storyline to string it all together. The mode of presentation changes: instead of Rick and Morty watching completely unrelated, and frankly weird (even by the show's standards) clips from different dimensions in space on television, the clips this season are called "Morty's Mind Blowers", and are snippets of their adventures that somehow went South and Morty begged Rick to remove them from his consciousness. Turns out that Rick has an entire room stocked with them, more than enough to have a full episode!
Plot Summary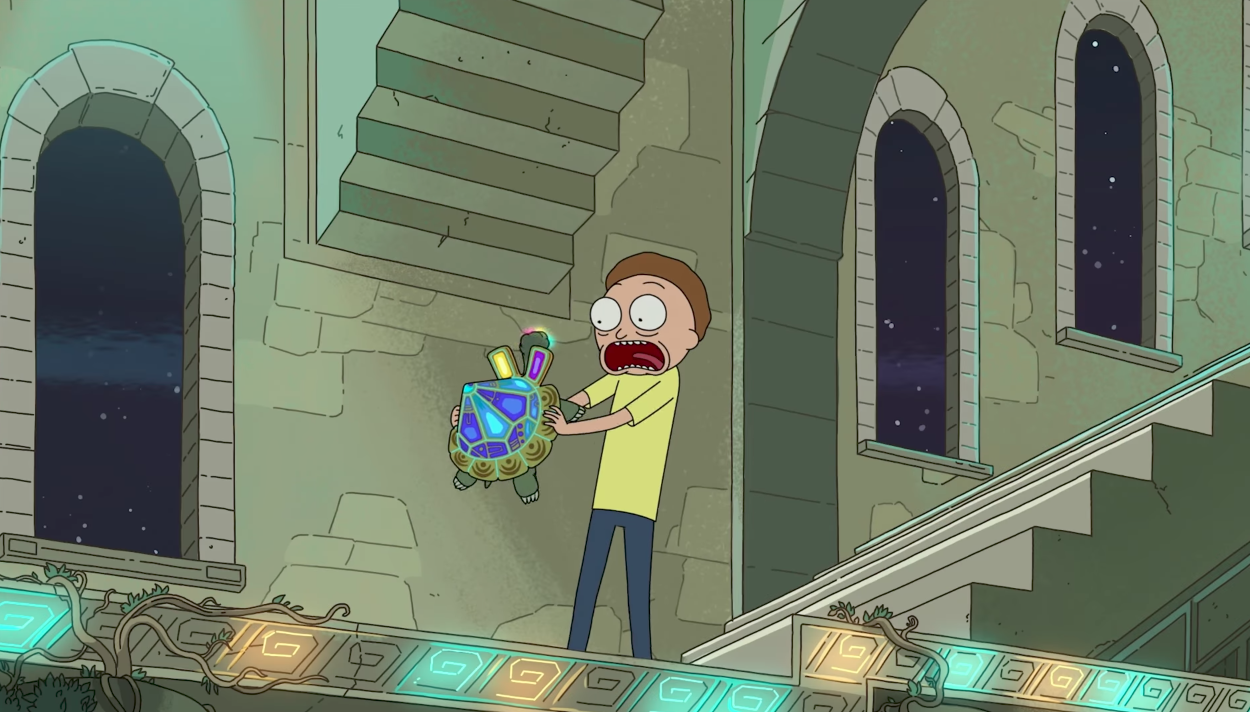 The episode begins rather regularly with Rick and Morty away on one of their adventures where they are escaping with a mystical artefact called the "truth tortoise", closely being followed by, well, a creature. Rick advises Morty not to look into the eyes of the truth tortoise but he does, regardless, causing him to drop the tortoise into the void as the two escape. Even the world where this scenario is staged is an extremely imaginative twist on the Relativity Painting by M.C. Escher.
Back home, Morty cannot seem to get the truth turtle out of his head and begs Rick to erase the memory form his head, a sentence that Rick completes making Morty wonder. At this point, Rick leads Morty into a secret underground chamber beneath the garage where he has tubes with Morty's erased memories that he termed Morty's Mind Blowers, naming them such following the first time his mind was "blown", and then breaks the fourth wall to tell the audience that they'll be doing that instead of Interdimensional Cable.
Rick starts playing the memories for Morty one by one by placing the tube in the slot in the helmet, leading to Morty going back to them and experiencing them, making him realise why he'd asked Rick to delete them in the first place. The first one, titled 'Moosnpiracy' by Rick has Morty accidentally mistaking a smudge on his telescope lens for an actual man on the moon. Things get complicated when the same man shows up at school as the guidance counsellor and Morty becomes convinced that Mr. Lunas wasn't who he was pretending to be. Morty tells on him on Principal Vagina, telling him that he "lived on the moon" and that he was "up to something". Principal Vagina misconstrues it as code for him being a pedophile and violently confronts him. Lunas' humiliation leads him to commit suicide, something Morty couldn't help but feel guilty about, since it was his mistake that drove Mr. Lunas to kill himself.