The fact of the matter is that today audiences have unlimited viewing choices. With the advent of online streaming services which are available at affordable subscription prices, one can indulge himself/herself in a variety of genres and sub-genre of movies and spend leisure time bingeing the desirable stuff. Netflix has successfully managed to have the most varied and diversified collection of movies, tv shows, documentaries. As far as Amazon Prime is concerned, although the content is a little lesser in numbers compared to Netflix, we still managed to find most of the genre-based latest stuff on the portal. While some of these movies can be considered as lesser-known gems, many of them are safer to be ignored. With this list, we bring to you the dirtiest movies on Amazon Prime, movies which boast of minimal to moderate nudity.
If you don't have an Amazon Prime account yet, it is time to create one. From steaming romances to erotic thrillers, Amazon Prime truly has a wide range of movies that deserve your attention. From the South Korean erotic movie 'The Handmaiden' to one of the latest 'Baywatch', here is the list of steamiest, most sensual and sexiest movies available on Amazon Prime that you never knew you should be watching in the first place.
Read More: Best Movies of All Time
25. The Nymphets (2015)
Directed and written by Gary Gardner, "The Nymphets" follows a 30-something man who meets two wild young girls at a bar who can't get in because of their fake IDs. Although he knows it is a bad idea, he invites them to a party in his loft. This leads to a night of provocation, cruelty, and unexpected events. It stars Kip Pardue, Anabelle Dexter-Jones, and Jordan Lane Price. With some tense moments and the wildly sexy portrayals, without any explicit substantial nudity, 'The Nymphets' is one of the sexiest movies on this list.
Read More: Actors Who Went Nude For Movies
24. Asylum (2005)
Featuring Ian McKellen among others, 'Asylum' is the story of Stella, the wife of a renowned psychiatrist Max, who works in an asylum. As Stella is also staying at the asylum, she is wary of the inmates who've been stalking her. One particular inmate who has got smitten by Stella is Edgar, an inmate who had gruesomely murdered his wife. Stella and Edgar begin a passionate affair, as Stella also helps Edgar flee from the asylum, only to pursue their lust-filled intentions. Not only is 'Asylum' intriguing and intense, but it is also extremely sexy on the outset owing to some steamy sequences.
Read More: Best Nude Scenes in Movies
23. Raven's Touch (2015)
Not a literal raven that is being referred to here, 'Raven's Touch' is the story of Raven Michaels, who is on a self-blaming spree and spends some lone time in a cabin in the woods. As she is on the cusp of a mental breakdown, she meets up with Kate who is camping with her two kids. Raven and Kate begin a seductive lesbian affair that is bound to alter their worlds and of everyone around them. The nudity is minimal but the implications are rampant, including elaborate sex scenes and the fiery passion Kate and Raven have for one another.
Read More: Best Adult Movies of 2017
22. A Minute's Silence (2016)
A German movie which was released by the name 'Schweigeminute', 'A Minute's Silence' is based on the novel of the same name. Christian, a high school student has fallen in love with a mid-aged teacher Stella, who has returned after her prolonged stay in England. As they enjoy spending time with one another, they are wary of not revealing their so-called love to the public as it would be taken in bad light. Christian kisses Stella in front of the whole class and an astonished Stella proclaims never to see Christian in public. Christian and Stella plan a minute's silence, a getaway on an island to have alone time together. Although it rests its base on paedophilia, 'A Minute's Silence' has hints of sultriness and its own definition of sexy.
Read More: Best Adult Movies of 2018
21. Adore (2013)
Also named as 'Adoration' in many release circles, 'Adore' is as absurd as it is sexy. Naomi Watts and Robin Wright could be seen in leading roles as next door neighbours Roz and Lil, who're also childhood friends. Even their sons, Tom and Ian are 18 years of age and are best friends. In a strange turn of events, Ian has sex with Roz and Tom has sex with Lil, out of guilt and they agree to keep things under cover. Soon, lust turns into obsession and Roz and Lil find it difficult to let go of their juvenile lovers, however impractical it might seem. Bordering on incest, 'Adore' is a weird, sensational tale of two moms loving each other's sons, even after they've been married and bearing their grandchildren. 'Adore' is weirdly sexy and at times, gross.
Read More: Best Movies Like Porn on Netflix
20. Running on Empty Dreams (2010)
Touted as "emotionally wrecking" and "eternally fulfilling" (although I highly doubt it), 'Running on Empty Dreams' is the narrative of Sydney Harris who is moving to Arizona with her ex-marine husband and her son. As they settle down, it is revealed that Sydney has thyroid cancer and she wants to live the remaining of her life in her own terms. She screen writes lesbian romances in her leisure time and has fallen for Jane, a single mother living across the street who too is smitten by Sydney. A relatable story with a growing obsessiveness between Sydney and Jane and Sydney's torments that she faces amidst cancer and a lively family is worth a watch. Whether Sydney will be able to save her marriage despite all the cancer struggles is what the film deals with.
Read More: Best Movies of All Time
19. Elena Undone (2013)
Yet another sensational lesbian romance, 'Elena Undone' is the story of Elena, a mother and the wife of a pastor who comes across Peyton, a well-known writer of lesbian romances. Despite however hard Elena tries to keep away from Peyton, the two are destined to be together. What starts as an acquaintance gets translated into a steamy lesbian romance that Elena couldn't have imagined in her wildest of dreams. Elena finally lets go of her inhibitions and the two begin a love affair which they can't keep for long. Although there is no explicit nudity in the film, the premise and the performances are extremely sensuous that brings the required sexiness along with it. Watch it if you are a lover of lesbian romance dramas.
Read More: Best 'Orange is the New Black' Sex Scenes
18. The Escort (2016)
Mitch is a sex-addicted journalist desperate for a great story. Therefore, he decides to tag along with an escort named Natalie, so he can write a groundbreaking piece and land a job he needs desperately. Starring Lyndsy Fonseca and Michael Doneger, "The Escort" is a sexy romantic comedy with a lot of charm. Natalie asks Mitch to follow her wherever he can, ala a bodyguard in order to know of her story and Mitch happily obliges. The chemistry between the main characters is interesting and fun to watch. Furthermore, the motivation of the characters makes the story believable!
Read More: Best Outlander Sex Scenes
17. Me Before You (2016)
Starring Emilia Clarke and Sam Claflin, "Me Before You" is a beautiful love story that follows Louisa Clark, a small-town girl who is hired to take care of a quadriplegic Will Traynor who hates everyone around him, who was an adventure lover but now is wheelchair-ridden thanks to his injury. Despite a difficult start, their employer-employee relationship starts to grow into a full-blown love affair, and both learn again how to truly enjoy life. While Louisa likes simple things in life along with Will's betterment, Will has different plans for himself and wants to leave a fortune for Louisa. "Me Before You" is not only sweet and romantic but also approaches difficult subjects that have forever been present in our daily lives with inexplicable ease. Also, Emilia Clarke's presence brings a lot of sexiness to the big screen.
Read More: Best Game of Thrones Sex Scenes
16. Two Night Stand (2014)
A classic case of a one night stand converted into two, thanks to the prevailing circumstances, 'Two Night Stand' is the narrative of Alec and Megan. While Megan is single for a while after her stint with her ex-boyfriend and fiance Chris, she meets Alec through a dating website. As Alec and Megan decide to have a one-night stand, Megan can't leave after the night due to a blizzard and hence is forced to live for another night, which isn't guilt free. They regret having sex and vow never to meet again, only to fall in love and reconcile in the end. While not outright explicit with a lot of sex scenes, 'Two Night Stand' is a slower take on love and relationships over lust and sex that you can watch at your leisure.
Read More: Best Shameless Sex Scenes
15. In Secret (2013)
An erotic thriller at the outset featuring big names like Elizabeth Olsen, Tom Felton, Oscar Isaac, 'In Secret' is set in the 1860s Paris and follows Therese Raquin, a beautiful but sexually oppressed young lass who has been seemingly stuck in an unhappy marriage devoid of love and affection with her first cousin Camille. She seeks refuge in an affair with Laurent LeClaire, a charming friend of her husband and there begins a steamy love affair that is not without its consequences. As it turns out, Laurent murders Camille and in order to escape sentencing, Laurent and Therese commit suicide by drinking poison. Despite an almost perfect star cast and impeccable performances, the movie had a predictable story and at times the overly done script which did not go down well with critics.
Read More: Actors Who Went Nude For Movies
14. This Thing with Sarah (2013)
Michael Doneger directed, wrote and starred in "This Thing with Sarah", which also featured Amanda Brooks in a titular role. 'This Thing with Sarah' is the story of a jilted lover and a writer Devin who is going over a bad breakup when he meets Sarah, a surfing instructor, who, in a "No Strings Attached" kind of a way, suggests that she has a strictly physical relationship with Devin to help him get over his ex-girlfriend. Although 'This Thing with Sarah' borrows a lot of its aspects from films like 'No Strings Attached', 'Friends with Benefits', it has its own way of presenting things which stumps any such obvious similarities. A fresh outlook on purely sexual relationships without any strings attached.
Read More: Best Nude Scenes of 2017
13. Concussion (2013)
Not to be confused with another Will Smith's movie of the same name, 'Concussion' is a true story of an idyllic lesbian woman turned prostitute Abby. Abby lives with her partner Kate and their son and has been leading a very stagnant sexual and love life. One day, her son hits her head accidentally with a baseball leading to a minor concussion which gets her into thinking about and exploring new avenues of her relationship. She meets up with another lesbian prostitute who moonlights to tend to lonely, sexually depraved women and Abby too decides to assume the name Eleanor and work on similar lines. 'Concussion' has a unique premise rising from an unintended accident, thus leading to the manifestation of a very different storyline. Watch it for the steamy lesbian encounters that Abby takes up on a day-to-day basis.
Read More: Best Girls Sex Scenes
12. Original Sin (2001)
Perhaps one of the few handfuls of movies where Angelina Jolie did a substantial show of skin, 'Original Sin' never got famous for its storyline, but only for its hot sex scenes and nudity. The movie follows the story of Julia, an American girl who along with Walter a.k.a. Billy, her lover, marries and plans to con Luis, a Cuban. All goes according to plan except when Luis falls for Julia, they get married and it leads to inhibitions of both Luis and Julia to let go of each other. While the story has been termed as utterly illogical and laughable by many critics, 'Original Sin' has some scenes of crude sex and nudity which would get you going.
Read More: TV Shows With Most Nudity
11. Kiss Me (2011)
Also released under the title 'With Every Heartbeat' in some locales, 'Kiss Me' is the narrative of Mia, who has recently been engaged to her boyfriend Tim, and Frida, the daughter of Mia's newfound stepmother Elizabeth, a.k.a. Mia's half-sister. On a weekend getaway, Mia and Frida are forced to share a room where they have some intimate moments and begin to have intense, amorous feelings for each other. With their own lives and families to take care of, the dilemma of Mia and Frida to separate from each other and live dull, mundane lives is unsettling. As a viewer, you can feel the internal battles faced by Mia and Frida which essentially are a triumph for the film as a whole. The sexiness associated with the movie is a mere add-on.
Read More: Best Nude Scenes in Movies
10. XXY (2007)
A Spanish film at the outset, 'XXY' refers to a medical condition called as Klinefelter Syndrome where the individuals have an extra X chromosome, thus giving them some feminine characteristics, including body parts which are both male and female in nature. While the premise is such a big turn off for many, what can be heartening is the presence of a lot of erotic and crude sex scenes which would otherwise take the attention from what was shown at the beginning of the movie. The central character of the movie is Alex, an intersex teenager who has been using medication to suppress masculine characteristics such as body hair etc. Alex's confused sexuality and the social stigmas associated with people of dual sexuality form the core of the film. 'XXY' is one of the boldest films of its genre and addresses the issues associated with teenage sexuality in a very sensitive manner.
Read More: HBO Shows With Most Nudity
9. Baywatch (2017)
And now to the hot handsome bare-bodied men and bikini-clad sultry women parading across the beach, 'Baywatch' is nothing more than a fairy tale for the adults. Although we see no female nudity in the latest version of the flick, there are a lot of male sexual portrayals which can be outright sexy and somewhat vulgar to a few audiences. Set in the Emerald Bay, 'Baywatch' follows Mitch Buchanan, the guard lieutenant and his Baywatch – a bunch of lifeguards entrusted with protecting those who are at the Bay. Enter Matt Brody, a former Olympic swimmer who challenges the alpha male that was Mitch so far, while they, as a team, try to uncover a drug smuggling consortium. 'Baywatch' is more about male objectification than anything else, if you find that sexy, then this one's for you.
Read More: Best Adult Movies of 2017
8. The Neon Demon (2016)
A psychological horror, 'The Neon Demon' went on to suffer huge losses at the box office owing to its lacklustre script and non-existent character development. Featuring Elle Fanning as Jesse, who is new to LA and aspires to be a supermodel one day, 'The Neon Demon' follows the stories of Jesse and the people around her. She dates Dean, who is also her photographer. After being selected as the best among other models by the agency, two envious models Gigi and Sarah plan their revenge with Jesse, something that may not go down well with the duo. Although 'The Neon Demon' has its own scary moments and showcases many hot, sultry women in their inner wears, it has a loosely done script which brings the whole movie down.
Read More: Best Taboo Movies
7. Sister My Sister (1994)
Based on a shockingly true set of events based out in 1930's France, 'Sister My Sister' is the tale of two sisters – Christine and Lea. While Christine has been employed with Madame Danzard, a widow, she talks Madame Danzard into employing Lea, her younger sister, for menial works. Because of the class divide, Christine and Lea have only each other to turn to and are ignored and are ill-treated by their employers. Their likeness for each other turns into an incestuous, lesbian relationship and ultimately leads to the murder and brutal killing of Madame Danzard and her teenage daughter. Shocking and deeply disturbing, 'Sister My Sister' is sexy only because of the sensational and controversial sex scenes filmed between Joely Richardson and Jodhi May. I leave the rest to your judgement.
Read More: Sexiest Movies on Netflix
6. Afternoon Delight (2013)
A film where Juno Temple has yet again undertaken the responsibility of carrying all the movie's sultriness on her soldiers, 'Afternoon Delight' is the story of Rachel (Kathryn Hahn) who is unhappy with her no-sex and mundane life. She, along with her husband Jeff, visits a strip club where she meets up with McKenna (Juno Temple) who is a stripper. Later, Rachel connects with McKenna and because McKenna is homeless, she asks the latter to stay at their house. On one of her client visits, McKenna takes Rachel along with her where Rachel comes to know that McKenna is also a sex worker. Fearing problems in her marriage, Rachel drives McKenna out and reconciles with Jeff. Although the story is nothing but familiar, the film was praised for its fresh outlook and redefining love. A coming-of-age film with a lot of "sexy" elements embedded in it. And psst…Kathryn Hahn is delightful.
Read More: Actresses Who Went Nude For Movies
5. Sliver (1993)
An erotic thriller that borderlines with voyeur porn, 'Sliver' is based on a novel of the same name. Carly is a book editor and is currently single, and has moved into apartment 113 of NYC's Sliver building. She meets up with other tenants of the building, most notably Zeke, a video game designer. Zeke and Carly begin an amorous, sexual relationship and later it is revealed that Zeke, using a comprehensive video surveillance, has been stalking on Carly as well as all the previous tenants of the house. Borderline sick and disgusting, but still with its own way of sexiness, 'Sliver' will arouse you if you've been a die-hard fan of Sharon Stone.
Read More: Movies Like Basic Instinct
4. The Handmaiden (2016)
Set in the 1930's Korea which is under Japanese rule, 'The Handmaiden' features Lady Hideko who is a beautiful Japanese heiress who lives an idyllic life with her callous uncle Kouzuki within a large estate. Kozuki is shown as an enthusiastic collector of erotic literature and is very protective of his niece. However, a new handmaiden Sookee, with obscure intentions has arrived at the estate. She is planning to assist Count Fujiwara to seduce Lady Hideko and rob her of her fortune. Nevertheless, their plan quickly changes as the movie progresses. From ace-director Park Chan-wook, who is known for his masterpieces like 'Oldboy (2003)', 'The Handmaiden' brings a lot of eroticism and sensuality to the table, hints of which we've seen with Chan-wook's films before.
Read More: Movies With Most Nudity
3. Body of Evidence (1993)
'Body of Evidence' begins with an elderly Andrew Marsh who has been found dead on his bed with a videotape of himself along with his lover and girlfriend Rebecca Carlson. His death is found to be even the more suspicious since his blood samples had cocaine and he left all of his fortunes to Rebecca. After getting charged with murder, Rebecca hires a lawyer Frank Dulaney who is immediately smitten with her and they start an affair. As new pieces of evidence emerge during the trial, Frank Dulaney begins to wonder if he is actually defending the murderer or awaiting her sentence. Madonna is Rebecca Carlson, the sexy woman who has been accused of murder and boy, is she incredible in this role? "Body of Evidence" is a sexy thriller that will put you on the edge of your seat, albeit sometimes.
Read More: Best Adult Movies of 2018
2. Come Undone (2010)
As is evident from the title, 'Come Undone' is an erotic romance drama which was originally shot in Italian. It narrates the story of Anna who is a typical want-it-all. She's married to Alessio. At a colleague's party, she meets Domenico, a waiter at a restaurant, and her world is seemingly turned upside down. They begin having an intense affair thus distancing themselves from their families. As they are neck deep into love and wild lovemaking, they soon realize they will have to let go with each other or leave their families. Not that it is a work of ingenuity, but 'Come Undone' is replete with scenes of frontal nudity which makes it one of the sexiest films to watch on Amazon Prime US.
Read More: Best Movies Like Porn on Netflix
1. American Honey (2016)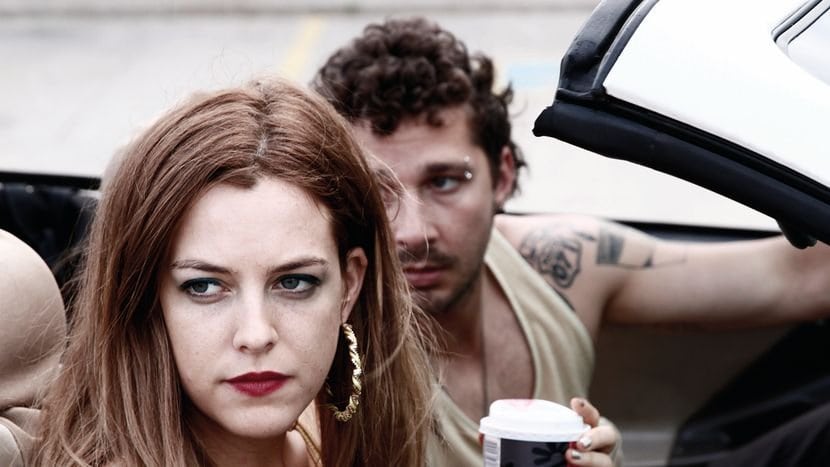 Rated by MPAA with "R" involving crude sex, graphic nudity, teenage drug abuse to begin with, 'American Honey' has perhaps the maximum sexual content among all the movies on this list, thus making it sexier than usual. Touted as extraordinary and raw in its portrayals, the movie follows the story of Sasha Lane as Star, an Oklahoma teenager who has a "thing" for Jake (Shia LaBeouf). Star then pursues Jake and his gang of friends who are on a frenzied road trip to Kansas, while pulling off gigs, partying and doing drugs all the while. The movie is more of a celebration of the transcendence from teenage to adulthood which has been portrayed in the most realistic form possible. Also, the performances are top notch and the movie is the recipient of Jury Prize when it competed for Palme d'Or at the Cannes Film Festival. The near-perfect teenage (anti)social drama with loads of eroticism.
Read More: Sexiest Movies of All Time