Stoner movies have been around since the '70s. One of the best stoner films of the era that I remember is 'Up the Smoke (1978)', which depicts the tale of two stoners who are on the run from Mexico to the US with the police on their tail. Then we've had some classics like 'Sausage Party', 'Dazed and Confused' etc., which are often regarded as benchmark stoner movies, albeit for no reason. Based on the potency of what you smoke, we have also witnessed movies like 'Dude, Where's My Car?', 'Knocked Up', 'Growing Op' etc., which have crossed all the limits of being called as "stoned" and they all stand way above the regular stoner movies on the "stoned" index.
Netflix, however, only has a limited number of stoner flicks and we couldn't find the major hits of the stoner sub-genre on the streaming giant. Still, this list of "stoner movies" includes not only great films that will blow your mind while you smoke something but also a documentary about marijuana usage and movies that, in one way or the other, involve drugs. Because who cares what you're watching when you smoke, right? They are all going to surprise you in different ways. With all that said, here's the list of really good stoner movies on Netflix that are available to stream right now:
30. Halloweed (2016)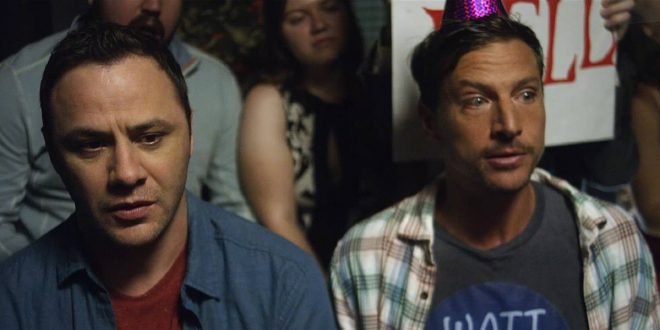 Trying to escape the shame of a serial killer father, Trent Modine and his stepbrother Joey find refuge in the small town of Mooseheart. However, it doesn't take long before the family name catches up. Trent and Joey must figure out how to sort through a string of cliché murders that start to happen right when they arrive. With a great lead and supporting cast, "Halloweed" is a comedy that blends murder mystery and marijuana. It is refreshing (most of the time) with an absurd and simple plot that leads to interesting events and a fun ride to its characters.
Read More: Best War Movies on Netflix
29. Mac & Devin Go to High School (2012)
Snoop Dogg and Wiz Khalifa are two high school students (HIGH school, get it?). Snoop Dogg must graduate, and Wiz Khalifa has to help him while struggling to write his valedictorian speech. This film is only good if you smoke something while you are watching. There is a little bit of everything: musical breaks in-between scenes and a lot of jokes that will make you laugh. Although the plot does not have a lot of substance to it, it has some good moments and is worthy of a one time watch if you don't have anything else to do other than being stoned. Or at least, pretending to be.
Read More: Best Holocaust Movies on Netflix
28. Year One (2009)
I don't think it makes any sense, still, 'Year One' is one of the most watched stoner movies out there. Zed is an aspiring hunter and Oh is a gatherer, who is albeit shy and introverted. Set in the prehistoric times, Zed accidentally eats from the tree of forbidden fruit and is banished from their hunter-gatherer tribe, who is later accompanied by Oh. They meet other Biblical characters on the way, notably Cain, Abel, Abraham, Isaac and are enslaved in the city of Sodom. Both Zed and Oh have to take the help of their love interests, Maya and Eema, stand up to Cain and form alliances which would either free them or put their lives in danger. 'Year One' tries harder at being a slapstick comedy, with funny names, weird, relatable characters and cliched portrayals (which only Jack Black can pull off). It is at best, a one-time watch.
Read More: Best Romantic Movies on Netflix
27. Dude (2018)
Four high school friends who are entering their last year – Lily, Chloe, Amelia and Rebecca – are generally fooling around, smoking weed, dealing with their family problems and generally talk about strenuous relationships, boys, proms, vulgarity and weed. As they head into their final year, they start dealing with the losses in their lives: the pain of losing their friends, the parting of ways owing to jobs and the typical withdrawal symptoms one faces while leaving school for the last time. About the weed, there's a donkey-kong shaped bong named Donkey Bong that has been repeatedly focused upon throughout the film, without any reason; however, apparently, it consumed a lot of the film's budget. The movie was criticized and appreciated equally and remains to be one of the best Lucy Hale movies out there.
Read More: Best Animation Movies on Netflix
26. Where's the Money (2017)
Del Goodlow is a good samaritan who operates his father's gym after the latter has headed to the jail. The reason behind starting a gym was to keep the youngsters off drugs and crimes, but somehow, the tables had turned. Del's dad, Dre, surprises him by telling him that there's a $1 million stash hidden in the basement of a house, which has now been converted into a fraternity. Del tries to enter the fraternity by imposing as a fire officer but all in vain. Later, at the behest of his own fraternity, he tries to exploit many loopholes and enter the house, but all fail miserably and funnily enough to cause him embarrassment. Turns out, Del's uncle Leon was in cahoots with a gang to embezzle all the money. In a comedy of errors, Leon is killed and the gym that was in tatters was ultimately saved, with everyone getting their share of the money. 'Where's the Money' is a classic example of a headless yet enjoyable stoner movie.
Read More: Worst Movies on Netflix
25. Nerdland (2016)
Elliot and John are two drifters, best friends and partners in crime. Well, metaphorically. 'Nerdland' revolves around the duo that begins with Elliot, the aspiring screenwriter and John, the aspiring actor who want to achieve infamy by doing something sensational. They first try their hands at hacking, but that plan goes horribly wrong, after which they attempt to kill an elderly woman to get the media's attention. They soon realise that they have been identified as "mystery witnesses" by the media after they accidentally became the witnesses of a robbery. As the police try to confine them under the garb of a witness protection program, they escape again and seek shelter under someone who's known as Nerd King, who helps them fake their deaths and start a new life altogether. 'Nerdland' should be watched only for Paul Rudd, if no one else.
Read More: Best Romantic Movies on Netflix
24. Nola Circus (2015)
Perhaps the only movie on this list that defies logic to the maximum extent, 'Nola Circus' is the telltale of two rival barbershops which seems to be like a spoof movie with many references. One of the barbershops is run by Will, while the other across the street is run by Marvin and his two brothers. With drug-dealing syndicates, love, sex, and hate, a lot of gunfire and brutality and guilt, this barbershops' enmity is a tale that's worth a shot only when you're out of your senses. The comedic moments are many, but are rather a lot sporadic and make less sense without the coherence. The nudity, profanity and the humour associated with drugs adds to the "potency". Watch it at your own risk!
Read More: Best War Movies on Netflix
23. Total Frat Movie (2016)
A movie that has outright been called "awful" by many critics, including Rotten Tomatoes, 'Total Frat Movie' is revolving around rival frat parties inside a college campus. Picture a campus where you'd find everything but education – parties, drugs, booze, naked sultry chicks, out-of-whack fellas who've no idea what's going on, laid back people and jilted losers who have nothing important to do in life. 'Total Frat Movie' is a messy combination of all of these, and more. The movie begins with Alpha house, a fraternity led by Charlie, which is put to an end owing to an incident at their first frat party. Three years later, another rival fraternity by the name Kappa Nu is trying their level best to be the leading fraternity. Charlie groups up with his older pals and challenges Kappa Nu's leader for a duel. After winning it, he is looking for more people to join the party. This is certainly a passable affair, without any regrets.
Read More: Best Holocaust Movies on Netflix
22. The Package (2018)
A black comedy at the outset, and with an IMDB rating of 5.5 (you're the best judge), 'The Package' is mostly set around a group of five friends/crushes/acquaintances – Sean, Jeremy and Donnie – the boys who were planning on going to this camping trip, which is later joined by Becky (Jeremy's sister) and Sarah. During the booze-filled fun night the folks are having, with campfire, profanity and everything, Jeremy happens to cut off his organ by an accident. This sends everyone to a frenzy, with folks searching for his organ and aiming to take it to a hospital within 12 hours for a penile reattachment surgery. Everything happens with a comedy of errors and horrors, with the remaining four seemingly failing at each and every task they're picking up. Long story short, 'The Package' is hilarious and at the same time, a lot cliched with jokes that we've previously seen in many other movies. Still, it is like a breath of fresh air compared to the movies we've had so far in the list.
Read More: Best Gay and Lesbian Movies on Netflix
21. Staten Island Summer (2015)
Two friends Danny and Frank work at a club as lifeguards. It is apparently their last summer which they're spending together. Chuck Casino is the flamboyant, outspoken and playboy manager of the casino who berates everyone coming his way. Danny and Frank stay away from Casino. Krystal is apparently the hottest babe for the entire movie's run and is dubbed the queen of the Staten Island. The whole movie is about anticipating the "end of summer" party which is being thrown at the club, full of boozy fun, recklessness, sex, vulgarity and guilt in the end. 'Staten Island Summer' has nothing as we've never seen before – it has its own weird humour, the typical teenage drama, young women and one guy who thinks of himself above all. And yes, it does qualify as a stoner movie.
Read More: Movies That Will You Cry on Netflix
20. Gandu (2010)
A critically acclaimed movie – perhaps a rare feat for a so-called stoner art drama with explicit depictions of sex, nudity and ample show of skin. 'Gandu' was banned in India for its initial release; however, it was released in many European countries and the Americas, including Netflix US. Gandu is a teenager who is troubled with his life and is antagonistic to his mother. He befriends a rickshaw puller in Calcutta and together they begin a journey towards a darker path including porn, sex, vulgarity and an increasingly growing desire to rap about everything else in the world. Surreal and vivid, 'Gandu' is not everyone's cup of tea to watch. Do you want to try this out?
Read More: Best German Movies on Netflix
19. The Do-Over (2016)
Max and Charlie are old buddies. As they are fed up with their routine lives, they hatch up an evil yet effective plan to get out of their shells and be something else. While on a boat trip, Max blows up their boat and when Charlie wakes up, Max proposes that they can have a new and different life by assuming other identities. They relocate to Peurto Rico and assume the identities of Dr Ronald Fishman and Butch Ryder respectively. Soon, they start getting troubled by the pasts of their newfound namesakes. 'The Do-Over' is a typical Adam Sandler movie which would give you both moments of laughter and cringe. Yet, it is one of those stoner movies that can be watched over the weekend.
Read More: Best Feel Good Shows on Netflix
18. Masterminds (2016)
Steve and Kelly plan to rob the Loomis Fargo & Company and they seek the help of an armoured van driver at the company – David. After a successful robbery, which is close to $18 million, Steve keeps most of the share while David is held as a prime suspect and accessory to the crime, who does not know of Steve's identity until the half of the movie. David has to go the extra mile and make Steve confess about the crime, which happens, although there's a lot of money that was never accounted for. A wacky comedy with some really good rib-tickling moments and decent performances, 'Masterminds' is a fun watch for a heist movie and a stoner comedy nonetheless.
Read More: Sexiest Movies on Netflix
17. Uncle Nick (2015)
Before I begin, a word of advice — please don't watch it when you're not stoned. 'Uncle Nick' is the telltale of profane motormouth Nick who's desperate for hookups and doesn't care a damn about societal insinuations about him. Turns out, at a Christmas party hosted by his brother, he resorts to drunken abuse, voyeurism and lounging. The tagline "Nothing ruins Christmas like family" has been aptly set for this stoner comedy comprising of wry humour and an anticipatory slapstick comedy which turns into an utter disaster.
Read More: Best Original Shows on Netflix
16. Green is Gold (2016)
Set in the remotest hills of California, where growing weed is a thriving business and apparently so is drug-dealing, 'Green is Gold' is about a 13-year-old boy Mason who has been living with his father. But with his father going to prison, he is supposed to live with his estranged brother Cameron, who is a drug-dealer hardly able to fend for himself. With an increased burden of his brother and sensing a higher amount of responsibility, Cameron must beat the odds and prove himself right, once and for all. 'Green is Gold' can sound a little cliched but the story is an absolute winner and so are the performances.
Read More: Best Movies on Netflix India
15. Super High Me (2007)
Stand-up comedian Doug Benson documents his experience of avoiding pot for thirty days and then consuming the drug during another thirty days. This documentary not only explores the true effects of marijuana on the human body but also examines the big debate over the medical use of marijuana. Although the film focuses on California's laws and history, it is still a great and cool documentary for curious minds. Overall, it is a funny movie with a serious side that does not sound preachy or too mentally demanding.
Read More: Movies That Will You Cry on Netflix
14. The Waterboy (1998)
Adam Sandler is an iconic comedic actor; so whenever we talk about funny films, his name has to appear somewhere. In this one, he plays Bobby Boucher, a waterboy for a college football team with a surprising talent. He becomes a member of the team when its coach discovers he can tackle people much bigger than him. Boucher is one of Sandler's most iconic characters. Besides a good cast (that includes Kathy Bates) and the amazing Adam Sandler, this film has a compelling cartoon-like comedy. 'The Waterboy's absurd script and humour are just perfect for a late-night film session.
Read More: Sexiest Movies on Netflix
13. Moonwalkers (2015)
'Moonwalkers' begins with agent Kidman, a Vietnam-war hardened PTSD-ridden veteran who is entrusted with the task of finding Stanley Kubrick, paying him a hefty sum of money and filming fake moon landing in order to cover up, in case the Apollo 11 mission goes wrong in 1969. Instead, he meets up with Johnny, a struggling band artist who is debt-ridden himself, thanks to some loan sharks, claims to arrange a meeting between Kidman and Kubrick, but asks his stoned roommate to appear as an imposter instead, only for the money. A deal has gone wrong and with the so-called loan shark gangster called Iron Monger closing in on his adversaries, Johnny and Kidman seem to be losing their end game. Kidman's character is really interesting, trippy and looks frustrated all the time. Watch it if you need an ample dose of laughter along with the insanity of a stoner movie.
Read More: Best Short Films on Netflix
12. My Ex-Ex (2015)
A movie which perhaps was written in a stoned state of mind, 'My Ex-Ex' tells the story of Mary who has been dating Ted. At an opportune moment, Ted asks Mary out and Mary anticipates that Ted might propose to her finally. Things take a sharp turn and Mary gets dumped instead. Unable to cope up with the sudden shock, she visits a psychic who professes that she would soon reconnect with her ex-boyfriend. Unfortunately, Mary doesn't mention which ex-boyfriend she had been referring to. Patrick, her college friend and another ex-boyfriend, is her new crush despite knowing he isn't the right person for her. While Patrick is taken by surprise, Ted seeks to come back to Mary and ask for forgiveness. 'My Ex-Ex' sounds good on paper but the realization part proved to be its nemesis.
Read More: Best Netflix Original Movies
11. Good Kids (2016)
Touted to be a coming-of-age movie, 'Good Kids' is sort of sketchy, to begin with, but comprises of all the elements (well, almost) for a promising blockbuster. It tells the story of Nora, Andy, Lion and Spice. Being best friends since childhood, the group of four never did anything wrong and never even attended a party. But things take a turn when a common friend invites them to a party and all of their goodness seemingly goes down the drain. The frenzy of the party that follows is perhaps the compensation for what they had been missing out on so far. A messy mix up of a rom-com and a stoner movie, 'Good Kids' fails to realize being either of them, forget both.
Read More: Best Teen Movies on Netflix
10. Reincarnated (2012)
'Reincarnated' is a stoner documentary that almost elaborately covers Snoop Dog's life and how he became what he's known for today. The way it chronicles the musician's highly unconventional way of life is quite intriguing. The film is engaging, yet weary and the after-effects of being too stoned are quite evident. Still, it does promote Snoop a lot and is a must watch for his fans.
Read More: Best Teen Movies on Netflix
9. M Cream (2014)
A Bollywood film to begin with, 'M Cream' is one of those few Hindi stoner movies which we couldn't understand. Probably because we weren't stoned enough; or probably the movie is so bad that it is good. The film revolves around Figs, a laid-back stoner whose pastime is to fool around in the DU campuses across Delhi and do drugs, mostly hash, if nothing else. Bowing under parental pressure, Figs is supposed to marry and has to let go of all his addictions. Notwithstanding the withdrawal, Figs decides to team up with his friend Maggie on a quest to find M Cream, supposedly a more potent version of hash found in the foothills of Himalayas. 'M Cream' does the mistake of relying too much on a weaker character for long, which would otherwise have made for an amazing stoner movie.
Read More: Best Short Films on Netflix
8. Donald Cried (2016)
This movie features a man-child trope for its central character and has so far been termed "awkward, absurd, yet hilarious" by many critics and movie reviewers. However, the viewers' opinions remain divided on this one. The film begins with an extremely obnoxious, irate character called Donald, who turns out to be the next door neighbor of Peter, a Wall Street Banker who has returned to his hometown, a neighbourhood where he had spent his formative years, after the demise of his grandma. Turns out, Peter has forgotten his valuables and cash on the bus and has to rely upon Donald who shows him home in an utterly delightful manner which Peter doesn't quite like. As they bond, there are certain things Donald doesn't like about Peter, but to what extent can Donald go is what the movie is all about.
Read More: Best Netflix Original Movies
7. The Legend of 420 (2017)
'The Legend of 420' is a funny, yet trippy documentary about how marijuana has evolved through the years, how its legality has changed across states and countries and what are the implications of legalizing it after years of the ban. The film also highlights how the production of marijuana has grown in the past few years since it has been legalized in a few states and the interviews by growers, law enforcers, politicians et al. If you want to know more about this 420 and why it is good or bad for the society, maybe watching this documentary could help.
Read More: Best Short Films on Netflix
6. Lommbock (2017)
Stefan and Kai have been friends for years. They meet again and while Stefan has been successful being a lawyer in Dubai, Kai is struggling his way to have a good time with his stepson who is getting into the "drug" business. Whether he would be able to make amends with his son, whether his career will finally take off and whether Kai and Stefan together can address the problems of Kai's son is all what the movie is about. As far as the film as a whole is concerned, we could see some emotions flowing in: hope, love and the ambition to strive for the best above all. Perhaps, this is one of the few lights of hope amongst the prevailing darkness in this sub-genre.
Read More: Best Movies on Netflix India
5. The Wackness (2008)
Set in 1990s NYC, 'The Wackness' begins with Luke supplying Dr Jeffrey, a psychiatrist, with marijuana in exchange of therapy. He is also secretly in love with Dr Jeffrey's stepdaughter, Steph. The movie progresses with how Luke wants to go a little more ambitious with the drug dealing while maintaining a status quo with Steph, who isn't very keen on love but wants to physically goof around with whoever she gets a chance. Meanwhile, Dr. Squires tries to end his life and Luke aims to become a psychiatrist himself. A perfect stoner movie, filled with comic moments, emotional setbacks and relatable characters, 'The Wackness' is certainly an enjoyable affair.
Read More: Best Feel Good Shows on Netflix
4. Jackass: Number Two (2006)
If you're wondering this one could be a lot better than its predecessor, you might've been mistaken. Still, it packs quite a punch for being a stoner movie. 'Jackass: Number Two' isn't actually a movie at all. It is a reality film which basically is a compilation of various whacky stunts, skits and pranks performed by the cast members. From the looks of it, it is basically a compilation of things gone wrong in a reality show, in a funny yet dangerous way. Stoned or not, this still would make a lot of sense as a stoner flick.
Read More: Best Original Shows on Netflix
3. Colombia: Wild Magic (2015)
'Colombia Magia salvaje' is a documentary where you get to appreciate the overwhelming beauty of nature in this South American nation most known for its reputation as home to notorious drug cartels. With impressive scenes of butterflies, rainforests and wild animals, this is a marvelous movie that will leave you wanting to visit Colombia. Its soundtrack is brilliant and sets the tone for the film. Also, the script, photography, and production are in perfect harmony. Although this is not a National Geographic or Discovery film, its great quality reminds us of those channels' iconic documentaries. Your thoughts on this being classified as a stoner movie?
Read More: Best Gay and Lesbian Movies on Netflix
2. Tucker and Dale vs. Evil (2010)
And now to one of the best stoner movies out there, and definitely the most hilarious one on this list, 'Tucker and Dale vs. Evil' begins with a group of college students and two hillbillies Tucker and Dale. While the college students are on a camping trip into the woods and wilderness, Tucker and Dale are mistaken by the students as notorious serial killers. In a rescue attempt, Tucker and Dale get one of the girls from the group to their house and are being nice to her, but the gloomy look of their cabin's surroundings leads the students to think that they're some cult-based killers. What ensues is a comedy of errors amid rescue attempts and hospitality that's being offered to the "kidnapped" girl. Bloody, gory, dark and funny as hell, 'Tucker and Dale vs. Evil' will definitely get you "high" on a dose of laughter.
Read More: Best Serial Killer Movies on Netflix
1. Hot Fuzz (2007)
Edgar Wright and Simon Pegg return with this impressive action-comedy movie that follows a skilled London police officer who is transferred to a small town. However, that small town is hiding a very dark secret. The casting is brilliant, especially Pegg and Frost as the two lead police officers. The film is so funny you can watch twice and still catch jokes you did not notice the first time. With a lot of twists and turns, it manages to balance action and comedy perfectly. 'Hot Fuzz' is a witty intelligent British comedy that is well directed and has some of the most stunning action sequences you'll ever see.
Read More: Best Alien Movies on Netflix