Steven Spielberg's The Post is the film America and the world need right now; an intelligent yet understated primal scream for the truth, for the importance of the truth in the news, for the news medias duty and responsibility to report the truth, no matter how difficult it might be. Not since All the President's Men (1976) has a film about journalism been so vital, so necessary, and so utterly brilliant.
It is one of those films that seems to speak to us all, right now, about what is happening in the world, the directing and writing possessed of an urgency that demands we listen. The Post is electrifying, intelligent, thrilling, unsettling, superbly acted, directed, written and created, and altogether remarkable.
Since ascending to the office of President, Donald Trump has managed to make a mockery of the office and frankly himself around the globe. Knowing the media neither liked him or trusted him, he first attacked them, claiming they reported fake news. This is of course absurd, as the news we hear is researched, confirmed, then researched again before it goes on the air or to print. What Trump worries about of course is that the deeper they dig, the more they could get on him, and I suspect that is a very deep well. We know he lies, we know he makes things up and declares them to be the truth, just because he says so. Should a man like that, a maniacal, power hungry narcissistic buffoon, be President? In the days since he took office the news network CNN has become Trump TV, each day filled with "what did he do now"? The press should follow Trump, ignore the bans he places and continue digging; he must be exposed, he must be monitored, whatever secrets he holds close must be known because he is a danger to us all. His blatant abuse of power is shocking, that he continues to get away with everything he does and says, obscene.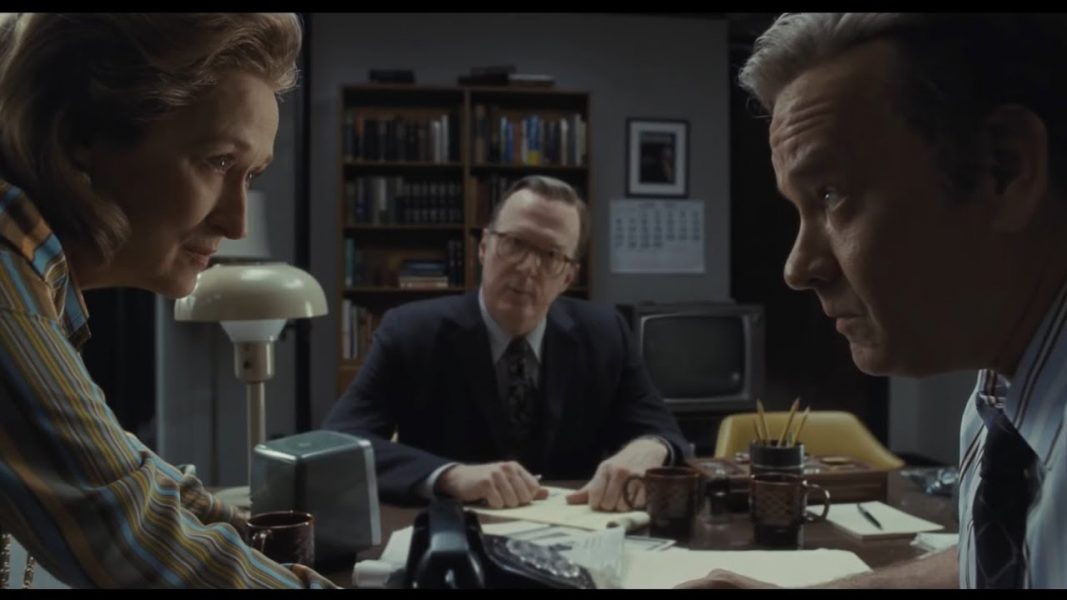 Spielberg's film does not deal with Trump directly, but the issues within the film, set in the seventies are as timely, as urgent as ever, ringing of a truth we need in the press. The gifted director has created an allegory for the ages, one that he felt was necessary to make "right now" and he was as right as he has ever been.
In the seventies, the Pentagon Papers fell into the hands of both the New York Times and the Washington Post. Faced with the difficult decision of publishing what amounted to national security, the Times lost their battle in court, President Nixon flexing his muscles and power. The infamous Pentagon Papers detailed how Presidents Truman, Eisenhower, Kennedy, and Johnson, especially Johnson lied to the American public about the war in Viet Nam, and the subsequent escalation of that conflict. Clearly the Nixon White House did not want those facts published, fearing repercussions with an election year looming.