You can find dozens and hundreds of good to amazing films on Netflix, however for every good film, there's triple the bad ones. Naturally, opinions diverge and everybody has a different say on this or that movie but let's face it : there are tons of films that simply can not be considered good in any way and should definitely be on the far bottom of your list, if ever on your list at all. Nevertheless that doesn't mean they can not be fun to watch and should be stored in a dark cellar away from anyone's eyes for the eternity of time.
Who doesn't enjoy making fun of how terrible a scene is or laugh at the un-laughable jokes the characters try to pull off or bet with your friend what the next cliché is that will typically move the plot forward? Everybody has their own reasons, so if it's to watch them or hide them from your possible next movie session, here is the list of really bad movies on Netflix.
15. Coin Heist (2017)
This one is a Netflix original and has a pretty promising premise which introduces the story of 4 students who create a plan that will enable them to break into the United States Mint in order to steal millions for their school's survival. It reminds us of the teenage group from "The Breakfast Club" and can be fun to watch as the actors do a great job and the characters are well-defined. However the story lacks a lot of realism (things just aren't that easy to pull off), there's useless dialogue that makes it look purposeless and dumb in between an ocean of stereotypes and it's simply missing some kind of charm we can hold on to. However it is far from being as terrible as other films on this list, so only by trying will you know.
Read More: Best Classic Movies on Netflix
14. Any Day (2015)
This film has good intentions and a moral story however many things aren't good enough to overcome the global flaws it contains. It revolves around the story of Vian, played by Sean Bean, a former fighter who returns to normal life after having been incarcerated for 12 years for killing a man with his bare hands in the past. He stays at his sister's house and begins his attempt to fit back into society. The problem is that the film is weak and does not portray its message and story with power. The events are predictable, they lack thrill, tension and when things grow to attain more depth, they are simply unrealistic in ways that the audience can not relate. A shame as the actors' performances aren't bad at all, but it is what it is.
Read More: Best Zombie Movies on Netflix
13. Son Of God (2014)
As you might have guessed already, this film tries to portray the life of Jesus from his birth to his resurrection. It didn't quite make the trick like other films have done on this subject. Actually it can quite perfectly be described in one single word which is : boring. Even when things peek up a little you've stoped caring to even feel anything about it. It's an important story that has been told various times and this narrative simply doesn't bring anything new to it. Cinematically being a failure, it is however inspiring from a religious point of view.
Read More: Best Alien Movies on Netflix
12. True Memoirs Of An International Assassin (2016)
A writer writes a fictional novel about an assassin but after his publisher changes it into a non-fictional memoir, he finds himself having to play the part of the lead character he invented in order to survive the adventures laid ahead on his path. The plot idea is great and the movie can be entertaining however the characters aren't likeable, the storyline is flat and cliché (at times even offensive) and the action is too cheap for you to get into and believe in. Then again, it can funny for some as it definitely does not include the most terrible humour seen on screen and it's a fun watch as a film that you don't take too seriously. But in the end, with so many good films out there, what really is the best to spend two hours of an evening?
Read More: Best Romantic Movies on Netflix
11. An Invisible Sign (2010)
Mona Gray is a young lady that repeatedly pulls out into a world of mathematics when her painful reality is too much for her to handle. With a sick father, she keeps to herself until the moment her mother forces her to move out and find a job. She becomes a math teacher and through the help she gives to her students, she finds herself again in a happier life. The reason this film, that stars beautiful Jessica Alba, is included in this list is very simple : it is boring and brings nothing new from the beginning to the end. It's slow pace isn't justified by anything and truly brings the storyline to a dreadful slithering that makes it hard to stay loyal to the characters and their stories.
Read More: Best War Movies on Netflix
10. Dawn Patrol (2014)
Scott Eastwood is the main character John, a surfer who, held at gun point, reveals his story of tragic revenge against his brother's murder. The main problem with this movie, apart from its plot which does not grow and develop into something good either, is the lack of interest and connection the viewer feels toward the characters who are complete unlikeable one-dimensional individuals to whom it is simply very hard to root for. Not to mention the sexism and racism that can be at times shockingly found in this film, making it even less likeable and which naturally lowers the screenplay standard a lot. It just lacks a lot of depth in every aspect to make the characters, the settings and the plots more thriving.
Read More: Best Holocaust Movies on Netflix
9. Rebirth (2016)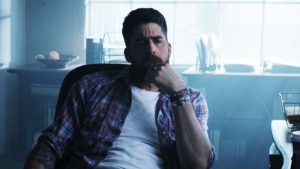 Kyle is a normal middle-aged man who receives a surprising visit of an old friend enthusiastic about a new program called "Rebirth" who encourages Kyle in going on a weekend retreat with this program, where all connection from the "real world" are cut off. As you can imagine things go down a dangerous and strange path. The whole movie is in general very bizarre and quite bad comparing to what it proposes at first. It definitely escalades very high just to eventually fall deep into a terrible ending that will have wasted your time in the mean time.
Read More: Best Gay and Lesbian Movies on Netflix
8. The Canyons (2013)
"The Canyons" is set in Los Angeles and revolves around the crazy outburst and reaction of Christian, when he finds out his girlfriend Tara is having an affair with his film project's lead. The thing is that there's just not really a point in the end and the characters aren't developed enough in order to feel something for them. It might look great at times and Lindsay Lohan's performance isn't bad, however at its finish line, it leaves you thinking if the last two hours were even worth spending on this movie.
Read More: Movies That Will You Cry on Netflix
7. Trespass (2011)
This crime thriller recounts the story of a couple (Nicolas Cage and Nicole Kidman) who are taken as hostages by criminals and in that process, their situation becomes worse as secrets are revealed. Sounds like fun, right? Well it could have been if everything was different and simply …better. The acting isn't the best (which is quite a disappointment), the plot is pretty weak and simply not entertaining, not to mention the useless nasty violence that made this movie nothing else than unpleasant to watch. Even the trailer is terrible.
Read More: Sexiest Movies on Netflix
6. Zombeavers (2014)
The title pretty much reveals what kind of category this movie is put in. And it definitely has an audience and can be pretty exciting for those who like the predictable comedy horror films that promise some weird and very bad visual effects. In this case, they're zombie-beavers (if you hadn't noticed) that will cause horror for a group of teenagers wanting to enjoy a fun weekend at a lake. The problem is that the attacks aren't really scary and stressful not to mention the emotionless unfunny characters. All in all, it's a style of films, but even in this genre there's better to spend an evening with.
Read More: Best Original Shows on Netflix
5. Outcast (2014)
This adventure thriller is an American, Chinese and Canadian co-production which unfortunately, truly deserves its place on this list. It's about a prince and his sister (Zhao and Lian) who are obliged to flee from their kingdom after their father and king is murdered by their uncle, Shing. Together with a crusader named Jacob (Hayden Christensen) and his mentor Gallain (Nicolas Cage), they have to fight against the powers of their uncle and assure their rightful place back on the throne. Nothing great to find here. Dull and lifeless screenplay, bad performances and ridiculous actions.
Read More: Best Movies on Netflix India
4. The Do-Over (2016)
The idea isn't actually bad however the same can't be said for the execution. The story follows two characters, Charlie (David Spade) and Max (Adam Sandler), who decide to take on new identities and fake their death in order to start life over with a fresh start. However, the trap which will lead them into long action-full misadventures is that the identities they have taken over, belonged to criminals who were in deeper trouble they were at when they first started. Of course some might find it funny and some might not but acknowledging that it as a bad film is pretty self-explanatory. Although perhaps entertaining, there's not much to say other than pointing out the obvious : that it is a pointless and dumb movie with unfunny and offensive jokes.
Read More: Best Teen Movies on Netflix
3. Jaws, The Revenge (1987)
"Jaws : The Revenge" is the third sequel to Spielberg's legendary classic "Jaws" where now widowed Ellen Brody is persuaded a shark is following her and her family, seeking for revenge. The mood might be the same and perhaps there's something to like simply because it reminds us of the excellence of its predecessor. However, everything goes wrong on this one, especially and primarily the simple shark model which was very badly made and shown for way too long, in opposition to the intelligent approach the classic took in subtly showing parts only long enough to terrify its audience. Here, you can rather use it as a laugh and forget the horror genre it's supposed to be set in, as that goal is definitely not to be achieved with the viewer anytime soon.
Read More: Nicole Kidman Sexiest Scenes
2. Behaving Badly (2014)
Indeed, this movie really did behave badly in every aspect of its construction joining the list of the worst films on Netflix not only due to its typically predictable plot but for its whole ensemble, from the screenplay to the actor performances. Set in high-school, this sex comedy tells the story of Rick (Nat Wolff) who falls in love with popular Nina (Selena Gomez) and their friendship journey throughout teenage events that go from bad to worse. The acting really can not be praised and the story is simply tedious to follow, with bad humour, and incoherent plot lines that make it simply a waste of time as whole, if you're looking for something good or at least funny.
Read More: Charlize Theron Sexiest Scenes
1. The Ridiculous 6 (2015)
Adam Sandler, ladies and gentlemen, once more in a film that will bring you nothing other than despair. "The Ridiculous 6" is actually a Netflix original and despite its title already indicating that it is a fully open and transparent satire, it really doesn't change the fact that it is simply bad, terrible and awful. Sandler plays "White Knife", a man raised by Native Americans, who finds out he has 5 other half-brothers and together they go on an adventure to find their unknown father. This western comedy includes very childish jokes, however they're not actually appropriate for children and some are simply not funny to even be made, which leaves things a bit confusing and out of place. In the end, a comedy which doesn't amuse is rather useless, right?
Read More: Angelina Jolie Sexiest Scenes